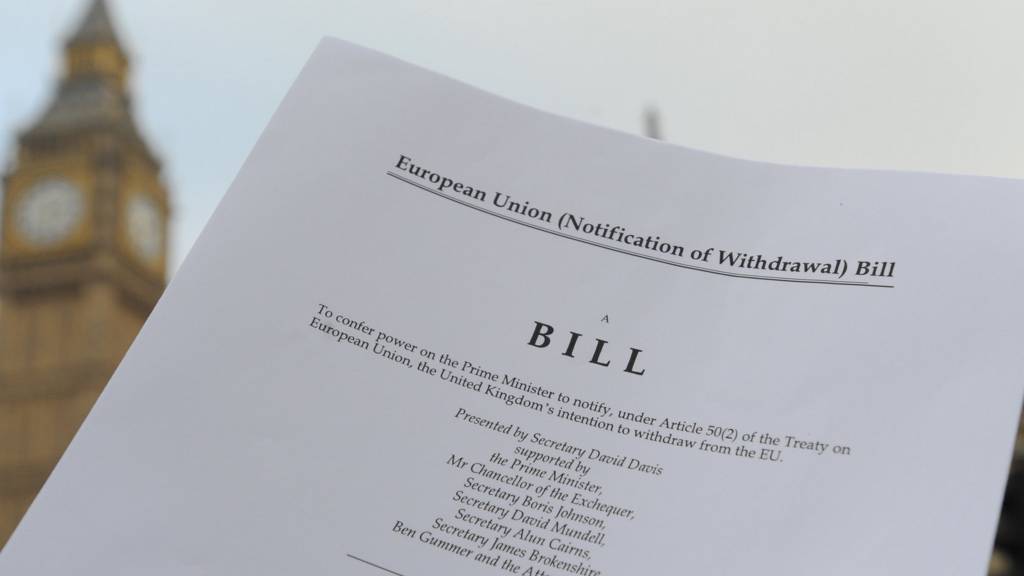 Corbyn shadow cabinet appointments
By Enda McClafferty

BBC News NI

Friday's papers: Daily Mirror

BBC Newsdesk editor tweets ...

Friday's papers: Independent Digital

BBC Newsdesk editor tweets ...

Friday's papers: The Telegraph

BBC Newsdesk editor tweets ...

Friday's papers: The Guardian

BBC Newsdesk editor tweets ...

Friday's papers: The Times

BBC Newsdesk editor tweets ...

Friday's papers: Daily Mail

BBC Newsdesk editor tweets ...

Speaker Bercow facing no-confidence bid

A Conservative MP is hoping to increase pressure on Commons Speaker John Bercow by tabling a no-confidence motion.

Mr Bercow said this week he would be "strongly opposed" to US President Donald Trump addressing Parliament, accusing him of "racism and sexism".

James Duddridge said Mr Bercow had "overstepped the mark" although he did not expect his motion to be debated.

Meanwhile an early day motion calling for officials to withhold permission for Mr Trump to address Parliament, has now been signed by 204 MPs - largely from the Labour Party.

Recap: Main political stories of the day

Here's a reminder of the main stories so far today

Who are Labour's new frontbenchers?

Labour MPs named in Jeremy Corbyn's new frontbench line up were all elected in the 2015 election.

So what else is known about the relative newbies...?

Shadow business secretary Rebecca Long-Bailey, MP for Salford and Eccles, was born in Greater Manchester to Irish parents. She  studied politics and sociology at Manchester Metropolitan University. She backed Jeremy Corbyn for the leadership in 2015 and 2016.

Shadow environment secretary Sue Hayman, MP for Workington, became the first woman MP in Cumbria. She is originally from Berkshire and previously stood for Labour in Preseli Pembrokeshire in 2005, Halesowen and Rowley Regis in 2010 – narrowly losing in both. She backed Yvette Cooper for the Labour leadership in 2015, but didn't nominate in 2016. 

Shadow Welsh secretary Christina Rees, MP for Neath,was a shadow justice minister in January 2016 but resigned after the EU referendum, only to return to the job in October 2016. She backed Andy Burnham for the Labour leadership in 2015 and Owen Smith in 2016.

Shadow chief secretary to the Treasury Peter Dowd, MP for Bootle, became a Merseyside councillor in 1981, was elected to Sefton Council in 1991, becoming leader in 2008. He led Sefton's first ever Labour controlled council from May 2013. He is related to former Labour MPs Simon and Peter Mahon. He backed Andy Burnham for the Labour leaderhip in 2015, but didn't nominate in 2016.

Breaking

Hayman promoted in Labour reshuffle

Jeremy Corbyn also named Sue Hayman as shadow environment secretary, promoting her from the shadow minister role in the same department.

Labour's Christina Rees is the new shadow Wales secretary and Peter Dowd takes over as shadow chief secretary to the Treasury.

Mr Corbyn commented:

Quote Message: I'm pleased to announce appointments to Labour's shadow cabinet. We have a wealth of talent in our party and the strength of our shadow team will develop Labour's alternative plan to rebuild and transform Britain, so that no one and no community is left behind."

Breaking

Jeremy Corbyn: Labour reshuffle

Jeremy Corbyn has promoted Salford and Eccles MP Rebecca Long-Bailey to replace Clive Lewis, who quit as shadow business secretary to vote against the Brexit Bill.

Jeremy Corbyn dons protective headgear following Brexit vote

Sporting a hard hat, Jeremy Corbyn took a break from debate over Brexit and questions over his leadership to visit an affordable housing development in Ashton-under-Lyne, Greater Manchester.

iPhone maker 'very optimistic' about UK future post Brexit

Apple boss Tim Cook has told Theresa May the technology giant is "very optimistic" about the UK's future after Brexit.

Mr Cook met the prime minister at Downing Street this morning and referenced the company's plans to build a new UK headquarters at the redeveloped Battersea Power Station as proof of the company's support of the UK.

Quote Message: We're doubling down on a huge headquarters in the Battersea area and we're leaving significant space there to expand. We're a big believer in the UK - we think you'll be just fine. Yes, there will be bumps in the road along the way but the UK's going to be fine."

Last year the iPhone maker revealed it would move 1,600 employees to the new campus in south London in 2021.

In a statement about the meeting, Apple said: "Tim had a positive meeting with the prime minister today, discussing Apple's continued investment in the United Kingdom.

"We are proud that Apple's innovation and growth now supports nearly 300,000 jobs across the UK." 

Rupert Murdoch 'sat in on interview with Donald Trump'

According to the Financial Times, Rupert Murdoch was in the room when Donald Trump gave his first post-election foreign newspaper interview, to former cabinet minister and Times columnist Michael Gove.

The chairman of News Corp did not feature in photographs of the encounter last month at the top of Trump Tower in Manhattan but two people have confirmed he was in the room, the paper says.

The interview was conducted by Mr Gove, a leading proponent of the UK's exit from the EU.

The FT says Mr Murdoch's presence is a sign of the mogul's interest in Mr Trump and his close relationship with the new president and his family.

Police chief on Trump visit security plans

Metropolitan Police Commissioner Sir Bernard Hogan-Howe says his officers "have just got to get on with" handling the security surrounding US President Donald Trump's state visit, despite having less notice than normal for such an event.

The trip could reportedly take place in June. 

Sir Bernard tells LBC radio that police usually got "about six months' notice" to work on such events.

He says: "At the moment, of course, people are concerned that there might be lots of protests - there have been already. 

"So no doubt as the days pass we will make assessments for what is going to happen." 

Senior MP welcomes BHS investigation move

Work and Pensions Committee chairman Frank Field has welcomed the Insolvency Service's decision to appoint "specialist counsel and forensic accountancy services to analyse the evidence they have gathered on the sale and collapse of BHS".

The Labour MP has been highly critical of Arcadia chairman Sir Philip Green since the group sold BHS for £1 in 2015.

He said: "It seems the net is tightening around the former directors of BHS." Mr Field added that his committee and the Forfeiture Committee - which has the power to remove honours, including knighthoods - "will await the outcome of their investigations with great interest".

MPs voted in October that Sir Philip should lose his knighthood - but this has no legal force.

BHS collapsed with the loss of 11,000 jobs and carrying a £571m pension deficit.  

Sir Philip has vowed to sort out the pension problem.

Rail workers balloted for strike action

The RMT union has announced it is to ballot members working on Arriva Rail North over strike action.

The dispute focuses on the role of guards on the company's services.

The RMT has been involved in industrial action on Southern trains for several months. 

MP confident rights of EU citizens will be protected after Brexit

Shrewsbury's Polish-born MP Daniel Kawczynski says he is sure the rights of European citizens living in the UK will be secured during the Brexit negotiations.

He said he supported "the rights of Poles in the UK, just as I support the rights of Brits in the EU" and that he believed in the prime minister's Brexit strategy.

Mr Kawczynski also criticised an amendment put forward which called for the rights of all EU citizens in the UK to be protected.

He said it would have weakened the British hand, ahead of any negotiations.