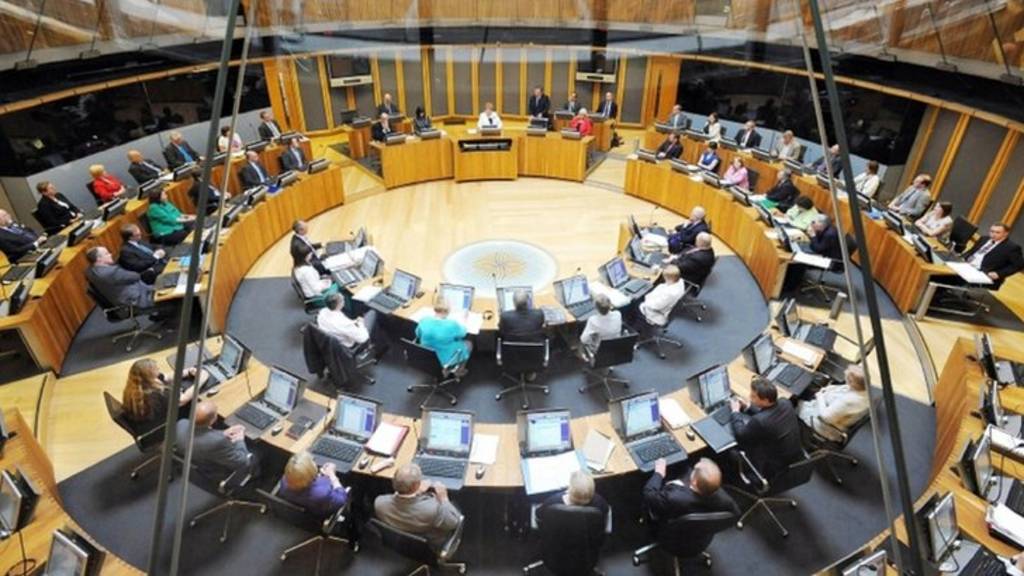 Senedd as it happened: 16 September 2015
Summary
9am: Environment Committee
Next: 1.30pm: Questions to the Minister for Public Services
Next: Questions to the Minister for Finance and Government Business
Next: Welsh Conservatives debate on Welsh businesses
Next: Welsh Conservatives debate on public services
Next: Plaid Cymru debate: NHS investment
Short debate: Fracking
That's it for today.

We'll be back on Tuesday the 22nd.

"I am clear that we have a precautionary planning framework", says Carl Sargeant.

Mr Roberts says "we are under threat from this industry in the north and the south".

He adds that it is a "scandal that the UK government has been carrying out a sustained attack on renewable energy".

The final item is the short debate. The topic chosen by Aled Roberts, Liberal Democrat member for north Wales, is "Fracking: Implementing a moratorium for Wales".

The Welsh government will "continue to prioritise the NHS", says Jane Hutt.

Conservative Nick Ramsay calls on the Welsh government "to follow the example of the UK government by protecting the NHS budget".

Safe nurse staffing levels

Liberal Democrat leader Kirsty Williams stresses the importance of investment in safe nurse staffing levels "which have a significant impact on patient care and the recruitment and retention of staff".

The penultimate debate of the day is Plaid Cymru's Debate.

Elin Jones calls on the Welsh government to ensure that any increases in the block grant which result from an increase in UK Government health expenditure, are invested in Welsh health and social care services.

Minister Leighton Andrews refers to quotes from Professor Dylan Jones-Evans - a former Conservative candidate - comparing Wales' economic recovery favourably with other parts of the UK.

Llanelli AM Keith Davies attracts cheers and jeers when he addresses the AMs as "comrades". An example of Corbynmania?

Public service performance

Plaid Cymru's Simon Thomas says that the Welsh government must ensure that data is collected and published in a way that ensures public service performance can be compared with other nations.

Angela Burns leads the second Welsh Conservatives Debate, criticising "the repeated and persistent failure of the Welsh government to meet its own key targets linked to the delivery of key public services; and the damaging consequences this has for the people of Wales".

Economy Minister Edwina Hart responds to the debate by saying that over the last 12 months Wales has seen the largest rate of increase in employment of any part of the UK.

"We have seen significant falls in the level of economic inactivity which is down by 1.2% on the quarter and has continued to outperform the rest of the UK over the past year", the minister says.

Mrs Hart adds: "This level of performance reflects the proactive policies and strategies that we've taken. I think they say it all".

Janet Finch-Saunders says "Finance Wales has repeatedly been a cause for concern and has been reluctant to respond to the change in environment for SME's since the financial crisis of 2008".

Liberal Democrat AM Eluned Parrott highlights the need to "nurture that entrepreneurial spirit in Wales" and to encourage people to "make the leap from being employed to being an employer".

Plaid Cymru's Rhun ap Iorwerth calls on the government to establish a business development bank for Wales to help the financing needs of Welsh businesses.

William Graham says there have been a loss of jobs at businesses in receipt of Welsh Government grant funding.

He accuses the government of failing to provide "sufficient support to Wales' businesses".

Welsh Conservatives are leading a debate on sufficient support to Wales' businesses.

Fellow farmers, Liberal Democrat William Powell and Conservative Leader Andrew RT Davies call on the government to do more in promoting Welsh meat produce.

Plaid Cymru and Conservative AMs are focusing their questions to the finance minister on NHS investment.

Jane Hutt calls Mr Ramsay's comments "weak and poor" and says that since May 2011, the total number of businesses from whom the government is seeking to recover funds represents 1.3% of the total offers made.

Nick Ramsay says: "Doesn't this all add to the growing impression that this Welsh government doesn't really do finance".

Conservative Finance Spokesperson Nick Ramsay accuses the Finance Minister Jane Hutt of failing to provide figures with regards to how much money will be recovered and written off from businesses who have been awarded grants.

First Minister Carwyn Jones will be making a statement on the refugee crisis following tomorrow's summit.

Nick Ramsay opposes the minister's plans for council reorganisation saying "there is real concern out there amongst the public that these proposals have not been thought out".

He adds: "We will return to an old system of local government that didn't work then and won't work now."

The minister admits he has studied many maps over the past several months, some going back to the 19th Century.

He stresses: "Many different authorities have been historic counties."

Conservative William Graham says that there is a need for fundamental reform of local authorities, but asks the minister to consider keeping "historic councils" like Monmouthshire, Pembrokeshire, Powys and many others "for which there is overwhelming public support to retain them".

In response to Mr Griffiths' question, the minister assures members that this will be discussed in the Refugee Summit, held tomorrow in Cardiff Bay.

Labour AM John Griffiths asks the minister to provide information for communities across Wales that have expressed their willingness to help refugees.

In response to Ms Finch-Saunders' concerns, Leighton Andrews says that people should be "named and shamed" if they fail to carry out their statutory responsibilities.

He says: "Neither I nor the Welsh government run these town and community councils nor should we. These should be run by local people and held accountable by local people."

Conservative Janet Finch-Saunders raises concern that 45 Welsh councils have received repeated qualified audit opinions for at least two of the last three years.

Minister Leighton Andrews is answering members' questions.

The plenary will begin shortly with questions for the Public Services Minister.

The committee has now moved into private session.

We'll be back this afternoon for the chamber session.

According to the Explanatory Memorandum of the bill, "A general biodiversity and resilience of ecosystem duty will apply to all public authorities who exercise functions in relation to Wales. That duty will be one which obliges all public authorities to seek to 'maintain and enhance biodiversity' in the course of exercising their functions (but without prejudice to the proper exercise of those functions) and in so doing 'promote the resilience of ecosystems'."

The environment minister stressed that it would be "foolish" to take the Bill forward to cover only a percentage of Wales.

"It just flies in the face of the devolution settlement", he says.

Plaid Cymru AM Llyr Gruffydd says that whilst MOD land is "quite significant, the rest of Wales is much more significant".

He asks the minister if he is prepared to "throw everything out because of the failure to accommodate some land in Wales".

Labour AM Julie Morgan asks the minister to seek clarification from the UK government on how much land in Wales would be excluded from biodiversity duties.

"I think it would rip holes in the Bill if we were to remove that section (on biodiversity duties) and therefore I don't think it would be a credible bill to take forward", says Mr Sargeant.

"We have to get this resolved", he adds.

The minister says that "it's wholly inappropriate that we're not able to manage our natural resources in Wales, for Wales".

Mr Sargeant says that negotiations will continue with the UK government with regards to the Environment Bill.

The UK government has not agreed on the consenting of biodiversity duties on public bodies, that include crown estates and MOD land.

"It is completely unacceptable that the UK government has given the Scottish government consent but not us", says minister.

He adds: "It does present to me with a difficult decision of whether to withdraw this Bill at this stage, or not. "

Image caption: Carl Sargeant

"This puts the whole Bill at risk", says Mr Sargeant

The UK government has agreed three parts out of four of the Environment Bill and refused consent with regards to the element on biodiversity, says Carl Sargeant.

Carl Sargeant AM, Minister for Natural Resources, says that "with regret" he has received a letter from the Secretary State for Wales consenting to only a part of the environment bill.

The Environment Committee is due to begin at 9am.