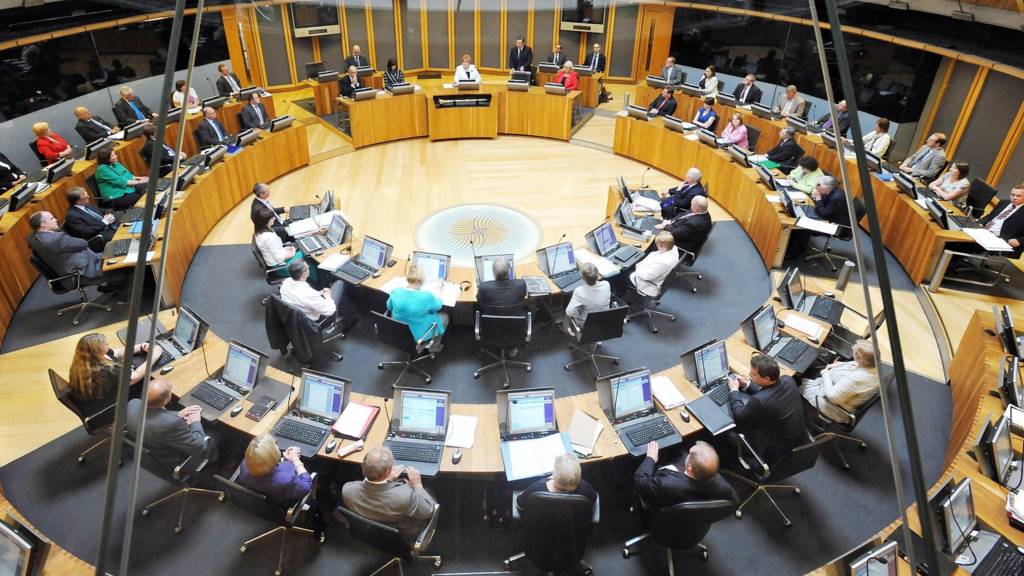 Senedd as it happened: 9 June 2015
Summary
The Welsh Assembly sat from 13.30pm, the first item on the agenda was questions to the first minister.
Next: Statement by the Minister for Health on Betsi Cadwaladr University Health Board.
Next: Statement by the Minister for Finance: Delivering change for Wales through Procurement Policy
Next: Statement by the Deputy Minister for Skills: Improving infrastructure to meet the needs of post-16 education.
Next: Statement by the Minister for Health and Social Services: The Introduction of the Public Health (Wales) Bill.
That brings today's proceedings to a close.
Join us tomorrow morning for the Communities Committee at 9.15am.
Kirsty Williams, leader of the Liberal Democrats, also makes the point that many people are using e-cigarettes to help them give up smoking.
"There is a high chance this heavy handed approach from the Welsh Labour government could actually be counter-productive", she says.
Plaid Cymru health spokeswoman Elin Jones said the assembly needs to consider all of the evidence that relates to the effect of e-cigarettes on public health.
She says she has spoken to many people who use e-cigarettes to try to give up smoking, and adds that the assembly should be very careful not to halt that trend.
Minister says there will be a ban on intimate piercings for the under-16s as a part of the bill.
Tattoo parlours will also need licences under the Public Health Bill.
A licensing system is also being drawn up with the tattoo and piercing industry - to produce enforceable professional hygiene and health standards by 2017.
There are already around 350 tattoo premises with licences in Wales but there are many others, including self-taught tattooists called "scratchers".
A draft minimum pricing of alcohol legislation will be published by the summer, says health minister.
The new tobacco and e-cigarette measures will mean:
Shops will have to join a register for retailers of tobacco and e-cigarettes - aimed at stopping illegal sales to under-18s
It will be an offence to "hand over" tobacco and e-cigarettes to children - and this will include online sales
A restricted use of e-cigarettes, banning them in enclosed public spaces and workplaces - this will include lorries and taxis.
This final measure is proving the most controversial and is likely to come into force in 2017, but a precise date has not been given.
People will be banned from using e-cigarettes in enclosed places such as restaurants, pubs and at work in Wales, under the new public health law.
In taking the decision to bring in the e-cigarette ban, Mark Drakeford argues he does not want to take the risk of seeing smoking "normalised" again after the success of the smoking ban.
The Minister for Health and Social Services, Mark Drakeford makes a statement on the Introduction of the Public Health (Wales) Bill.
'Funding is at a premium'
Julie James says "it is not acceptable for our young people to learn in buildings that are not fit for purpose, and our investment will tackle those buildings in poorest condition first. However, as funding is at a premium in all areas, we need to be better at driving more for our investment and strengthening our links with other sectors".
She was referring to the "flagship" investment programme, known as 21st Century Schools, which was launched in April 2014. The first wave of this programme represents a £1.4 billion investment.
The Deputy Minister for Skills and Technology, Julie James makes a statement on improving infrastructure to meet the needs of post-16 education.
The finance minister says Welsh ministers will soon have new powers to regulate on public procurement matters, "further strengthening the benefits to the economy."
The new regulatory powers for Welsh ministers are expected to come into force on 12 August 2015.
In February 2012 , the Finance Minister, Jane Hutt commissioned John F McClelland to undertake a
review
of the effectiveness of Welsh procurement policy.
The Wales Procurement Policy has been developed to support implementation of the recommendations of the McClelland report.
It sets out 9 principles and how they will be achieved.
Members move on to a statement by the Minister for Finance and Government Business, Jane Hutt: Delivering change for Wales through Procurement Policy.
The decision to put the board in special measures was entirely based on advice given "and nothing else", says Mark Drakeford in response to a claim it's a political decision.
Llŷr Gruffydd asks whether the minister regrets not putting the health board in special measures sooner.
The minister acknowledges the work done by the Public Accounts Committee, and says "any idea that this health board has been left on the backburner is absurd."
He says Betsi Cadwaladr Health Board moved "rapidly" through the escalation process.
"It is a matter of regret that you didn't step in sooner", Conservative AM Darren Millar tells the minister.
"There are many more people who need to depart from that organisation. The sooner they go the better", Mr Millar adds.
The review by former chief executive of the Welsh NHS, Ann Lloyd into Betsi Cadwaladr Health Board will now be made public, says the health minister.
Special measures will be overseen by Vaughan Gething, the Welsh government Deputy Minister for Health, Mark Drakeford tells AMs.
Health minister says a team of other NHS managers from around Wales are also being sent to Betsi Cadwaladr Health Board.
Simon Dean, deputy chief executive of NHS Wales, to be acting chief executive of Betsi Cadwaladr health board, says Mark Drakeford.
This follows the announcement earlier today that the chief executive of the health board, Trevor Purt, has been suspended with immediate effect.
Betsi Cadwaladr chairman Peter Higson said the suspension was a "neutral act" while arrangements for special measures were sorted out.
Members move on to a Statement by the minister for health on Betsi Cadwaladr University Health Board.
Yesterday it was
announced
the board had been put into 'special measures.'
Conservatives William Graham and Nick Ramsay ask for an urgent statement on the disruption which will be caused by a major cycling event.
About 15,000 cyclists will descend on south Wales when Cardiff hosts Velothon Wales on Sunday.
The 140km (87m) race will also go through Newport, Torfaen, Monmouthshire and Caerphilly, with some roads shut.
Members move on to the Business Statement and Announcement, where Jane Hutt outlines the future business of the Assembly up to three weeks in advance.
Kirsty Williams raises a point of order claiming the first minister inferred that she received money from 'Save e-cigs' campaign.
Mr Jones acknowledges that he was "perhaps a bit too harsh" but says he had not suggested that she was earning money from the campaign.
Conservative Janet Finch-Saunders asks for a statement on Welsh government action to support home ownership in Wales.
First minister says the UK Government's Right to Buy extension is based on "voodoo economics".
Asked about what the Welsh government is doing to improve the economy of Pembrokeshire, Mr Jones says there will be a Ministerial statement this week on duelling the A40 in Carmarthenshire and Pembrokeshire.
Rhodri Glyn Thomas says people who live in rented accommodation can feel like "second rate citizens."
The first minister concedes the need for more research, but he denies there is no evidence of harm caused by e-cigarettes.
Liberal Democrat leader Kirsty Williams AM says the e-cigarette ban is unjustifiable.
The first minister says it is wrong to suggest e-cigs to be banned completely, because they would simply be treated in the same way as tobacco.
The Health Minister, Mark Drakeford, will make a statement later this afternoon on the Public Health Bill which could include a ban on e-cigarettes in public places.
Andrew Davies says the Mary Burrows case shows again the need to review advice to clinicians on cancer drugs.
The first minister says if Mary Burrows' consultant advised there was no point in applying for drugs funding, that was wrong.
For most people, drugs from England's Cancer Drugs Fund "aren't life-saving", says Mr Jones in response to Andrew RT Davies.
Mr Davies raises the case of a former head of a Welsh health board who has moved to England in order to get a cancer drug.
Mary Burrows, who was chief executive of Betsi Cadwaladr health board, moved from Colwyn Bay, Conwy county, to London two months ago.
Plaid Cymru leader Leanne Wood says the existing system for licensing NHS drugs isn't working and accuses the first minister of being "in denial".
Mr Jones replies that it's important that treatments aren't offered by politicians.
In reply to Dafydd Elis-Thomas' question about what issues the First Minister, Carwyn Jones and the Scottish First Minister discussed at their latest meeting, Mr Jones says they both agreed it would be "unacceptable" for the UK to leave the EU unless each nation votes to leave in a referendum.
He repeats his view there would be a constitutional crisis if Wales/Scotland/England vote different ways.
There's also a meeting planned between the Welsh government and the Department of Energy and Climate Change to discuss who pays to clean up now-disused open-cast sites, says first minister.
Plaid Cymru's Bethan Jenkins asks for an update on the Welsh government's report into restoring opencast sites in Wales.
The first minister replies, the natural resources minister will hold a summit of key stakeholders on 8 July.
Good afternoon, and welcome to the
BBC Democracy Live
coverage of the plenary session of the National Assembly. First Minister's Questions begins at 1.30pm.
We are not expecting anything quite as dramatic as the
walkout
that happened this week in 1999!