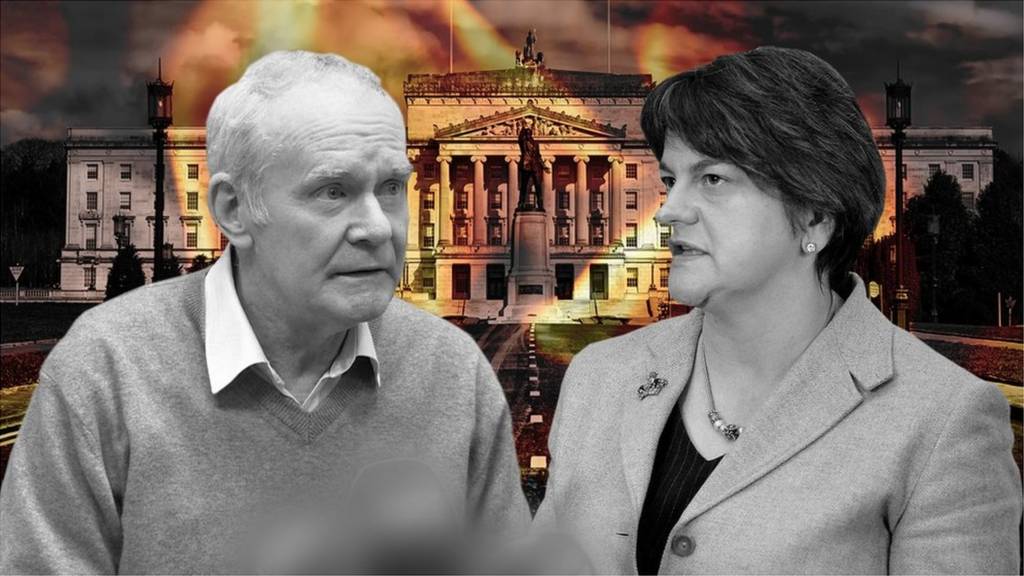 Live
As it happened: Stormont collapses
McGuinness pays tribute to outgoing MLAs

Former deputy first minister tweets...

Better find it quick!

BBC News NI editor tweets...

'Assembly operating in dark over RHI plan'

Supporting a proposal for postponement, the SDLP's Sinéad Bradley challenges Economy Minister Simon Hamilton to "be true to your words" and show that he is "genuinely minded to save the public purse the money that is being lost".

"Anyone who is genuine in their position will use their position wisely," she adds.

Alliance Party MLA Stephen Farry backs the suggestion of a one-week delay because the assembly is "operating in the dark" over the proposals.

Ulster Unionist Steve Aiken says an extra week will give the economy committee more time to "provide more effective scrutiny" of the proposed legislation and take evidence from interested groups on its content.

Election 'has no impact' on triggering Article 50

Tara live from Stormont at 18:30

'Delay will allow more scrutiny of minister's plans'

DUP MLA Gordon Lyons says his party agrees with UUP leader Mike Nesbitt that the debate over the RHI mitigation plan should be put back for another week.

Mr Lyons says his party would like to have seen a greater opportunity for the examiner of statutory rules to examine the regulations.

"The timings have not been ideal," he says.

'No cost to public to delay RHI debate'

The sitting resumes to debate Mike Nesbitt's motion calling for the debate on the RHI cost mitigation regulations to be adjourned for a week.

"It hardly needs to be said, this is an incredibly serious issue" the Ulster Unionist leader says.

Mr Nesbitt says it is not a party political matter and adds: "It is at no cost to the public purse, if we wait for one week."

Assembly resumes after short break

Jayne McCormack

BBC News NI

Watch: NI secretary confirms election date

BBC News Northern Ireland

Here's the moment James Brokenshire confirmed that an election would take place on 2 March after the dissolution of Stormont.

Assembly suspended for 10 minutes

As news arrives in the chamber that Northern Ireland Secretary James Brokenshire has called an election for 2 March, Ulster Unionist leader Mike Nesbitt notes that the assembly will continue until 26 January.

He calls for the assembly to adjourn the RHI debate for a week.

That will allow the economy minister to come back to the house "with certainty about the opinion of the examiner of statutory rules", Mr Nesbitt says.

Speaker Robin Newton announces that the assembly will debate Mr Nesbitt's proposal and calls a 10-minute suspension.

UUP leader motion to postpone RHI debate

Stormont Today presenter tweets...

'Questions over motivation behind RHI mitigation'

The validity of Economy Minister Simon Hamilton's RHI cost-cutting proposals is being measured by the Alliance Party against three benchmarks, Stephen Farry says.

Firstly - is it legal? Then, does it "create a financially stable way forward"?

And thirdly, does it "allow for continued investment" in renewable energy?

He concludes by saying that a question hangs over the "motivations behind this and how effective it is going to be in practice".

Breaking

Read more: Snap election called for 2 March

BBC News Northern Ireland

Northern Ireland will go to the polls on 2 March to elect a new assembly after the power-sharing executive collapsed over a botched green energy scheme.

Election called and assembly to be dissolved

Mark Devenport

BBC News NI Political Editor

Brokenshire sets election date as 2 March

BBC News Northern Ireland

Watch: NI Secretary Brokenshire gives statement

Northern Ireland Secretary James Brokenshire gives a statement on the future of the Northern Ireland Assembly after the expiry of the deadline to nominate a new deputy first minister.

Sinn Féin 'ready for election in early March'

BBC News NI political editor tweets...

'RHI scandal most toxic item assembly's faced in years'

It is "completely unacceptable" for the assembly to find itself having to approve the RHI cost mitigation plan "against the clock", Alliance Party MLA Stephen Farry says.

It would be bad enough to have to approve some "fairly non-controversial" legislation in such a hurried manner, he says, but the RHI scheme is one of the "most toxic and controversial items to be facing our political institutions for many years".

The assembly is being asked to "fly blind" on the proposals, with so many questions still left unanswered".

'RHI governance has been omnishambles'

Claire Hanna of the SDLP refers to "the omnishambles of governance" surrounding the RHI scheme.

She says it is now the role of assembly members to "make sure that this is a plan that will save money and won't just save face".

The South Belfast MLA wants to know why the proposals were only sent to the examiner of statutory rules after 17:00 on Friday, "when that person would then necessarily not have access to the legal opinion and to the costing support that was required".