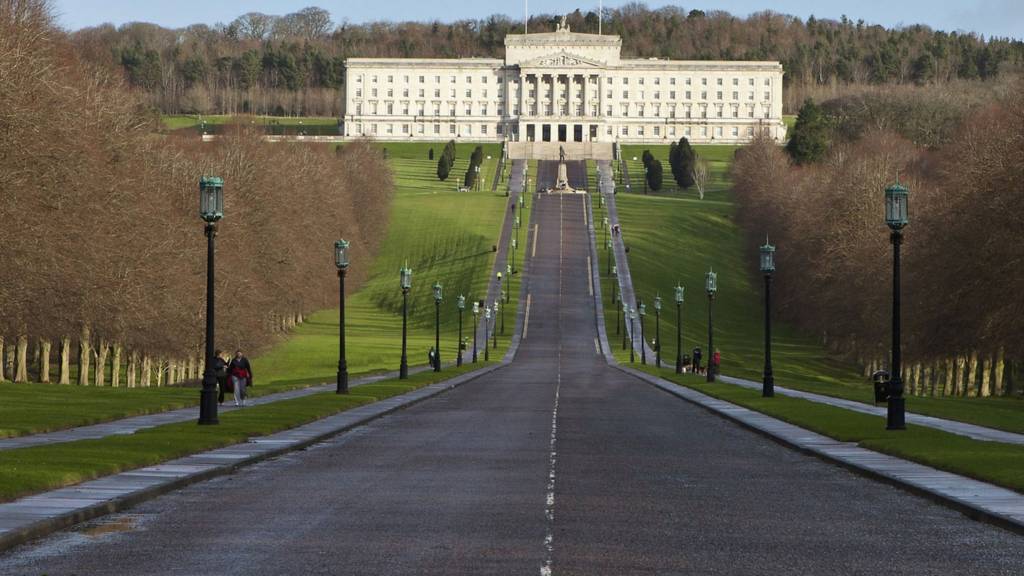 Stormont as it happened: 10 February 2016
Summary
MLAs debated the Justice Bill, rejecting an amendment that would allow for abortion in cases of fatal foetal abnormality.
The Assembly is debated the final stage of the Public Services Ombudsman Bill.
The agriculture minister gave a statement on a North South Ministerial meeting.
And with that, we bid you goodnight.

Join us tomorrow morning, from 10:00GMT, for coverage of the Environment Committee.

The Justice Bill concludes its consideration stage.

Anna Lo's amendment which seeks an exemption in the case of rape or incest also falls.

Fatal foetal abnormality amendment falls

Amendment 61, covering fatal foetal abnormality, falls with 40 voting in favour, and 59 against.

The amendments in the name of Basil McCrea and Steven Agnew are not moved.

'Important to the self-respect of this country'

Alliance's Trevor Lunn, one of the amendment's proponents speaks of his own experience, when his wife was pregnant, but doctors advised them "the baby was unlikely to survive". 

Of his own situation, he says, "It gives you an insight, perhaps as a man, you might otherwise not have".

"This amendment is important," says Mr Lunn. "It's important to women in Northern Ireland and to men. It's important to the self-respect of this little country".

He "implores" MLAs to vote on the basis of their conscience, not in line with their party's whips.

'About independent life, not disability'

The justice minister speaks to the final batch of amendments, relating to termination of pregnancy.

He says he is glad to have the chance to "dispel some of the myths" and "nonsense" about what his party colleagues Stewart Dickson and Trevor Lunn's amendment would do.

"It is not an issue about disability, it is an issue about independent survival" he says.

After consulting on the issue of an exemption for cases of rape and incest proposed by Anna Lo, he says he cannot support her amendment due to the complexities around the issue.

He questions the timing of the DUP proposal for a working party on abortion, adding: "There is little to be assured that there is a genuine intention to consult. It could have been done at any time over the year plus and it hasn't happened".

'Women failed on both sides'

Independent MLA Claire Sugden says women are being failed "on both sides of the argument".

She talks about the experience of a constituent whose unborn baby was diagnosed with anencephaly, a condition that means the absence of a major portion of the brain, skull, and scalp.

The woman was told she could either carry the child to term or travel to Great Britain to have a termination, she says.

She says she found there is no support for women wishing to continue with their pregnancy in these circumstances, nor for those wishing to terminate the pregnancy. 

'Very limited circumstances'

Independent MLA John McCallister says he wishes to tell opponents of the amendment: "it is about giving a choice to a family in a very difficult set of circumstances, it is not about saying do one thing or the other".

He says while he does not have "hugely liberal views on abortion on demand - I don't support it" he believes the amendments are about showing "compassion to people at an absolutely heart-wrenching point in their lives".

Alliance's Chris Lyttle says there are already a number of instances when termination is permitted, including "when the mother's life is at risk" adding "I believe there are a significant number of people in our community who believe that fatal conditions, rape and incest should be included in this criteria".

He says clarity is needed on the existing law, but "in five years of the DUP ministry of health, we are yet to see that".

'Ban does not end abortions'

Basil McCrea of NI21 says of the slippery-slope argument: "there is no evidence that the law in Northern Ireland has resulted in any reduction in the number of terminations", adding "what it does is make it more dangerous".

On the issue of fatal foetal abnormality, he says there is "no life to defend" and "this is something where it is absolutely testified by medical professionals".

UKIP MLA David McNarry says "I worry where this will take us to".

The existing law has "served us well", he says, 

Mr McNarry warns that, if adopted, the amendment brought by Stewart Dickson and Trevor Lunn could be "turned into abortion on demand".

'Abortion is a health issue'

Steven Agnew of the Green Party says he would prefer to see the matter discussed as part of a health debate.

"This is a health issue and that's how it should be treated," he says.

"Unfortunately, the law around abortion is one of criminal justice," he says.

Kieran McCarthy of Alliance says he is "totally and absolutely opposed to abortion" and to the "obnoxious" 1967 Act

He says the amendments "do not force anyone to adopt any particular way forward".

The TUV's Jim Allister says the amendments require to be addressed "with some rigour" as "behind the emotional appeal is a fairly fundamental change to our criminal law".

Steven Agnew asks Mr Allister whether he supports the general principles of Mr Dickson's amendment.

"Let me disabuse  Mr Agnew of any idea that I harbour any support for the amendment," Mr Allister says, "None whatsoever".

'Rape, incest or indecent assault'

Anna Lo of Alliance introduces her amendment that would allow termination in cases of "rape, incest or indecent assault".

She says she is speaking as an individual MLA.

Ms Lo asks the members if they have ever seen a woman who has just been raped.

"I have," she says, explaining that this happened when she was an interpreter for the police.

Ms Lo says 837 women were recorded as having travelled to Britain for abortions in 2014.

"Among those was a 13 year-old who became pregnant by incest," she adds.

'Bleak House on the Stormont Estate'

UUP leader Mike Nesbitt says he does not feel comfortable standing up tonight "as a man discussing what a woman should do with her body".

He says the DUP are "kicking this down the road until after the elections".

Mr Nesbitt says it is "a petition of concern by any other name".

He criticises the delay represented by the working party.

"It is Bleak House on the Stormont Estate," Mr Nesbitt says.

Image caption: Steven Agnew

Fearghal McKinney of the SDLP  quotes some comments he says were made by Mr Dickson in 2013.

"As a legislative assembly we have a responsibility to consult and engage properly with the public on major changes to the law," he quotes.

Green Party MLA Steven Agnew intervenes to say that the minister, David Ford, held a public consultation on the matter that showed there was "considerable public support" for the availability of termination in cases of fatal foetal abnormality.

Mr Agnew says he understands that Mr Ford wanted to bring legislation to the assembly but he had been unable to get it through the Executive.

Ulster Unionist Danny Kennedy says the proposed amendments "will apparently allow pregnancies to be terminated solely in the light of the condition of the foetus".

He says this represents "a significant shift in principle" and as such "requires detailed consideration".

'Always been a pro-life party'

Dolores Kelly of the SDLP says they "have always been a pro-life party".

Ms Kelly says their approach to the amendments is based on advice from "clinicians and legal experts".

She says she welcomes the DUP proposal for a working group.

"We will play whatever role we have to play in assisting that working group to come to the right conclusion".

Caitríona Ruane of Sinn Féin says this issue has brought "an enormous amount of hurt and anger felt by women who feel let down by the state in which they live".

She says her party does not support the extension of the 1967 Act to Northern Ireland, but does support the option of termination in cases of rape or sexual crimes and fatal foetal abnormality.

Ms Ruane says the DUP's proposal for a working party represents "a failure of leadership on their part".

Working party 'to report back in 6 months'

Mrs Pengelly outlines the DUP's proposals for a working party of "clinicians in the field and legally-qualified persons" to consider the best and most appropriate way forward.

The working party should report back withing six months, she says.