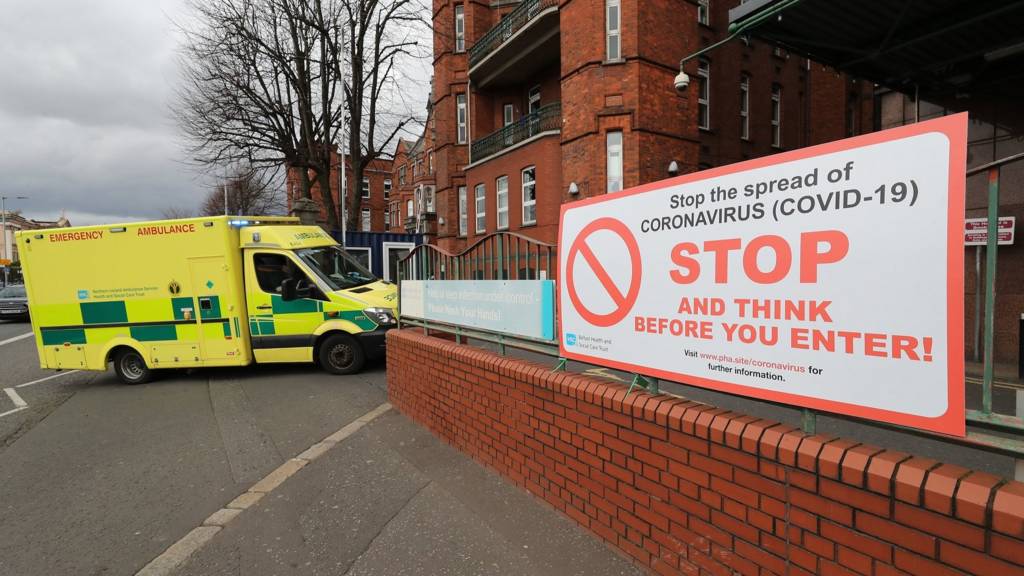 As it happened: Coronavirus in NI on 14 April
By The Visual and Data Journalism Team

BBC News

Thanks for following our live page today as we brought you the latest news linked to the coronavirus pandemic.

We will be back again at 07:30 BST tomorrow.

Goodnight from the BBC News NI team. Keep safe.

There was little reprieve from news linked to the coronavirus pandemic today.

Here is a summary of today's main stories:

Ten more people diagnosed with Covid-19 have died in hospital in Northern Ireland, bringing the total number of hospital deaths to 134, with 1,967 confirmed cases.
The number of confirmed Covid-19-related deaths in the Republic of Ireland is 406
From Friday, weekly bulletins from NISRA will report deaths in both hospital and non-hospital settings following concerns that deaths in care homes were not being reported in the same way as hospital deaths.

'It's an invisible bullet going through the city'

Copyright: Anthony Almojera

New York paramedic Anthony Almojera says he cries with his colleagues "sometimes on a daily basis".

He is now working 16-hour days to try to save people across the city, while supporting colleagues who fear for their lives and their families.

"It's like an invisible bullet going through the city," he said.

He spoke to BBC News NI's Dean McLaughlin and you can hear the full interview tomorrow morning on BBC Radio Foyle's Breakfast programme and on Good Morning Ulster on BBC Radio Ulster.

Foster's well wishes for Sinn Féin leader

First Minister Arlene Foster has spoken to Sinn Féin leader Mary Lou McDonald to wish her well following her diagnosis with Covid-19.

Mrs Foster said it was a reminder that "no one is immune".

Plans for virtual parliament 'progressing well'

Nick Eardley

Political correspondent

MPs could take part in Prime Minister's questions, urgent questions and statements via videolink from next week.

The Commons Speaker Lindsay Hoyle wrote to MPs today saying plans for a virtual parliament are progressing well.

The main proposal would see some proceedings take place through video link and broadcast live.

Sir Lindsay wrote to MPs: "The scale of the challenge means there are bound to be bumps along the way, but once these proceedings have been judged to be delivered in a satisfactory and sustainable way, both from a technological and participatory point of view, then the house can consider extending the model to other proceedings such as debates on motions and consideration of legislation."

The House of Commons Commission will discuss the plans at a meeting on Thursday – and sources have said it is highly likely to approve some changes.

Parliament would then have to approve the changes the following week, when MPs return on Tuesday.

Commons authorities are also considering ways in which MPs could vote remotely – although it's understood there is still debate on how that would work and is likely to be approved this week.

Republic of Ireland's economy 'will grow in 2021'

The Republic of Ireland's economy will fall by 6.8% in terms of gross domestic product (GDP) as a result of Covid-19, according to The International Monetary Fund (IMF).

RTÉ reports that the IMF's World Economic Outlook says that unemployment in the Republic will average 12.1% this year and 7.9% in 2021.

But it predicts that the economy will return to growth in 2021.

Globally, the IMF is forecasting that the economy will shrink by 3% this year as a result of the coronavirus pandemic, which it describes as a "rare disaster".

What can we learn from the WW2 generation?

What can younger people learn from the generations that lived through World War Two?

Green Party NI leader in plea over online shopping

The leader of the Green Party in Northern Ireland, Clare Bailey, is urging people to think twice before going online to shop.

"Big online retailers are enjoying record sales during this quarantine," she said.

"These record sales are achieved on the back of thousands of often low paid workers fulfilling orders instead of following government advice to stay safe at home.

"Retailers may have closed stores, but warehouse operatives, multi-drop delivery drivers and postal workers are busier now than at peak periods like Christmas."

Ms Bailey said consumers need to consider whether what they are ordering is essential.

"Does the online retailer provide an essential service? If not, it's not worth risking the safety of workers by placing that order," she said.

First I/V drugs preparation service of its kind introduced in NI

The Ulster Hospital is now home to an "innovative" I/V drugs preparation service, which the South Eastern Trust says is the first of its kind.

The service is designed to save time for nurses on the wards during the Covid-19 outbreak.

Institute targeting 1,000 tests per day

The Agri-Food and Biosciences Institute (AFBI) is to carry out up to 1,000 Covid-19 tests per day to assist the health service, according to the Agriculture, Environment and Rural Affairs Minister Edwin Poots.

Touring the facility with the Health Minister Robin Swann, he said it was thanks to a new consortium formed between AFBI, Queen's and Ulster University.

"Subject to us being able to secure the key test kits and reagents, AFBI is able to offer its technical and scientific expertise which will hugely support the HSC (health and social care) efforts in the critical area of diagnostic testing," he said.

"When fully operational in a number of weeks it is expected that AFBI may test up to 1,000 samples per day."

Robin Swann said: "All those bodies who have stepped forward to assist with increasing our testing capacity will play a crucial part in enhancing our armoury as we fight against Covid-19."

GAA inter-county championships 'unlikely before July'

The GAA has said that senior inter-county championships, scheduled to begin in May, will be postponed as it awaits further clarity on the way ahead.

But the association said it was highly unlikely these would be rescheduled any time before the beginning of July, at the earliest.

It also confirmed that all club activity across Ireland will remain suspended until 5 May.

In a statement on its website, the GAA said: "When sporting activity recommences, the GAA will accommodate both club and county games.

"The association also intends to complete the Allianz Leagues, or at least those games that have a bearing on next year's divisions, where possible.

"A special congress, to be held remotely, will take place this Friday to propose decision-making flexibility to allow us vary competition structures, if required, in advance of resuming games."

The association said that all decisions would be based on the advice of medical professionals and the Irish government.

99-year-old Captain Tom has raised almost £2m for NHS Charities Together

Bikers join community volunteers

Motorcycling enthusiasts have joined the growing number of community volunteers in Northern Ireland.

More than 150 bikers have joined the Volunteer Bikers Group.

They are delivering urgent medical and personal supplies across Northern Ireland and along the border.

John Lawson, who is helping to coordinate the operation, said bikers were supported by the NHS and wanted to do something in return.

The group has been praised by some of the biggest names in motor racing.

Five-time World Superbike champion Jonathan Rea said it showed "how strong this motorcycling community can be", while Eugene Laverty said the work was "incredibly selfless".

Health Minister welcomes change in how deaths are reported

Health Minister Robin Swann has welcomed a change to the way coronavirus-related deaths are reported in Northern Ireland.

From now on, the Northern Ireland Statistics and Research Agency (NISRA) will say whether a person died in a hospital setting or a non-hospital setting.

Mr Swann said he welcomed the "intention to provide a further level of breakdown" which would include "as soon as possible, information on deaths in care homes".

"It's in everyone's interests for published statistics to give as full a picture as possible on Covid-19," he said.

"We need maximum public awareness on the seriousness of the virus and its potentially devastating consequences.

"I also want to make clear that testing of any care home resident or staff member displaying Covid-19 symptoms is being undertaken. This is an important measure to help residents stay safe."

Mary Lou McDonald endured 'weeks of sickness'

Sinn Féin leader Mary Lou McDonald was found to be positive for Covid-19 on Monday after being tested for the virus on 28 March.

In a video posted on Twitter, she said: "You don't want to get this virus, you don't want this virus in your home or in your family."

Oasis and Warehouse 'to fall into administration'

Women's fashion retailers Oasis and Warehouse are expected to appoint administrators soon, putting about 2,300 jobs at risk across the UK.

The companies have more than 20 shops, or outlets within larger stores, between them across Northern Ireland.

The owner of the High Street brands, Icelandic bank Kaupthing, had been in talks to sell the businesses before the coronavirus crisis.

However, the crisis, which has seen many shops temporarily close, has knocked the legs from under the sale.

The fashion retailers are expected to appoint Deloitte as administrators.

Irish testing capacity 'significantly strengthened'

There are now a total of 11,479 confirmed cases of Covid-19 in Ireland, according to the Health Protection Surveillance Centre.

A total of 90,646 tests have been carried out - 20,468 of which were carried out in Irish laboratories over the past week.

Dr. Cillian De Gascun, chair of National Public Health Emergency Team, said testing capacity had been increased.

Copyright: Department of Health

Image caption: Dr Cillian De Gascun

He said: "Having come through a challenging few weeks, we have significantly strengthened testing capacity and will continue to do so over the coming week, to put us in a very strong position to identify and suppress the virus."

Forty one more deaths were confirmed today.

The average age of Monday's reported deaths was 85 and 31 people were reported as having underlying health conditions.

Dublin has the highest number of confirmed coronavirus cases at 5,438 (52% of all cases) followed by Cork with 780 cases (8%).

NHS staff use app to request PPE

A new web-based app is allowing frontline workers to report personal protective equipment (PPE) shortages.

NHS staff have used Frontline.Live, launched on Saturday, to report a lack of life-saving equipment such as hand sanitiser, masks, goggles and gowns.

They can tweet the items they need, their work postcode, a photo and the hashtag #FrontlineMap or, and to remain anonymous, complete an online form.

Read more on this story here.

NI Covid-19 bulletin 'to include deaths outside hospitals'

From Friday, the weekly Covid-19 bulletins will report deaths in both hospital and non-hospital settings.

It follows concerns from people with relatives in nursing homes that these deaths were not being reported in the same way as hospital deaths.

In a statement on Tuesday, the Northern Ireland Statistics and Research Agency (NISRA) said it had been working with the Department of Health on providing further information on Covid-19 deaths.

"From this Friday 17th April, the bulletin which will reflect deaths up to and including the 10th of April will give deaths by place of occurrence i.e. hospital setting and non-hospital setting," a spokesperson said.

"Where a further breakdown (such as care homes and other settings) can be provided without compromising confidentiality NISRA will provide this."