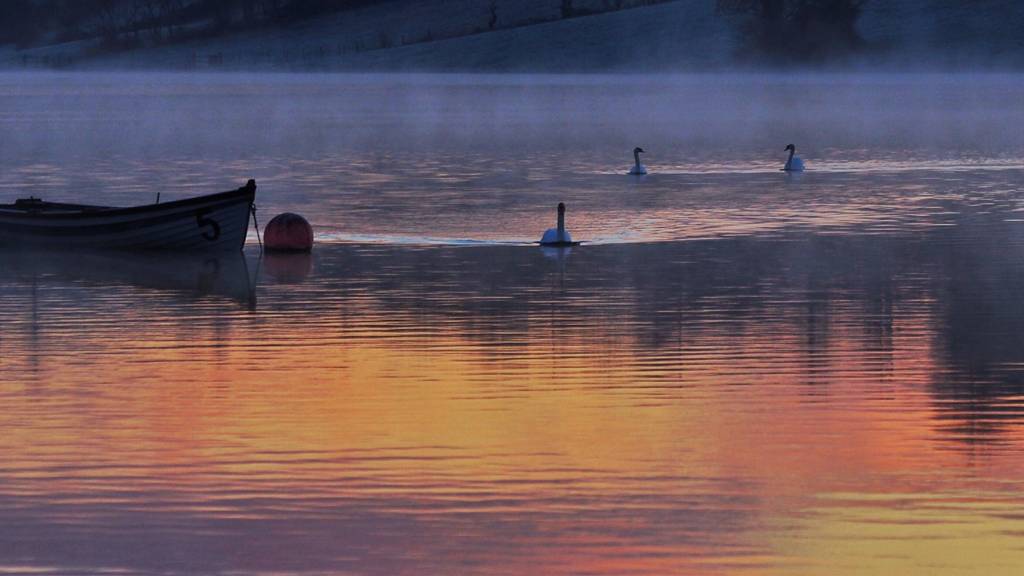 Summary
Updates for Tuesday 12 April 2016
More updates from 07:00 on Wednesday
Image: Sunrise over Corbet Lough, County Down (by Sharon Arnold)
That's all from BBC News NI Live today.  We'll be back tomorrow from 07:00. Have a good evening.

What has the weather got in store for us?

Pop singer in surprise visit to town's football club

UUP calls for 'Book Buddies'

Ulster Unionist leader Mike Nesbitt has called for "an army of volunteer Book Buddies" to help schoolchildren improve their reading skills.

He said the "costs are minimal" and it would help eradicate poor literacy in schools. Mr Nesbitt said he wants the Department of Education to adopt the idea as a formal strategy.     

276 candidates for next months' assembly elections

DUP leader can't choose her questions

It was question time for First Minister Arlene Foster when she met Primary Seven pupils in a school visit today, but the DUP manifesto wasn't what they wanted to ask her about.

Copyright: Arlene Foster/Twitter

Coming up on BBC Newsline: Appeal over stolen war medals

Crash on Oxford Street, Belfast, causing delays

Security guard injured during protest at Queen's University

A security guard has been injured during a protest by students and staff over cutbacks at Queen's University, Belfast.

The injured man was taken to hospital but has now been discharged. A students' union spokesperson said they were protesting about what they describe as damaging and unnecessary course closures and job losses at the university.

Broken down lorry moved from Stockman's Lane

Traffic delays on Malone Road leaving Belfast

Coming up on BBC Newsline: More on that animal cruelty case

Rush-hour delays in Newtownabbey

David Ford's tax return 'shows his charity donations'

SDLP leader saves over £700 after publishing tax return

SDLP leader Colum Eastwood's decision to publish his tax returns has saved him more than £700. 

That's how much the 32-year-old overpaid the Student Loans Company to cover money which he had borrowed 16 years ago. He only discovered the mistake when he put his tax details in the public domain this week and said he will put the refund towards his election expenses.

Grants for 'community parties' to mark Queen's 90th birthday

Sinn Féin's Martin McGuinness publishes tax and earnings

Northern Ireland's deputy first minister followed the lead of other high-profile politicians in releasing his tax documents, following the Panama Papers controversy.

Larne home destroyed by overnight fire

A woman escaped from this house fire in Larne, County Antrim, overnight but the property has been gutted by the blaze.

Twenty-seven firefighters were involved in the operation on the A2 Coast Road, where two oil tanks caught fire. The woman was alerted by a neighbour and was treated at the scene by medics.

Broken down lorry causes M1 delays

Farmer avoids jail in 'horrendous' animal cruelty case

A farmer who was the subject of the biggest ever herd seizure in Northern Ireland has been given a suspended sentence for animal cruelty charges. 

Inspectors found dead and dying cattle in sheds on James Steele's farm, and animals with no access to water. The judge told the 46-year-old, from Gobrana Road, Glenavy, he had been "shocked" by the condition of the livestock.