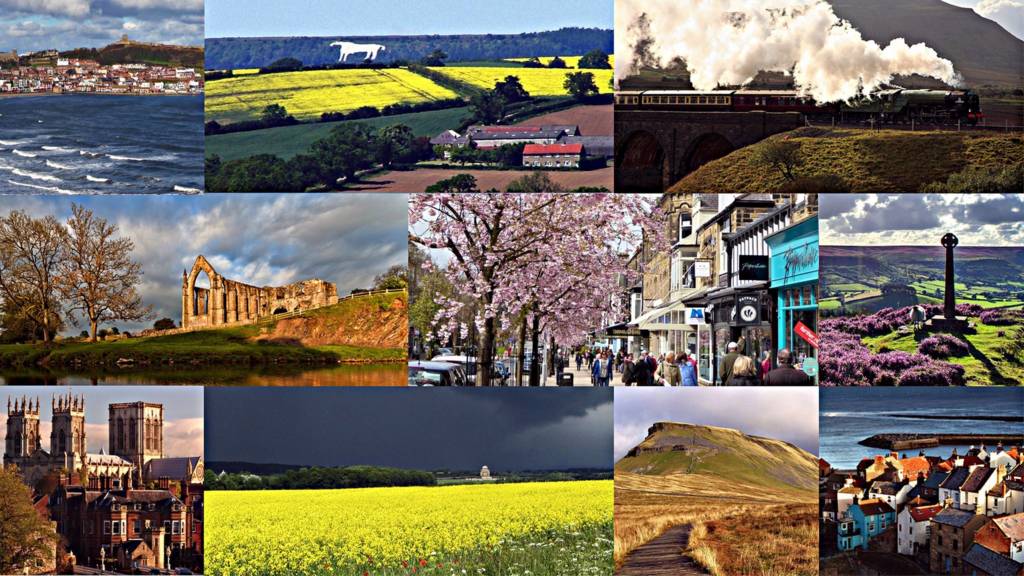 Breaking news in North Yorkshire
Whitby and Scarborough: Waters receding

The waters in Scarborough are receding after high tide passed.

There was localised flooding on seafronts in both towns.

However, residents and businesses had taken precautions with property and their own safety.

Emergency authorities are on scene to inspect any damage and to also keep people safe.

We are ending our live coverage for this week now, but you can look back through the rest of our posts to see what's happened that you may have missed.

We'll be back from 06:30 on Monday.

Road flooded in Scarborough

Phil Bodmer

Journalist, BBC Look North

As the tidal surge reached its peak, we were on the seafront in Scarborough.

This is what we saw:

As we've seen from earlier pictures, it's simple advice but is worth repeating:

Here's the latest from the fire service in North Yorkshire:

Photographer Ceri Oakes is in Whitby.

There's some localised flooding along the front.

Here's a tweet from Scarborough Spa - you can see a section of the sea wall has been damaged by the waves:

Phil Bodmer

Journalist, BBC Look North

I'm in Scarborough - and so are these guys.

They're the Bowland Pennine Mountain Rescue Team who are ready to assist:

I'm down on Pier Road in Whitby.

Waves are beginning to break over the walls and flow down the streets around the harbour:

We'll have more on the Spa shortly. 

Here's the view in Scarborough:

Scarborough: High tide on the way

I'm in Scarborough as high tide approaches.

People in the town are still being urged to be wary of flooding - this video shows why:

Five things we've learned about North Yorkshire today

Jim Addyman

BBC Local Live, York

That's all from me for now. I'll be back from 06:30 on Monday with more news, sport, travel and weather updates from around Yorkshire. 

Meanwhile, updates will continue here throughout the day.

In the meantime, here are five things we've learned about our county today:

1. Overnight worries about tidal surges and flooding on the Yorkshire coast turn out to be unfounded

2. The teenager charged with the murder of seven-year-old York girl Katie Rough has been remanded in secure youth accommodation once more

3. York City have added another new face to their squad with the arrival of Cheltenham Town forward, Amari Morgan-Smith on loan until the end of the season

4. York City Knights have been given the go-ahead to play at Bootham Crescent this coming season

5. York is to be a pilot city in a scheme to increase the efficiency in how pothole problems are reported

I'll leave you today with this pic of a snowy but colourful Harrogate sent in by BBC Weather Watcher, Jeannette

Julia Bryson

Journalist, BBC Local Live

If you're on Instagram, why not check out our gallery of photos from around Yorkshire at @bbcyorkshire?

We have a community of instagrammers tagging us #bbcyorkshire to be featured - why not be part of it too? 

Severe disruption: A174 North Yorkshire both ways

BBC Travel

A174 North Yorkshire both ways severe disruption, between Lythe Bank and Sandsend Road.

A174 North Yorkshire - A174 Sandsend Road in Sandsend closed in both directions between the Lythe Bank junction and the Sandsend Road junction, because of flooding.

Check local traffic and travel reports for:

Scarborough's Open Air Theatre hopes to increase number of events

Jim Addyman

BBC Local Live, York

The number of concerts held at Scarborough's Open Air Theatre could more than double.

It's currently restricted to 12 events a year but operators now want to increase that number to 30. 

They also want to increase the size of the audience by an extra 3,000. 

Last year the venue hosted concerts by Bryan Adams, James Bay and Wet Wet Wet.

Effect of York's 2015 floods still felt over a year on

Jonathan Cowap

Presenter, BBC Radio York

The floods of December 2015 caused untold misery for a lot of North Yorkshire residents, not least when they came to renew their insurance policies.

Many have had to put up with large increases in their premiums and in some cases insurance is impossible to get.

Some people have reported that because the industry works by postcode, they have seen premiums rocket due to them living in a postcode where flooding occurred, even though their property has never flooded.

Is that fair? That's a question I put to Malcolm Tarling from the Association of British Insurers, asking him what insurance companies are doing to improve the situation:  

Storm surge: Scarborough on tenterhooks ahead of afternoon high tide

Phil Bodmer

Journalist, BBC Look North

There is a sense of relief among local businesses that this morning's high water passed off without incident but there is also a sense of apprehension about tonight's high tide at about 4.45pm.

The foreshore road is open at the moment, the barriers and sandbags remain in place but, of course, we are not out of the woods yet.

You can see the white horses out there in South Bay and there are realy strong winds, force 10 in places ands a strom surge is coming down the North Sea again.

Traders say they have put all precautions in place and it's really a waiting and watching brief now.

Another York City loan signing arrives

Following on from Danny Parslow returning for a second spell at Bootham Crescent, one of Parslow's Cheltenham Town colleagues has also joined the Minstermen.

Amari Morgan-Smith will be with York City on loan until the end of the season, although it's thought that manager Gary Mills is keen to sign the player permanently when his contract runs out in the summer..

The 27-year-old forward has made 25 appearances for the League Two side this campaign, scoring twice.

Copyright: The Non League Football Paper

North Yorks troops to remain in Skegness

Jake Zuckerman

BBC Look North

Soldiers from 2 Yorks Battalion, usually based at Catterick Garrison in North Yorkshire, are staying in Skegness today just in case there are problems with the high tide this evening.

Focus is now turning towards the next high tide on the east coast at about 18:00 amid worries over a possible storm surge.

This morning's high tide in Lincolnshire passed without incident.