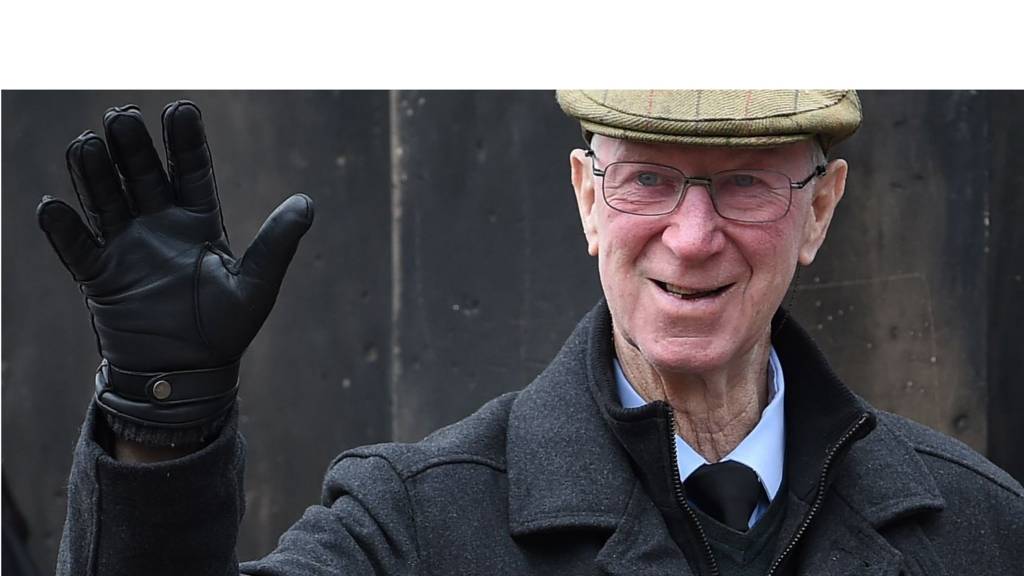 Funeral held for football legend Jack Charlton
Ashington pays tribute to local hero Jack Charlton

Jack Charlton's funeral cortege has now left Ashington and is going to a crematorium in Newcastle for a private service.

We are ending our live coverage of the procession, but you can read more about the day here.

There will also be coverage on BBC Look North and BBC Newcastle.

Here are some final pictures from today.

Jack Charlton: A hero off the pitch as much as on

As soon as the funeral car appeared, the hundreds of people on Alexandra Road started to applaud and cheer.

One of the town's most famous sons was home.

A Northumberland piper accompanied the cortège part of the way. It was a tribute that brought his family to tears.

These are strange times. The family requested that people kept their distance from each other and wore a mask.

Despite the pandemic, everybody here left their home or took the morning off work to pay their respects. That's how much he is loved in this part of the world.

They all have a story about Jack Charlton too - a time he turned up at the local pub, or when he shared his packed lunch when he was out fishing.

Football defined him, but his personality also made him a local hero.

Jack Charlton's hometown campaigns for statue

A campaign for a memorial to football legend Jack Charlton is under way.

Charlton, a World Cup winner with England and former Republic of Ireland boss, had been diagnosed with lymphoma and died on 10 July aged 85.

He was born and brought up in Ashington and was a frequent visitor, who always took time to meet and talk to locals.

There is a statue of him at Cork Airport but none in Ashington, and fundraising is under way.

Charlton leaves Ashington to sound of applause and piper

A lone Northumbrian piper played Abide With Me, the traditional FA Cup final hymn, as the ripple of applause spread down the street.

This was never going to be a quiet send-off for Jack Charlton.

The cheers grew as the funeral cortège passed The Hirst Welfare Community Centre, the park where Jack and younger brother Bobby first kicked a football.

"Only 12 Englishmen have a World Cup winner's medal," pointed out Steve Harmison, the local lad who went on to be one of the nation's great cricketers.

"And two of those 12 came from Ashington. How good is that?"

The applause followed the fleet of five cars around the town, en route to a private cremation in Newcastle.

And with that Jack Charlton left Ashington for the final time, after a life so well-lived.

Clapping for 'Wor Jackie'

This young lad turned his body into a tribute to Jack Charlton.

Floral football tributes in hearse

Jack Charlton's hearse contains a number of floral tributes to him, including a football and the red number five shirt he wore for England in the victorious 1966 World Cup final.

England and Ireland football scarves have also been draped over the coffin.

Listen again: Jack Charlton on Desert Island Discs

If you find yourself with a spare 40 minutes, you could do worse than listen to Jack Charlton's appearance on Radio 4's Desert Island Discs in 1996.

These two boys are among the many who are celebrating Jack Charlton's pride in his Ashington roots.

In pictures: Crowds line cortege route

Here are just some of those paying their respects to Jack Charlton in Ashington:

Cricketer Harmison among Charlton mourners

Ashington-born England cricketer Steve Harmison is among those paying their respects to the funeral cortege of Jack Charlton.

The 2005 Ashes winner was standing with members of Charlton's extended family and a piper in the town.

Remembering the time Charlton waved at the pope

While many of the memories of Jack Charlton involve his time on the pitch as a player and sidelines as a manager, one story that's also been re-told is the time he waved at the Pope.

During Italia 90, the Ireland squad was invited to a three-hour Mass, recalls football historian Colin Young, who has written a biography of Charlton and is attending the cortege.

"By his own admission he nodded off," Mr Young said. "I gather it was quite a warm day and he was struggling. He woke up convinced that when the Pope was blessing the audience he was pointing straight at the Ireland manager, so Jack stood up, bowed and gave a little wave back."

Mr Young also recalled how Charlton started in football after working just one shift at Linton Colliery, where his father Bob worked.

"He thought it was an idyllic way to earn a few bob, but then he was told quite clearly there was a lot more to mining. He did one shift and basically said 'it's just not for me'.

"On the day before he was due to have his trial with Leeds United he had an interview with Northumbria Police. It was only with [his mother] Cissie's permission he followed the football, who said 'let's give this football game a lark and see if we can't make a living out of it."

'One final journey' for legend Jack Charlton

Large crowds are applauding Jack Charlton's final journey.

In pictures: Jack Charlton's World Cup win

Today is all about celebrating the achievements Jack Charlton, one of the greatest of which must have been his role in helping England win the World Cup in 1966.

The then 31-year-old partnered England captain Bobby Moore in central defence for the World Cup hosts, wearing the number five shirt in all six World Cup games, including the 4-2 win over West Germany in the final.

Between 1965 and 1970, Charlton won 35 caps for England in total, scoring six goals.

Image caption: Charlton (left) was interviewed alongside teammates and manager Sir Alf Ramsey by the BBC at the squad's training camp at Lilleshall ahead of the World Cup

Image caption: Charlton was part of the 22-man squad having won his first England cap the year before

Image caption: Jack (left) joined his brother Bobby in the England squad for the 1966 World Cup

Image caption: Charlton (far right) was at the heart of England's defence while his brother Bobby (second from right) led the attack, bagging both England goals in a 2-1 win over Portugal in the semi-final

Image caption: Jack played for England 35 times while his brother Bobby got 106 caps and 49 goals

Image caption: The England team were national heroes in 1966 but still managed to find time for themselves, albeit with a lot of public attention

Image caption: Jack partnered Bobby Moore at the heart of England's defence on their way to lifting the Jules Rimet trophy

Image caption: Both Charlton brothers were part of England's 1970 World Cup squad in Mexico, but 35-year-old Jack only played one game, a 1-0 win over Czechoslovakia

Image caption: The World Cup winner was made an OBE in 1974

'Lovely send off for Jack'

Lewis Pringle said Jack Charlton is being given a "lovely send off" by the people of Ashington.

Thousands turn out for cortege

It looks like thousands of people have turned out for Jack Charlton's funeral cortege.

Jack's last journey around hometown

Ashington FC have shared this picture of Jack Charlton's cortege arriving in the town.

Crowds applaud as funeral cortege arrives

The crowds are applauding as Jack Charlton's cortege makes its way through Ashington.

'Jack was part of the town'

For anyone who has lost their life in this awful, agonising year, it's been a lonely business - restricted numbers at funerals, cremations and gravesides - to prevent the spread of Covid-19.

In keeping with much of his colourful life, though, Jack Charlton was different.

He passed away at home in his native Northumberland, surrounded by family.

And today – doing their best to keep their distance from fellow-mourners, and many wearing masks at the express wish of the Charltons – thousands lined the streets of Ashington, waiting to wave off the man known universally as ''Big Jack'' with the cortège touring his home town en route to a private cremation in Newcastle.

For a miner-turned-footballer who left the area as a teenager in 1952 to begin a 21-year association with Leeds United, the evident love for him , from all ages, is remarkable.

Stop anyone here, and they'll each have a tale to tell about the day they met him, and the time he freely gave them.

Local journalist and historian Vince Gledhill, for 45 years the Evening Chronicle's Ashington man, summed it up best.

"Jack was part of the town," he said. "And the town was part of Jack."

Fans pay tribute to Jack Charlton

Leeds United fan Kevin Coe, 51, and his son Ellis, six, from Rothbury, are among those on the route of the funeral procession.

Referring to a 1971 documentary showing Jack Charlton's home life in Ashington, Mr Coe said: "He just seems to have been a regular guy.

"He was still going out to the clubs, involved in whippet racing. It sums up this area."

Peter Cowans, 64, decorated the outside of his Ashington home with flags in honour of the World Cup winner.

The former policeman said: "He was a lovely fella, not just a football legend, but a real gentleman too. I'm pleased the crowds have turned out in their droves - I knew they would. He never forgot his roots."

Irishman Patrick Wilson, 68, said: "Jack set football off in Ireland. We used to call it soccer. We look at him as a humble person, a man for the people. He was a simple sort of person with no airs or graces. Everyone was the same in Jack's eyes."