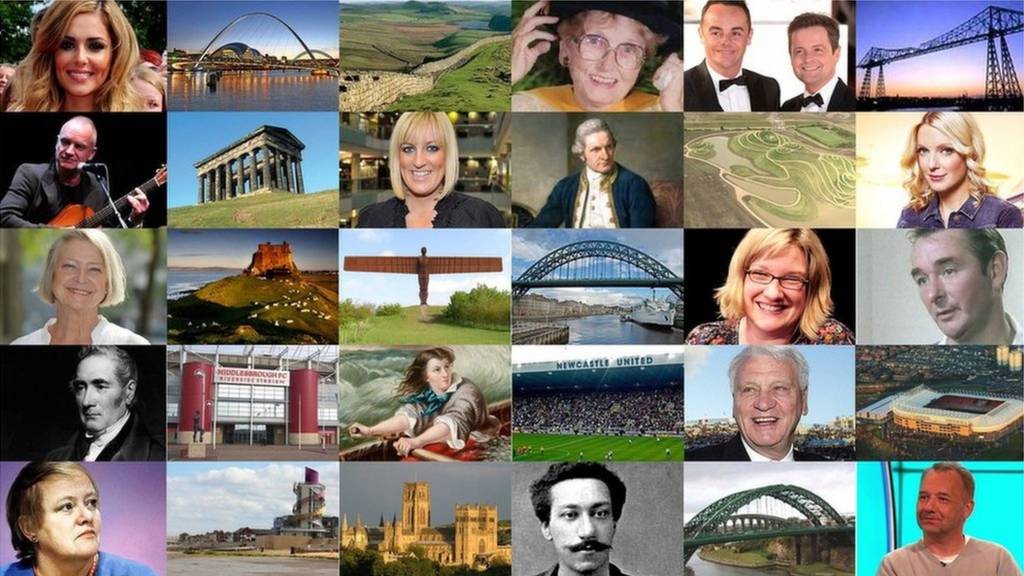 Latest updates from North East England Live
Listen live to your local radio station: BBC Newcastle and BBC Tees
Our live coverage across the day

Our live updates have finished here for today and indeed the week.

You can also stay up to date overnight online, on BBC Newcastle, BBC Tees and Look North.

We'll be back with more live updates from 08:00 on Monday.

If you want to get in touch with any news or send us photos you can tweet us, contact us via our Facebook page or email us.

Cullercoats beach is all washed up

Local Democracy Reporting Service

Cullercoats Beach has once again been slapped with a "poor" rating for water quality, making it the only beach in the region not classed as "good" or "excellent".

Despite this, more North East bathing waters than ever before have been rated excellent in the latest classifications announced by Defra.

For the second year running, 33 of the region's 34 designated bathing waters have achieved either 'excellent' or 'good' ratings, with the number achieving the highest rating rising from 24 to 25.

A further eight are good, while work continues at Cullercoats, to identify and remedy the causes of it being rated poor, the only bathing water not to pass the standards.

A joint investigation between the Environment Agency, North Tyneside Council and Northumbrian Water, regarding the deterioration of bathing water quality at Cullercoats, continues.

Severe accident: A1(M) Tyne And Wear southbound

BBC News Travel

A1(M) Tyne And Wear southbound severe accident, at J64 for A195 Western Highway.

A1(M) Tyne And Wear - A1(M) in Washington partially blocked and queues southbound at J64, A195 (Washington), because of an accident.

To report traffic and travel incidents dial 0330 123 0184 at any time

Severe accident: A66 North Yorkshire westbound

BBC News Travel

A66 North Yorkshire westbound severe accident, from A1032 Tees Newport Bridge Approach Road to A19.

A66 North Yorkshire - One lane blocked on A66 westbound in Middlesbrough from Cannon Park Interchange to the A19 junction, because of an accident involving car and a lorry. Traffic is coping well.

To report traffic and travel incidents dial 0330 123 0184 at any time

Life term for street stab murderer

A "violent and dangerous" man who murdered a man on a Middlesbrough street has been jailed for life.

John Lewis, 32, was stabbed through the heart by Jonathan Porritt on Crescent Road on 14 May.

The 28-year-old, of Crescent Road, had denied murder but was convicted earlier this week following a trial at Teesside Crown Court.

The judge has now jailed him for life and told him he must serve a minimum term of 22 years.

Porritt was also found guilty of carrying a bladed weapon in a public place.

Copyright: Cleveland Police

Following his conviction police described him as "violent and dangerous", and warned of the devastating consequences of carrying a knife.

Games lift spirits and moods on County Durham estate

Street games have helped cut anti-social behaviour on a County Durham housing estate by 95% in a year.

And now the project behind it has one has won a police problem-solving award.

The Woodhouse Utd: Auckland Street Games project was crowned overall winner at the Problem Orientated Partnerships (POP) after judges heard of its success on the Woodhouse Close Estate, in Bishop Auckland.

Beth Maddox, of the Bishop Auckland Neighbourhood Police Team, teamed up with the Auckland Youth and Community Centre (AYCC), Believe Housing, Durham County Council and other businesses to launch the Auckland Games – a weekly activity session for children in Woodhouse Close.

Beth said: "I am delighted to have won the POP awards but even happier that we have been able to make such a difference to the lives of everyone in Woodhouse Close."

Copyright: Durham Constabulary

Severe accident: A1(M) North Yorkshire northbound

BBC News Travel

A1(M) North Yorkshire northbound severe accident, from J57 for A66 to J58 for A68.

A1(M) North Yorkshire - Temporary closure and stationary on A1(M) northbound from J57 A66(M) Darlington to J58, A68 (Burtree), because of an accident.

To report traffic and travel incidents dial 0330 123 0184 at any time

We're here so call us for BBC Children in Need

What are you doing today for Children in Need?

There's all sorts going on all across the country, and of course in our region too.

But a hundred workers at the npower call centre on Wearside are going the extra mile.

They're working all day and then they've volunteered to work through the night answering calls and taking donations for Children In Need.

Government to help in 'levelling up the north'

Northern Powerhouse minister Jake Berry has been talking to BBC Politics:

Anna Turley heads back to campaign trail after libel case

A Labour candidate who has sued a union for libel is returning to the campaign trail as a High Court trial draws to a close.

Anna Turley, who was Labour MP for Redcar, and hopes to regain the seat in the General Election,has sued Unite and blogger Stephen Walker.

She says a 2017 article on Mr Walker's Skwawkbox blog, which contained a statement from Unite, libelled her by conveying the meaning that she had acted dishonestly in submitting an application to join the union.

She also says Unite misused her private information. Unite bosses, and Mr Walker, are fighting the case and say Ms Turley has been dishonest and is not fit to be an MP.

They say the article was true or justified in the public interest. A judge on Friday finished hearing evidence at a High Court trial, which began on Monday in London.

Mr Justice Nicklin is due to hear final legal arguments from lawyers representing all sides on Tuesday. A lawyer representing Ms Turley, who has been in court throughout the trial, told the judge that she was returning to Redcar to resume campaigning.

The judge said he understood that the run-up to the election was a busy time for candidates and said Ms Turley did not need to be in court on Tuesday when the hearing resumed.

Sunshine lost, but Joel's smiling in Sun-derland

Joel Manning has a dream and he's travelled 7,000 miles to a place he first heard of only a few months ago to help make it happen.

He's left sun-drenched Barbados for wintry Wearside.

Joel, 27, has been playing cricket since he was a schoolboy and his passion for the game has led him to study for an MA in sports journalism at Sunderland University.

Up until a few months ago, Joel had been working and living in Barbados and had never even heard of the University of Sunderland.

He wants to break into TV sports presenting, but opportunities in his hometown were limited.

Joel was attracted by the sports programme offered by the University and arrived in September, although he says the temperature has taken some getting used to.

"I did bring a coat but quickly realised it's not going to be enough to get through the winter."

Copyright: University of Sunderland

Collaborative Robots - known as cobots - are being championed to help North East small and medium-sized companies.

Experts at the University of Sunderland's faculty of technology are working with them to show businesses the advantages and potential cost savings.

Cobots and can safely work alongside people without the need for safety guards.

Sensors stop the cobot if it comes into contact with something it is not expecting.

Lumiere promises to be 'a truly unforgettable experience'

The Northern Echo

Newspaper

Football gossip: Newcastle United to sign Xhaka?

Newcastle United are interested in signing Arsenal's Switzerland midfielder Granit Xhaka, 27, on loan in January. (Telegraph)

Primary school closed again after suspected sickness bug

A school on South Tyneside has had to close for a second day after a number of pupils and staff came down with suspected nororvirus.

St Mary's Catholic Primary in Jarrow will now have a deep clean.