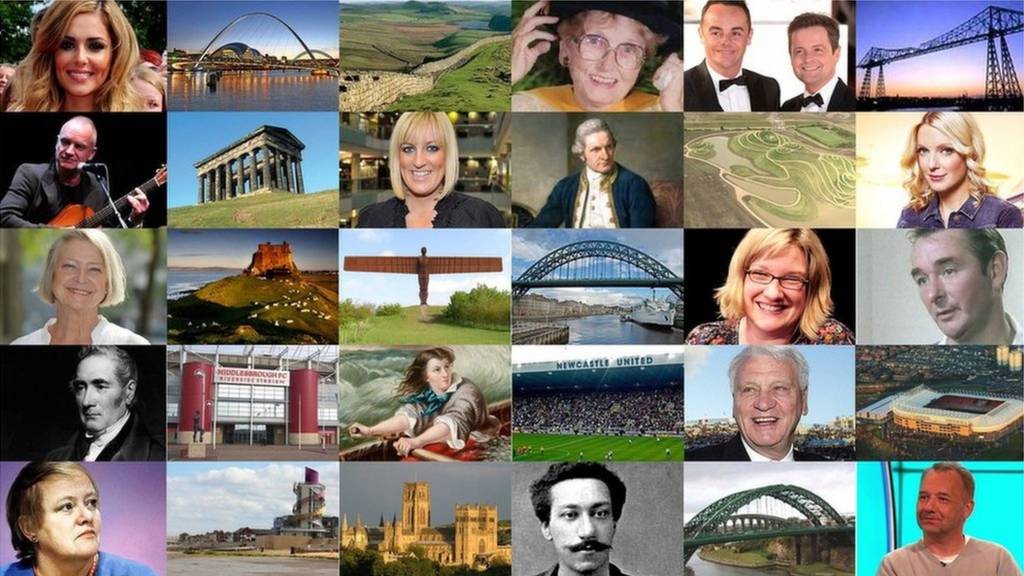 Latest updates from North East England Live
Listen live to your local radio station: BBC Newcastle and BBC Tees
By Saj Chowdhury

BBC Sport

Our live coverage across the day

Our live updates have finished here for the day and for the week.

You can stay up to date over the weekend online, on BBC Newcastle, BBC Tees and Look North.

We'll be back with more live updates from 08:00 on Monday.

If you want to get in touch with any news or send us photos you can tweet us, contact us via our Facebook page or email us.

Have a lovely weekend.

Fire chiefs probe spike in blazes

James Harrison

Local Democracy Reporter

A spike in the number of blazes on South Tyneside is being investigated by the Tyne and Wear Fire and Rescue Service.

In September 14 "deliberate fires" were reported in Boldon Colliery, up from just one in the same month the previous year.

These included a van set alight, as well as rubbish and grassland, and have prompted firefighters to speak to teenagers in the area about the danger and impact blazes can have.

Trevor Sturrock, station manager for Hebburn and South Shields Fire Stations, said they would be visiting Boldon School next week to speak to 14 to 16-year-olds.

He said: "We're not saying any children from that school are setting fires, but they may have some information."

Ian Noble, headteacher at Boldon School said: "We're really keen to support the community and if anyone comes to the school with intelligence we can work with them as a team."

Cannabis seized from four linked farms

Cannabis worth more than £425,000 has been seized from four linked farms on Teesside.

Cleveland Police carried out raids at two properties on Leven Street in Middlesbrough on Wednesday.

It led them to an address on Cheltenham Avenue in Thornaby and another on Dorothy Street in Middlesbrough, which were raided on Thursday.

A total of £15,000 in cash and two vehicles, an Audi A3 and a Volkswagen Jetta, were also recovered.

Six men and one woman have now been charged with drug offences and are due to appear before magistrates.

Copyright: Cleveland Police

Quote Message: The scale of these farms show that this was a highly organised production of illegal drugs." from Det Insp Chris Smiles

New playpark will make 'massive difference'

Local Democracy Reporting Service

Ben O'Connell

A new play park will make a "massive difference" to children in a Northumberland town, councillors have been told.

West Bedlington Town Council has been given the green light to build the facility on land known as 20 Acre Field, off Church Lane.

A meeting of the Cramlington, Bedlington and Seaton Valley Local Area Council was told it would provide a small football pitch along with a number of items of play equipment of varying height, all enclosed by a 1.2-metre, round-top metal fence.

The plan was in response to a number of requests from families in the Millfield estate, as the two other play areas in the parish were on the west side of town.

Councillor Mark Swinburn said it was "essential to provide these facilities", but "a shame" it fell to local councils rather than being provided by housing developers.

Sniffer dogs uncover £1,200 haul of illegal cigarettes

Two police dogs have sniffed out a haul of illegal cigarettes and tobacco hidden in the boot of a car in South Shields.

South Tyneside Council's trading standards said sniffer dogs Scamp and Yoyo uncovered 1.8kg of hand-rolling tobacco and 780 illegal cigarettes valued at more than £1,200.

Councillor Joan Atkinson, lead member for area management and community safety, said buying cheap cigarettes was preventing smokers from trying to break the habit.

She said: "It is important to remember that the sale of illegal tobacco is not a victimless crime.

"Dealers often target children and young people, putting them at risk of developing a harmful addiction.

"Cheap tobacco encourages smokers to keep smoking and to smoke more, and can break down their willpower to quit."

Investigation into the haul are ongoing.

Copyright: South Tyneside Council

Judge sought for Parmo championship

Lovers of a Teesside delicacy are being sought to judge the final of an international competiion.

The 2019 World Parmo Championships currently has 30 eateries - from as far afield as Brisbane in Australia - vying to have their chicken, cheese and béchamel sauce dish crowned the best in the world.

Voting is now open on www.lovemiddlesbrough.com and will run until next Friday, after which the top four will take part in the final on 28 October.

Middlesbrough Council now wants a local person "who really knows a good parmo" to join the four judges at the event, which include Middlesbrough Mayor Andy Preston and local Masterchef contestant Annabel Broome.

Copyright: Middlesbrough Council

Quote Message: "I can't think of a better job in the world for a Teessider than to be a judge in the World Parmo Championships. We're looking forward to a great night that should be loads of fun and a proper celebration of Teesside and its favourite dish." from Councillor Mieka Smiles Middlesbrough Council

Council bosses oppose halting Metro bid until Brexit deal agreed

Local Democracy Reporting Service

Daniel Holland

Labour leaders on Tyneside have opposed calls to halt the bidding for a new Metro fleet until a Brexit deal is agreed.

Nick Forbes and Martin Gannon hit back at Tees Valley Mayor Ben Houchen's demands for Nexus to stop the bidding process and warned the move would condemn passengers to years of rail misery.

Conservative mayor Mr Houchen has called for the procurement be stopped until a Brexit deal is in place to "allow for a more competitive competition"

Last month it emerged Hitachi, which has a plant in Newton Aycliffe and was up against Spanish firm CAF and Swiss train manufacturer Stadler, had failed to win an order to supply 42 new trains for the Metro.

Councillor Forbes, leader of Newcastle City Council, said: "We fought for years to secure investment in the Metro.

"What Ben Houchen is proposing is restart that work, to leave Tyne and Wear citizens dependent upon an ageing fleet while at the same time adding millions to our costs and opening the threat of legal action.

"Ben wouldn't expect people in Teesside to wait years for a flight to start from his airport, so why should people from Sunderland to Newcastle wait any longer for the new Metro trains they need?"

It is understood that restarting the procurement process would cost Nexus an estimated £20m.

North East schools facing funding shortfall

Headteachers in the region say the government's plans to invest in education are welcome but it's not nearly enough to address all the problems.

Ministers say an extra £2.6bn is being put into schools next year to "level up" funding.

But the North East will receive a lower increase than most other parts of the country.

Dame Nicola Stephenson (pictured) runs Beech Hill School in Newcastle.

She says the government hasn't grasped the extent of difficulties faced by schools in deprived areas.

"Ninety per cent of the schools that are going to benefit are in leafy, Conservative areas", she explains.

"And well done to them and I'm pleased they are getting their funding. However in our region we have children who are 20 months behind due to poverty".

You can see the full story on Sunday Politics on Sunday 20 October on BBC One at 10:00.

Police issue poacher information plea after sheep deaths

The deaths of three sheep at a farm in Northumberland are being investigated by police.

The injuries of the animals found at the farm near Matfen were so severe two of them died at the scene and one had to be put down by a vet.

Northumbria Police is asking the public to look out for potential poachers, and has issued advice on how people can help.

The most suspicious sign is a group of vehicles parked in a rural area such as by a gateway to farmland, on a grass verge, farm track or bridle path.

If possible, give a description of the vehicles and any suspects including what they are wearing, whether they have dogs with them and if they have accents, which would help determine where they come from.

Potential evidence, such as tyre marks or blood should be photographed, or if possible preserved by covering with something like a plastic bag until police arrive.

Wildlife Officer Lee Davison said: "This information not only assists the attending officer so they know what they are looking for but it also helps us gather evidence and progress investigations."

Historic Redcar cinema may be demolished

Redcar's historic Regent Cinema has been pencilled in for demolition.

If proposals put forward by Redcar and Cleveland council planners go ahead, it'll be replaced by a new cinema complex.

The cinema, built in 1928, has been closed since April last year amid concerns over its structural safety.

Its future seemed assured when the former Labour-led council put the Regent at the heart of a seafront revitalisation project.

But the council now says building surveys show that any redevelopment of the cinema needs an entirely new building.

The plans, which it is estimated will cost about £9m, are for a three-screen cinema, café, bar and events space.

The council leadership says it's "wonderful news", though it is certain to disappoint campaigners who want the Regent to be restored.

Medics give up holidays to save lives in Ghana

A Teesside heart team is off to Ghana to perform life-saving operations for the second time this year.

The team of 17 medics and nurses from James Cook University Hospital will fly out to Kumasi Hospital tomorrow.

In addition to carrying out heart operations, the team will also be training a Ghanaian medical team to continue the life-saving work after they leave and ultimately set up their own heart unit.

Fire crew rescues ditch-stranded horse

Northumberland Fire and Rescue Service pulled of an "amazing rescue", after a horse fell down a ditch.

Its rider used the What3Words app to give an exact location, and if you've not heard about it before, here's an explanation.

Weather: Heavy rain makes way for brighter spells

Nichola Donnelly

Weather presenter, BBC Look North

It's not all doom and gloom today, despite the soggy start with heavy bursts of rain.

It's cooler today with the maximum temperature at 13C (55F).

There will be brighter spells and sunshine later, but the rain will return by this evening.

Check out the weather near you.