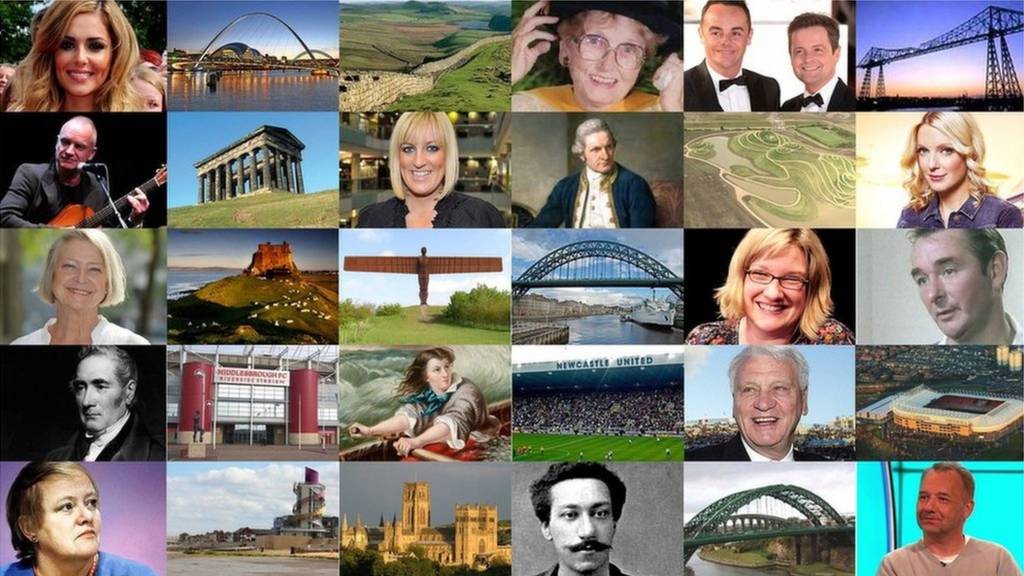 Latest updates from North East England Live
Listen live to your local radio station: BBC Newcastle and BBC Tees
Our live coverage across the day

Our live updates here have finished for the week.

You can also stay up to date online, on BBC Newcastle, BBC Tees and Look North.

We'll be back with more live updates from 08:00 on Monday.

If you want to get in touch with any news or send us photos you can tweet us, contact us via our Facebook page or email us.

Hope you have a good evening.

Severe disruption: A66 North Yorkshire westbound

BBC News Travel

A66 North Yorkshire westbound severe disruption, from Middlesbrough Road to A171.

A66 North Yorkshire - A66 in South Bank closed and it's slow westbound from the Middlesbrough Road junction to Cargo Fleet Interchange, because of an overturned car.

To report traffic and travel incidents dial 0330 123 0184 at any time

Advice for getting treatment over the Bank Holiday

People across the North East are being encouraged to visit a pharmacist over the weekend if they need advice or treatment for minor illnesses.

The NHS in the region says bank holiday weekends are often very busy for hospitals and they are trying to cut the amount of time people have to wait in A&E departments.

Professor Chris Gray, a medical director for the NHS in the North East and Yorkshire region, said: "Many GPs have extended hours of opening and pharmacists across the region are open for business over the bank holidays.

"For minor illnesses, your local pharmacist is an excellent source of help and should be your first point of contact. Emergency departments get extremely busy during holiday periods and we want to ensure that people who can be cared for elsewhere are not waiting at A&E."

Pharmacy opening times can be found here and people can find details about their nearest walk-in centres, urgent care centres or minor injuries units by simply typing in their postcode on this site.

North East police join 'hero' PC tributes

Metro trains off over the weekend

Middlesbrough PDSA mobile clinic

Today is the last chance for a free MOT health check for cats in Middlesbrough.

The PSDA animal charity has stationed its first mobile clinic at Stewart Park.

Though the PetWise Mobile Unit is aimed at cat owners, its experts will also see dog-lovers and their pets.

It is open until 16:00.

Breaking

A689 closed at Wynyard after lorry overturns

Severe disruption: A689 County Durham eastbound

BBC News Travel

A689 County Durham eastbound severe disruption, from Samsung Avenue to A19.

A689 County Durham - A689 Coal Lane in Durham closed and stationary eastbound from Samsung roundabout to Seal Sands roundabout, because of an overturned lorry.

To report traffic and travel incidents dial 0330 123 0184 at any time

'Inadequate' Hexham care home put in special measures

A care home run by the same provider as a specialist hospital at the centre of abuse allegations has been put into special measures.

Chesterholme, in Northumberland, is run by Cygnet Healthcare, as was Whorlton Hall, where BBC footage appeared to show patients mocked and intimidated.

Chesterholme, in Hexham, has been rated inadequate by Care Quality Commission (CQC) inspectors who visited in May.

It found staff who were not properly trained and qualified to deal with patients, paperwork was incomplete, some emergency medicines weren't stocked and staff turnover was high at 45%.

Staff were "unable to communicate a shared vision for the service and were unsure which policies or governance structures were relevant".

Cygnet said significant steps had been taken to address Chesterholme's issues.

Copyright: CYGNET HEALTHCARE

Newboulds Butchers closes last shop

The name of a well known Teesside butchers chain is set to disappear from our high streets forever.

Newboulds Butchers has been operating for over 160 years but staff have been told the last of the shops are closing today.

Parent company Country Valley Foods claims the business has been losing money for the last seven years and a hoped-for resurgence in the high street has not happened.

Suspicious package found at Haltwhistle

Stephanie Finnon

BBC Newcastle

Trains between Carlisle and Newcastle were cancelled for a while last night after reports of a suspicious package found at Haltwhistle.

It is under understood the item was in a business near to the town's railway station.

Police and bomb disposal officers were called to the scene, but no homes were evacuated and experts disposed of the item as a precaution.

The line has now reopened and Northumbria police says inquiries are ongoing to see if any criminal offences have been committed.

Greggs opens its 2,000th store

Local Democracy Reporting Service

James Harrison

High street bakery Greggs will open its 2,000th store in South Shields' new transport interchange.

The new shop is expected to create 15 jobs.

Huw Lewis, head of customer services at transport operator Nexus, said: "The new transport interchange in South Shields is among the best in Britain, so it's a fabulous location for Greggs to open their 2,000th shop there.

"To have such a popular and high profile retailer like Greggs is great for the new interchange and passengers will benefit from the convenience of that."

The town's £21m travel hub opened its doors on 4 August.

Its construction involved the permanent closure of South Shields metro station.

August bank holiday travel disruptions

Rail passengers are being told not to travel on the East Coast Main Line this weekend, amid major upgrade work.

For the first time in 20 years there's a planned closure of the line with King's Cross Station shut altogether and nothing running south of Peterborough.

There will be some services further north, but LNER has a restricted timetable and Grand Central trains are all off.

Network Rail is carrying out 448 engineering projects over the weekend.

Football: US businessmen 'to invest in Sunderland AFC'

BBC Newcastle understands a group of American businessmen are close to making a significant investment in Sunderland AFC, with reports the 25th richest man in the world is one of them.

The club's owner Stewart Donald announced last weekend he thinks a deal is close.

The four prospective investors reportedly include Michael Dell who is behind Dell technologies, one of the biggest tech companies in the world.

It is claimed Stewart Donald and Charlie Methven would remain at the club.