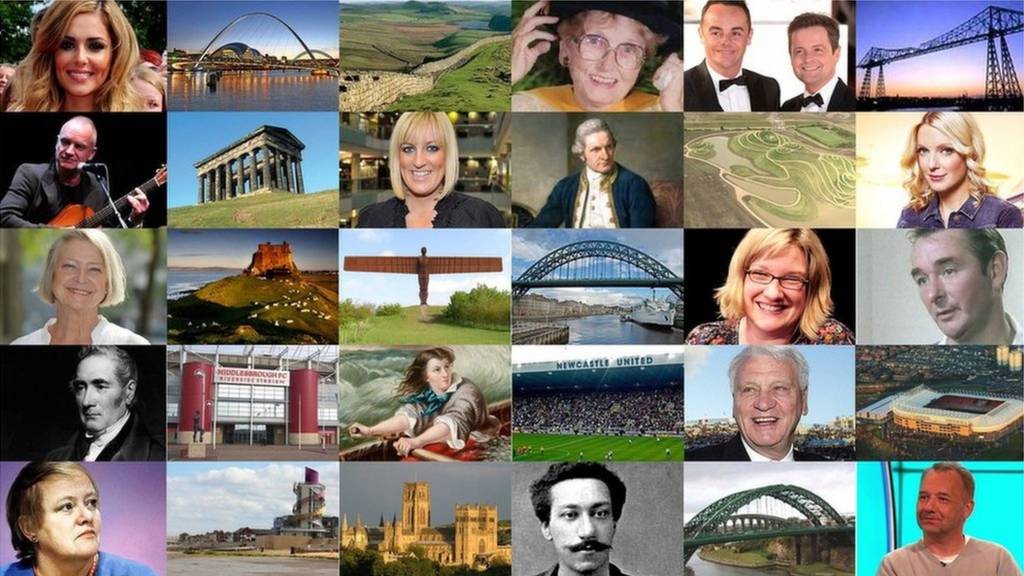 Latest updates from North East England Live
Listen to your local radio stations: BBC Newcastle and BBC Tees
Our live coverage across the day

Our live updates have finished for the day and the week.

You can also stay up to date over the weekend online, on BBC Newcastle, BBC Tees and Look North.

We'll be back with more live updates from 08:00 on Monday.

If you want to get in touch with any news or send us photos you can tweet us, contact us via our Facebook page or email us.

Afternoon showers will tend to ease around sunset. After dark it will be fairly cloudy but with just the odd patch of drizzle.

Minimum Temperature: 10 to 13C (50 to 55F).

Tomorrow early cloud will persist for a time but then break up to leave sunny spells and just the chance of the odd shower.

Maximum Temperature: 16 to 19C (61 to 66F).

New bird's eye view of Newcastle

Jonathan Swingler

Video Journalist

Hadrian's Tower will be the tallest building in Newcastle.

We've been up in the outside lift to have a look at the work going on.

You can see the full report on Look North on BBC One at 18:30.

Man sentenced in York over James Bond-themed escort agency

A man who ran a James Bond-themed escort agency has been given a suspended sentence after he admitted controlling prostitution for gain.

Copyright: North Yorkshire Police

Gary Enticknap, who ran 007 Escorts, pleaded guilty to two charges at York Crown Court.

North Yorkshire Police said Enticknap arranged for men to see the women and took a percentage of the fee.

Working as an escort is not illegal in itself but for a third party to benefit from it is, the force said.

Enticknap, of Skelton Green, Cleveland, was given a six-month jail term, suspended for two years, and ordered to carry out 200 hours of unpaid work.

Update 16 July 2019: An earlier version of this article made reference to an allegation of blackmail as per information supplied by North Yorkshire Police. The charge was dropped by the CPS and the force later issued a revised statement, so the article was amended.

Sam Fender draws crowds to Tynemouth

North Shields singer Sam Fender attracted huge crowds around Tynemouth when he headlined the Mouth of the Tyne Festival last night.

People crowded on to the beach at King Edward's Bay and the streets around the Priory.

More than 2,000 comment on A66 improvement plans

More than 2,000 people went to public consultation events across Cumbria and North Yorkshire about plans to rebuild the remaining single-carriageway sections of the A66 from Penrith to Scotch Corner as dual carriageways.

Comments from those who went to the events, along with letters and online communications, covered subjects such as where bypasses were most needed and where junctions could be improved.

Copyright: Highways England

The £1bn project will concentrate on the 18 miles of the 50-mile route and Matt Townsend of Highways England said the general mood was enthusiasm.

A report on the consultation and an announcement on the preferred routes, will come out next spring.

Your photos: Noctilucent clouds over Killingworth

Derrick Olsen took this beautiful photo of noctilucent clouds over Killingworth, North Tyneside.

The rare phenomenon is caused by sunlight shining on ice crystals 50 miles (80km) above the earth's surface.

If you want to send us photos you can tweet us, contact us via our Facebook page or email us.

People are being advised to avoid the Walker Riverside area of Newcastle because of a gas leak.

Tyne and Wear Fire and Rescue Service said the leak is affecting the area around Neptune Road leading to Oil Mill Road and Fisher Street.

It is advising people to avoid the area for the next few hours.

Breaking

Former police officer guilty of sex offences

Peter Harris

BBC Look North

A former Cleveland Police officer has been found guilty of a string of sex offences.

David Waller, 34, was convicted of 10 charges including rape, sexual activity with a child, inciting a child to engage in sexual activity and misconduct in a public office.

Teesside Crown Court heard Waller, who denied all the allegations, was "devious and manipulative."

He had been accused of offences dating back to 2004 and was an officer with the Cleveland force for four years up to 2010.

He was cleared of one count of sexual assault, and earlier in the trial the judge directed jurors to formally acquit him of two counts of rape.

He will be sentenced this afternoon.

Newcastle tight-lipped about Steve Bruce

Newcastle United are remaining tight-lipped after reports that Steve Bruce could be named the Magpies' next boss.

Some bookies have stopped taking bets on Bruce's appointment.

Bosses at the club are said to have spent much of yesterday in talks with Sheffield Wednesday to release Bruce from the club.

All this comes as Newcastle United are due to fly out to China this weekend for the Premier League Asia Trophy.

Middlesbrough FC making job cuts

Middlesbrough football club has confirmed that it's having to cut jobs after it failed to make it back into the Premier League.

The club says it is having to cut costs because it no longer receives parachute payments which they got last season to cover the transition into life in the Championship.

Staff at the Riverside and the Rockcliffe training ground have been asked for if they want to take voluntary redundancy.

A club spokesman said: "The club has identified a number of staff wishing to take voluntary redundancies.

"This will deliver most savings required but it is anticipated that there may be a number, less than 10, of further job losses."

Himalayas search for missing climber called off

The search for a Tyneside-born mountaineer who is believed to have died along with seven other climbers in the Himalayas has been called off,his family say.

Highlands-based Martin Moran had been leading the group on the ascent of an unclimbed and unnamed 21,250ft (6,477m) summit in the Nanda Devi region in May.

They were reported missing after an avalanche in the area.

The bodies of the other members of the group were recovered last month. Mr Moran's body remains missing.

Driver dies when car runs off A1

A driver died when his car ran off the A1 in Northumberland this morning.

The 25-year-old man was pronounced dead at the scene near Denwick, north of Alnwick, at about 03:20.

Northumbria Police said his family was being supported by specialist officers.

It is investigating what happened and officers hope to speak to drivers who were in the area at the time.

Back to the drawing board for seafront plans

Local Democracy Reporting Service

Pressure from residents on Sunderland's seafront has led to a rethink over leisure and housing plans for the area.

A blueprint has been scrapped by Sunderland council in favour of more new leisure facilities and fewer homes.

It will also mean a scaling back of hotel uses, but the Stack - a leisure complex built from shipping containers - remains in the plans.

Councillor Rebecca Atkinson, the cabinet member for housing and regeneration, said the council was reacting to the views of residents.