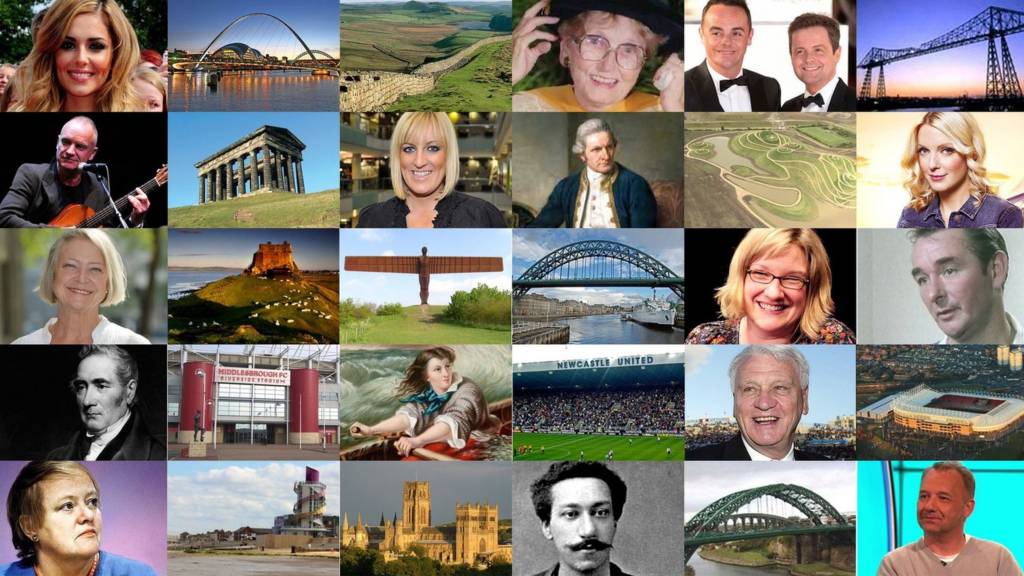 Latest updates from North East England Live
Summary
Empty shop 'could cost Marks and Spencer millions'
Airport turnaround plan unveiled
Man dies in police custody
Region's MPs react to Brexit vote
Live updates on Wednesday 16 January 2019
Alistair Magowan

BBC Sport

Our live coverage across the day

Our live updates here have finished for the week.

You can also stay up to date with BBC Newcastle, BBC Tees and Look North.

We'll be back with more updates from 08:00 on Monday, and we hope you can join us then.

If you want to get in touch with any news or send us photos you can tweet us, contact us via our Facebook page or email us.

Staying cold this weekend...

It will be a mainly dry and chilly day on Saturday, but generally cloudy with a little drizzle possible at times.

There could be some mist and hill fog lingering all day.

Food festivals for Seaham?

Local Democracy Reporting Service

Food festivals, carnivals and markets could be easier to hold in Seaham due to a rule change.

Durham County Council has agreed to alter the status of streets around the town's Tommy statue to allow public events to be held there.

At the moment, street trading is banned at North Terrace and The Green.

But on Thursday the county council's General Licensing and Registration Committee agreed to formally change them to allow events to be staged - subject to council approval.

"A way to control (events) is through a consent or licence system, so it isn't a free for all - that would filter out the undesirables" Craig Rudman, the county council's licensing manager, told the meeting.

He added: "It doesn't open these streets up all the time, but if you opened these up to allow street trading to take place they would be subject to rules and anything else (the council) wanted to put in place, as well as the highways department and the police.

"We would only issue consent for events and those events would be ones supported by the county council or local town and parish councils, not just a single person wanting to turn up and sell something."

'Go for Sunderland, there'll be drama'

Police body camera footage shows Samuel Houlihan being shot in Bishop Auckland.

Injury update from Rafa Benitez

Dog found with suspected stab wound in Gateshead

The RSPCA is appealing for information after a dog wandered off the Tyne and Wear Metro at Gateshead alone with a suspected stab wound.

The male Staffordshire bull terrier was spotted by staff who called the RSPCA at midday on Saturday.

RSPCA inspector Rowena Proctor said: "The poor boy was crying out, whimpering and clearly in some distress.

"He had a one inch wound to his back, which was infected.

"I took him straight to the vets who say that the injury definitely appears to have been caused by a sharp object.

"At this point, we don't know if this has been an accident or if someone has done this on purpose to him."

He appears to be in good condition otherwise, so the RSPCA believes there may be someone looking for him.

He is unneutered, about eight years old and is microchipped, although this hasn't been registered so his owner can't be traced.

Ant McPartlin returns to work

Ant McPartlin is returning to work today with presenting partner Dec Donnelly after taking time off to go to rehab.

The pair, from Newcastle, are reuniting at auditions for Britain's Got Talent at the London Palladium.

Ant pulled out of hosting Saturday Night Takeaway in March after he was arrested for drink driving.

Declan Donnelly then presented I'm A Celebrity ... Get Me Out Of Here! with Holly Willoughby instead of Ant.

In April Ant was fined £86,000 and given a 20-month driving ban after pleading guilty to drink driving.

Hartlepool complete three loan signings

Hartlepool United have announced three loan signings.

Defender Michael Raynes has joined from Crewe Alexandra, striker Nicke Kabamba has signed from Havant & Waterlooville and Sunderland winger Luke Molyneux has joined until the end of the season.

The 20-year-old had been on loan at Gateshead.

He was recalled by Sunderland and played in the 4-0 victory over Newcastle United's under-21 side in the Checkatrade Trophy.

Date set for Newcastle United parliamentary debate

An end-of-day adjournment debate on the "effectiveness of regulation of Newcastle United Football Club" will be held in the House of Commons on 24 January.

It comes after Newcastle Central Labour MP Chi Onwurah submitted a petition to parliament urging the government "to take action to prevent unscrupulous football club owners from exploiting the clubs, their fans and local communities, with particular reference to Mike Ashley and Newcastle United".

The petition cited a lack of investment in players, training facilities and community engagement at the club.

In a letter to Jeremy Wright MP, secretary of state of the Department for Digital, Culture, Media and Sport, Mike Ashley said: "The petition presents a wholly inaccurate assessment of the situation at Newcastle United."

He also referenced the interest-free loans he has given to the club, the clearance of third party debts, affordable ticket-pricing and the community-engagement programmes run through the Newcastle United Foundation.

Chi Onwurah said the debate "will give government the opportunity to hold Mr Ashley to account".

She's asked her constituents to contact her to set out their concerns about Newcastle United ahead of the date.

Carter Cookson 'has hours to find new heart'

The parents of a seriously ill baby from South Shields say they may only have hours left with him.

Carter Cookson is in desperate need of a heart transplant, and was given just three days to find a donor earlier this week.

He's currently being kept alive by a special machine in hospital, but doctors say it can no longer support him.

Tees Valley Mayor Ben Houchen grilled on airport plans

Local Democracy Reporting Service

Tees Valley Mayor, Ben Houchen has been grilled on everything from loans to potential protests over plans to buy back Durham Tees Valley Airport.

On Wednesday plans to bring in as many as 1.4m passengers a year to the airport by luring a low cost airline to the Tees Valley by 2021, were released publicly.

Councillors discussed the proposals at the Tees Valley Combined Authority (TVCA) overview and scrutiny committee on Thursday.

A "holding company" with the TVCA owning 75% and the operator, understood to be the Stobart Group, owning 25% is on the table in the airport plans.

Darlington councillor Sonia Kane had concerns over the loans to be paid to the proposed firm.

"I'm quite concerned the £40.2m isn't going to be £40.2m - it seems to be a lot more," she added.

"I appreciate it's over a period of time - but it's still money we've got to borrow - how much is it going to cost us and how is it going to be paid back?"

Mayor Houchen said the 10-year loan was separate from the £40m to buy the airport.

"It shows the airport, if it's successful in implementing the plan we want, goes back into profit in year six or seven," he added.

"The best case scenario, if we assumed nothing happened to the wider site property-wise, is linked to getting in a low cost carrier."

Four arrests after carjacking on A19

Four men have been arrested after a carjacking where a man was pulled out of his van by a gang who then drove away in it.

It happened at about 12:15 yesterday at the roundabout of the A174 Parkway and the A19 near Thornaby.

The men, aged 34, 37,40 and 45 were later arrested in the North Yorkshire area.

Cleveland Police is appealing for witnesses, or anyone who saw a group of men acting suspiciously near the Griffin Pub around the time.

Weather: A frosty start to a cold but bright day

Owain Wyn Evans

Weather presenter, BBC Look North

With weather warning in place along the east coast for ice first thing, it will remain a cold day.

There will be sunshine, hazy at times, before cloud thickens by the evening, with outbreaks of rain, sleet and snow pushing eastwards.

Temperatures will be no higher than 3C (37F) but it may feel colder in the blustery wind.