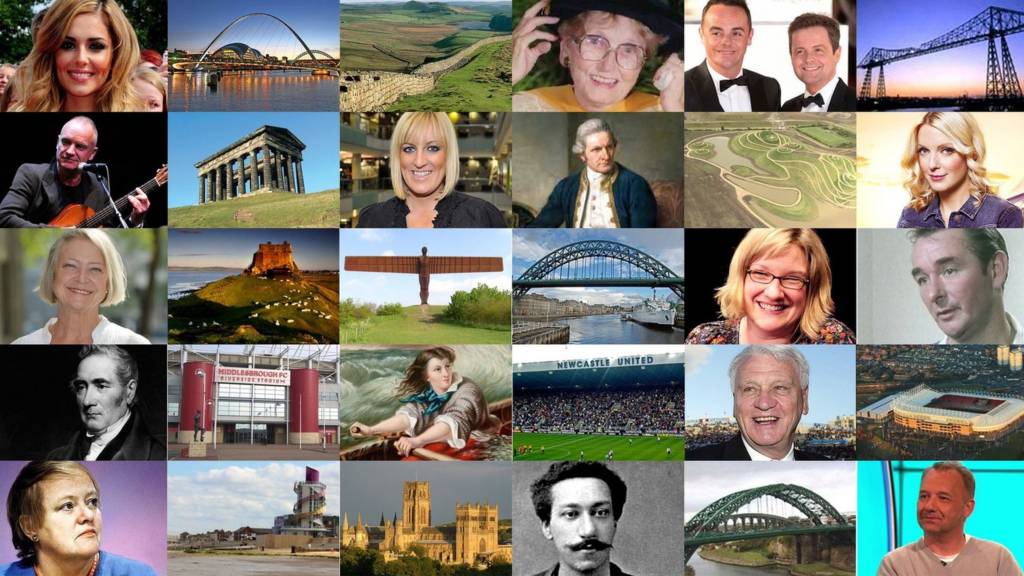 Latest updates from North East England Live
Listen live to your local radio station: BBC Tees and BBC Newcastle
Whale bones go missing from school

Two ancient whale bones have gone missing from the grounds of a Northumberland school.

The county council realised they'd gone missing from the grounds of Seahouses First School, where they have been for nearly a century, when a surveyor was carrying out a feasibilty study in order to relocate them.

When he arrived he discovered they'd gone and so far no one seems to know what's happened to them.

The whale bones are believed to be those of a Greenland Right Whale which were once a common sight in whaling ports and are likely to have been brought back by one of the Berwick whalers sometime during 1820 to 1830s.

Anyone with information should contact Northumbria Police.

Copyright: Northumberland County Council

Image caption: The whalebones that have gone missing from the grounds of Seahouses First School

Keeping health services in South Tyneside the same 'not viable', court told

People were not asked to consider whether stroke, maternity and pediatric care should stay in South Tyneside because it was not considered a 'viable' option, a court heard.

Copyright: Shields Gazette

Miner's daughter to be the next Bishop of Jarrow

Copyright: The Church of England

Image caption: The Venerable Canon Sarah Clark

Downing Street has confirmed that the next Bishop of Jarrow Designate will be The Venerable Canon Sarah Clark.

She is currently the Archdeacon of Nottingham in the Diocese of Southwell and Nottingham.

Prior to training for ordination, she was a civil servant. She gained an MBA in 1994 and her MA in Theology in 1997.

She grew up in South Wales and her grandfathers and father were all miners.

Killingworth Road reopening: Announcement expected soon

Local Democracy Reporting Service

Daniel Holland

Drivers fed up with the longstanding closure of Killingworth Road will hopefully find out next month when it's due to reopen.

The part of the A189 in south Gosforth is one of Newcastle's busiest commuter routes and has been shut since July 2017 while a £13.5m project is carried out to widen the road and install a new Metro bridge.

It was originally due to open last March, before severe complications with gasworks led to the completion date being pushed back to June and then "early 2019".

Newcastle City Council has confirmed that it will announce its reopening date next month.

Quote Message: We would like to thank the travelling public for their patience during the closure of Killingworth Road and we would like to reassure everyone that we are doing everything we can to reopen this major commuter route as soon as it is safe and practicable to do so. from Councillor Arlene Ainsley Member for transport and air quality, Newcastle City Council

Former councillor fined after slapping woman's bottom at election meeting

A former councillor has been convicted of slapping a woman on the bottom after an election meeting.

Copyright: Hartlepool Mail

Appeal for missing 12-year-old

This is Daniel Allen. He was last seen in Thornaby on Tuesday morning. He's 12 and now police are trying to find him.

If you can help please contact Cleveland Police on 101 quoting event number 229953.

Antigua flight diverted to Newcastle after drone disruption

A flight from Antigua was diverted to Newcastle this morning because of the disruption at Gatwick airport after drones were seen over the airfield.

Gatwick's runway remains closed after two of the devices were seen nearby.

A spokeswoman for Newcastle Airport said the British Airways flight landed at 08:30.

She said the passengers were still on the plane and it was hoped they would fly back to Gatwick once it is reopened.

She said coaches were on standby outside Newcastle Airport as well in case they were needed to take passengers to Gatwick.

MP highlights cuts to disability benefits

MPs have been told the residents of County Durham are suffering more than most because of cuts to disability benefits.

The Labour MP for Bishop Auckland, Helen Goodman (pictured), told the House of Commons that many of her constituents are in need of support:

The MP said many disabled constituents had come to see her with serious problems and she called on the government to reassess the impact of benefit cuts on disabled people.

A government spokesman said independent assessments showed the number of disabled people in poverty had fallen since 2010.

Serial rapist though he was 'untouchable'

Serial Sunderland rapist Omar Sharif thought he was "untouchable", a senior police officer has said.

Copyright: Sunderland Echo

Northern passengers face new year strikes

Rail passengers are set to be hit by a further series of strikes every Saturday in January, a union has said.

Northern members of the Rail, Maritime and Transport (RMT) union have already agreed to strike on every Saturday in December, now the dispute will run on.

The action is part of a long-running dispute about guards on trains.

Northern has called for an inquiry by the Advisory, Conciliation and Arbitration Service (ACAS) but the RMT dismissed it as a "PR stunt".

Durham Tees Valley Airport 'to revert to Teesside Airport' after sale

Durham Tees Valley Airport will revert to its previous name of Teesside International if the Mayor of the Tees Valley, Ben Houchen, is successful in his bid to buy the airport.

The current owner, Peel Group, has agreed to a £40m bid that could go through in January next year.

If it does, the airport will be renamed after an overwhelming response in an online poll.

More than 14,000 people voted in the poll, with 93% backing the pre-2004 name of Teesside International Airport.

West Denton collision closes road

Jon Douglas

Reporter, You & Yours

The town has been one of the hardest hit by the welfare reforms of the last decade.