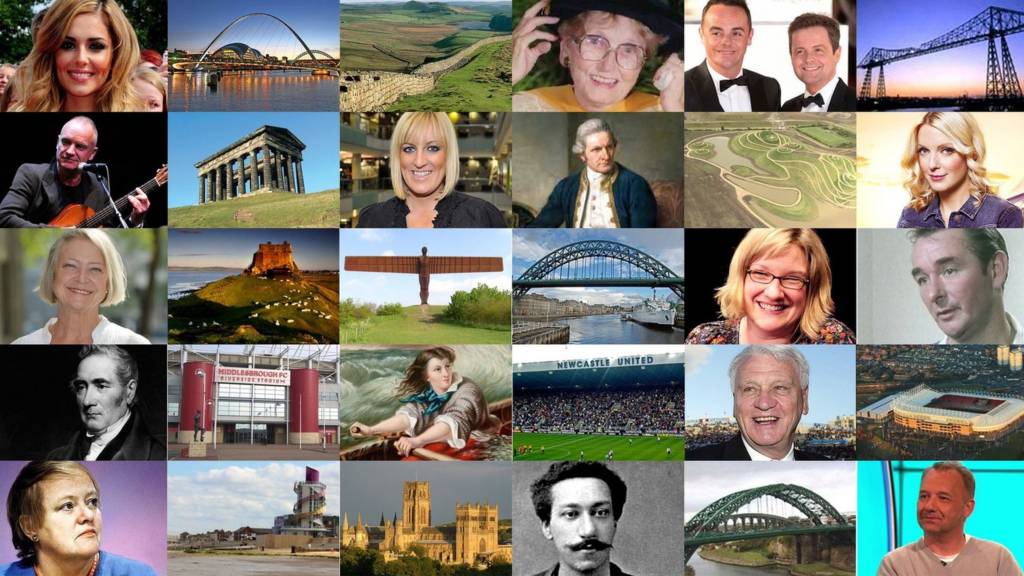 Latest updates from North East England Live
Listen live to your local radio station: BBC Tees and BBC Newcastle
By Andy Burke

BBC Scotland at Murrayfield

Our live coverage across the day

Our live updates here have finished for the day and for the week.

You can stay on to date over the weekend online, on BBC Newcastle, BBC Tees and Look North.

We'll be back with more updates from 08:00 on Monday and hope you can join us then.

If you want to get in touch with any news or send us photos you can tweet us, contact us via our Facebook page or email us.

Hope you have a good weekend.

Severe accident: A1(M) County Durham northbound

BBC News Travel

A1(M) County Durham northbound severe accident, at J61 for A688 Tursdale Road.

A1(M) County Durham - A1(M) in Durham partially blocked and slow traffic northbound at J61, A688 (Bowburn), because of an accident.

To report traffic and travel incidents dial 0330 123 0184 at any time

Staying blustery tonight with some showers

Staying blustery tonight with strong westerly winds. There will be occasional clear intervals but with a lot of cloud at times together with some showery rain.

Minimum Temperature: 3 to 6C (37 to 43F).

Tomorrow will see a mixture of bright spells and large banks of cloud together with showers. The showers will be most frequent later in the afternoon. Brisk westerly winds.

Maximum Temperature: 7 to 10C (45 to 50F).

Lawrence murder suspect jailed for South Shields drug plot

A suspect in the 1993 racist murder of Stephen Lawrence has been jailed for nine years for conspiring to supply "huge quantities" of cannabis resin.

Jamie Acourt, 42, pleaded guilty on the second day of his trial after previously denying the charge.

Acourt, originally from Eltham, south-east London, had fled to Spain where he was living under the alias "Simon Alfonzo" until his arrest in May.

He was sentenced at Kingston Crown Court for the plot which involved transporting the drug between London and South Shields.

A total of seven men have now been convicted or pleaded guilty over the conspiracy, which Judge Recorder Paul Clements said would "have kept the people of the Newcastle area in spliffs for many a long day".

Acourt was never convicted of the attack on Mr Lawrence and has always denied any involvement.

Plans revealed for new fire station in Hebburn

Local Democracy Reporting Service

James Harrison

Hebburn could get a new fire station, Tyne and Wear Fire and Rescue Service has revealed.

The force is looking into replacing the current station, which was built in 1930s or early 1940s and costs more to run.

Money for the project would be sourced from the force's savings.

If a feasibility report determines that a new station would cost a lot less to run, the fire authority can decide if it will go ahead with the plans.

The news comes as the service considers £3m budget cuts.

In Hebburn, this could see the station's fire engine manned by a part-time crew of 'on-call' firefighters who live or work within five minutes during the day.

At night, support would be provided by crews from South Shields.

Copyright: Google Street View

Children heartbroken as hens go missing from school

The Northern Echo

Newspaper

'Lewis has been fighting fires'

Jon Lewis is leaving Durham: Analysis

Martin Emmerson

BBC Newcastle's Durham commentator

Sir Ian Botham took over as chairman following Durham's relegation two years ago. They were relegated by the ECB because of financial problems, were hit with a wage cap which saw virtually an entire team leave and have struggled to recover on the pitch.

As a result of the losses in personnel, Durham have struggled and Jon Lewis (pictured) has been fighting fires for the last two years. I am not sure many other people would have been able to cope but it has been really tough.

They were bowled out four times this season for less than 100 in the championship, including 61 and 66 on the same hapless afternoon at Leicester. There were also three innings defeats and three losses inside two days.

While all of this was going on, Sir Ian appointed Tim Bostock as the new chief executive and Tim ordered a review of the entire coaching set-up. That has been led by former Durham and Australia batsman Marcus North who has been appointed director of cricket.

As a result of his report, the club decided to restructure the coaching side of things and Lewis has taken the decision to leave. A new high performance coach will be sought in the near future and the club also plans to appoint a specialist batting coach.

Watch: 'One of the saddest days of our lives'

Today marks 30 years since it was announced the last shipyards in Sunderland would close.

Former workers Peter Callaghan and Jim Baldwin stayed until the final shifts.

See how they feel about the closure 30 years on.

North East mental health services receive £54m

A centre for adult mental health care will be set up with £54m from the Government.

Northumberland, Tyne and Wear NHS Foundation Trust (NTW), will use the money for the centre of excellence in inpatient acute mental health care for people in Newcastle and Gateshead.

James Duncan, deputy chief executive at NTW said "This is excellent news, enabling a significant investment to be made in creating state of the art facilities for those with complex mental health needs.

"We will work with service users, carers, and the public to ensure that we create world leading environments that truly support people on their journey to recovery, and that in doing so we also continue to break down the stigma associated with poor mental health."

The funding is part of £963m to improve health facilities across England, announced by Health Secretary Matt Hancock (pictured).

Bus crashes through two barriers in Bishop Auckland

The Northern Echo

Newspaper

A man is arrested after police discover cannabis farm in Redcar

A 22-year-old man has been arrested after police discovered a large cannabis farm this morning.

The plants discovered are thought to be worth up to £600,000.

'There is a big problem with transport in the North'

Fire service could lose up to 70 staff due to cuts

Local Democracy Reporting Service

James Harrison

Tyne and wear Fire and Rescue Service (TWFRS) could see up to 70 members of staff go as it plans to save more than £3m by 2021/2022.

One of the affected stations is Farringdon Community Fire Station in Sunderland - one of its two crews could become part-time in an attempt to save cash.

The plans have attracted criticism from the public, but TWFRS has said the time it takes for for a crew to reach the most serious incidents would increase by 17 seconds.

It would take an extra 35 seconds for a second engine to arrive, compared to current performance.

Sunderland could also see one fire engine and a targeted response vehicle (TRV) moved from Washington to Sunderland Central Community Fire Station.