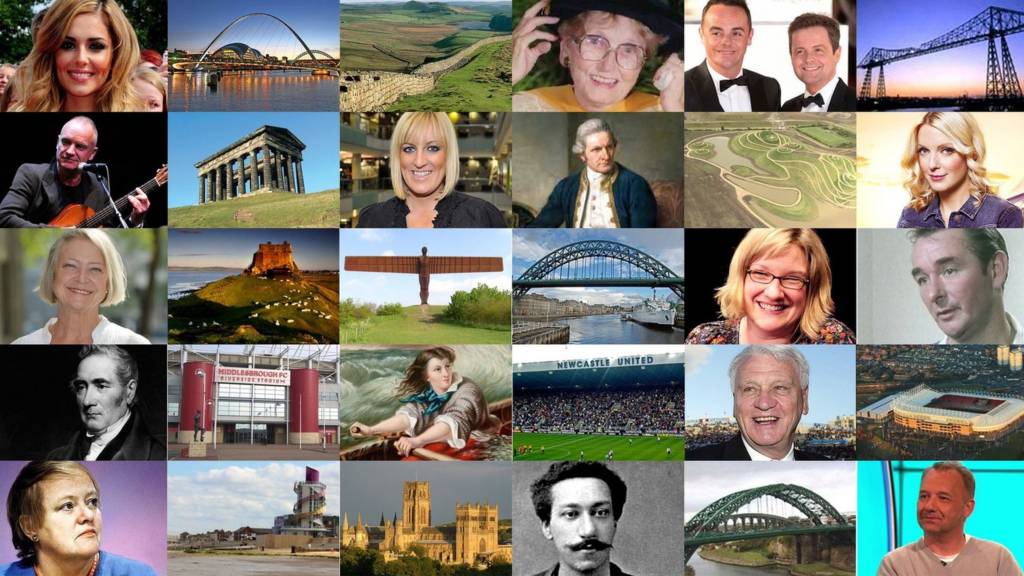 BBC Local Live: North East England
Listen live to your BBC local radio station: BBC Newcastle and BBC Tees
Severe accident: A193 Northumberland both ways

BBC News Travel

A193 Northumberland both ways severe accident, from Cowley Road to Briardale Road.

A193 Northumberland - A193 Cowpen Road in Blyth closed in both directions from the Cowley Road junction to the Briardale Road junction, because of an accident involving a vehicle and pedestrian. Traffic is coping well.

To report traffic and travel incidents dial 0330 123 0184 at any time

Our live coverage across the day

Our live updates have finished for the day and for the week. Thank you for joining us.

You can stay up to date over the weekend with BBC Tees,BBC Newcastle and Look North.

We'll be back with more live updates from 08:00 on Monday.

If you want to get in touch with any news or send us photos you can tweet us, contact us via our Facebook page, or email.

Ministers 'in denial' over UK poverty

Ministers are in a "state of denial" about poverty, a UN expert has said following a 12-day tour of the UK.

Philip Alston, special rapporteur on extreme poverty, said despite being in the one of the world's richest countries he had encountered "misery".

A fifth of the population, amounting to 14m people, are living in poverty and levels of child poverty are "staggering", the Australian said.

The government rejected his analysis, pointing to rising household incomes.

Professor Alston, an expert in human rights law based at New York University, visited locations including Belfast, Bristol, Cardiff, Edinburgh, Essex, Glasgow, London and Newcastle on a fact-finding mission.

He visited Newcastle's West End Food Bank earlier this month.

Weather: Cloudy with some mist and fog

It will be largely cloudy through the course of tonight with the chance of some mist and fog in places and even the odd spot of drizzle. Fairly mild.

Minimum Temperature: 5 to 8C (41 to 46F).

Low cloud, mist and any fog will tend to lift and break as tomorrow progresses with many areas seeing increasing sunshine come the afternoon. Temperatures down slightly compared with today.

Maximum Temperature: 7 to 10C (45 to 50F).

No Metro service between St James and Chillingham Road

Gene editing could halt kidney disease

Newcastle University experts have found a way to stop kidney disease in a life-limiting genetic condition.

The scientists have shown in a cell model and in a mouse model that gene editing could be used for Joubert syndrome to stop kidney damage in patients who have the CEP290 faulty gene.

Joubert syndrome is a brain disorder, causing varying degrees of physical, mental and sometimes visual impairments. The condition affects approximately one in 80,000 newborns, and one third also get kidney failure.

The breakthrough could lead to a personalised treatment in the future.

Council 'not resting on laurels' over tourism boost

An increase in visitors to the Redcar area provided a boost to the local economy, figures obtained on behalf of the Tees Valley Combined Authority have revealed.

In 2017 there were 3.74 million visitors, an increase of 5.6% from 2016, and £167m was spent on tourist-related activities - a rise of 5% on the previous year.

The council described it as "great news" but said it was not resting on its laurels.

It has launched a marketing campaign and a scheme to bring unused rooms into use to create more bed spaces for visitors.

Copyright: Redcar and Cleveland Borough Council

Quote Message: With a coast on one side and stunning countryside on the other, we have a unique offer here in Redcar and Cleveland. We're keen to share it with as many people as possible." from Councillor Carl Quartermain, Cabinet Member for Culture, Tourism and Communications

Jermain Defoe receives an OBE

Former Sunderland striker Jermain Defoe has been appointed OBE for services to his foundation.

It was launched in 2010 after a hurricane in St Lucia, the Caribbean island his grandparents came from.

During his time at Sunderland Defoe forged a special friendship with young Black Cats fan Bradley Lowery, who died from cancer in July 2017.

Defoe received the OBE at a ceremony at Buckingham Palace this morning.

Durham Cathedral's central tower unwrapping gets under way

The start of unwrapping Durham Cathedral's central tower following a £1.9m restoration starts on 4 December.

The work has been ongoing since November 2015.

The first stage of the unveiling of the 66m high construct will be the removal of the remaining protective scaffold sheeting.

Then, the scaffold will also be removed as early as March next year. This will be followed by the reparation of the lead roof and the installation of a new viewing track.

The final stage will be the removal of the lift that has been on the exterior of the tower throughout the work.

Copyright: Durham Cathedral

People getting into the spirit of Children in Need

Copyright: Adrienne Lambert

Even the youngest support Children in Need!

Alfie looks very happy wearing his Pudsey ears today.

You can find out more about this year's appeal here.

Cheryl 'seeing someone for anxiety'

Cheryl says she's been getting help for anxiety over the past year.

The Newcastle-born singer told Nick Grimshaw that having a baby has changed her perspective, adding: "Things that might have bothered you before or might have been a problem before, become less relevant to you."

She said that she decided to seek help "because I don't want the baby to feel that, and I don't want to feel stressed as a mam".

Her son Bear was born in March 2017.

Severe disruption: A1(M) County Durham southbound

BBC News Travel

A1(M) County Durham southbound severe disruption, from J60 for A689 to J59 for A167.

A1(M) County Durham - One lane closed on A1(M) southbound from J60, A689 (Bradbury) to J59, A167 (Aycliffe), because of a broken down vehicle. Traffic is coping well.

To report traffic and travel incidents dial 0330 123 0184 at any time

Severe roadworks: A183 Tyne And Wear both ways

BBC News Travel

A183 Tyne And Wear both ways severe roadworks, from the Grand Hotel to the Bungalow Cafe.

A183 Tyne And Wear - A183 Roker Terrace in Roker closed in both directions from the the Grand Hotel junction to the the Bungalow Cafe junction, because of Sunderland Illuminations 2018 firework finale.

To report traffic and travel incidents dial 0330 123 0184 at any time

Berwick MP doesn't rule out submitting a no confidence letter

Conservative MP for Berwick and prominent Brexit supporter Anne-Marie Trevelyan has said she doesn't rule out submitting a no confidence letter in the Prime Minister.

"One letter a week is enough," she told BBC Newcastle, referring to her resignation as a ministerial aide at the education department on Thursday.

"I will consider the situation as it progresses," she added.

Ms Trevelyan also expressed her concerns with the draft Brexit deal.

"I felt that I just couldn't support it. There's too much in it that makes us not a sovereign state and actually makes it worse than the position we are in now."

Council powerless to strop drivers abusing electric car charging points

Council bosses have admitted they are currently powerless to stop people parking at electric car parking bays in South Tyneside.

Copyright: SHIELDS GAZETTE

Children in Need fundraising under way

It's Children in Need day and people across the North East are getting involved to raise money for the annual appeal.

Members of Skinnypigs fitness in Jarrow did their training in pyjamas and mascot Harry looks amazing in his Pudsey outfit.

Copyright: JAYNE WILKINSON

Copyright: JAYNE WILKINSON

And Jamie Grant sent us this photo of this delicious looking Pudsey cake, which his wife Caron baked for a school bake off. We reckon it looks good enough to win!