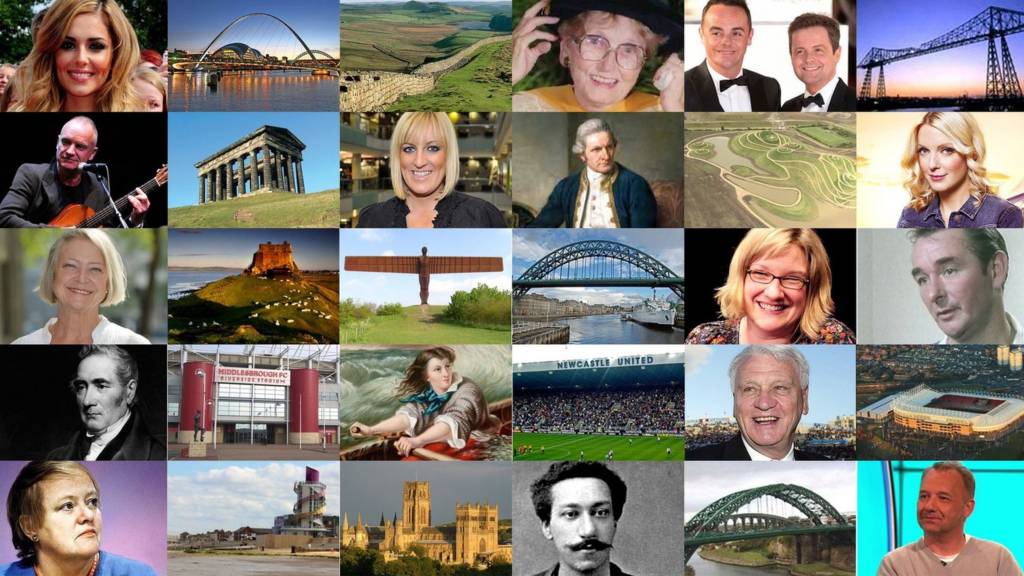 BBC Local Live: North East England
Listen live to your BBC local radio station: BBC Newcastle and BBC Tees
Our live coverage across the day

Our live updates here have finished for the day and for the week. Any breaking news, sport or travel will appear here for the next few hours.

You can also stay up to date on BBC Newcastle, BBC Tees, and on Look North.

We'll be back on Monday from 08:00 with more live updates.

If you want to get in touch with any news or send us photos you can tweet us, contact us via our Facebook page, or email us.

We hope you have a good weekend.

Ahead of Remembrance Day on Sunday we'll leave you with this stunning photo of the Tommy sculpture at Seaham.

Copyright: OWEN HUMPHREYS/PA

Weather: Windy with heavy rain moving through

Windy this evening and into tonight with a band of heavier and more persistent rain moving through. Becoming drier, clearer and less windy late in the night but with the odd shower.

Minimum Temperature: 6 to 9C (43 to 48F).

Tomorrow will see some sunshine, but there is likely to be a good deal of cloud around with the risk of a few showers, especially during the afternoon and evening. The showers could be heavy.

Maximum Temperature: 8 to 11C (46 to 52F)

War memorial to be unveiled in Washington

Local Democracy Reporting Service

Chris Binding

A new 'Tommy' memorial will be unveiled in Washington on Sunday to mark the centenary of the end of World War One.

The statue is constructed of black metal and depicts a kneeling soldier contemplating a burial cross.

Joan Atkinson, chairman of Washigton Bloom Society and Clifford Chapman of local firm Clifford Chapman Staircases came up with the idea.

They said: "The installation is a simple statement of bravery and sadness of those who gave their lives for their country and the freedom we all enjoy today."

Copyright: Clifford and Chapman Staircases

Sunderland named top place to live in the UK

Sunderland is the best place to live and work in the UK for the under 30s, according to an index by OneFamily.

It ranked 35 towns and cities across the country on a factors such as living costs, crime rates and happiness.

Researchers found that "people who live in Sunderland are happy with almost all aspects of the city but are particularly satisfied with commuting and cost of living. They are also the least concerned about their local property market".

Council Leader Councillor Graeme Miller, said: "As someone who moved to Sunderland from Edinburgh 26 years ago and has lived here ever since I can vouch for it being an excellent place to live, work and bring up a family."

Delays around Sunderland after collision

Duchess of Northumberland revisits family history with a new deal

The Duchess of Northumberland has signed a business deal with a catering company which her husband's family helped more than 170 years ago.

Searcys was founded in 1847 by the Duke of Northumberland's pastry chef John Searcy. After working for the family for 10 years, he got a loan from them and started his own business.

The firm will be catering at the Alnwick Garden and Treehouse visitor attraction founded by the duchess.

Churches remember WWI fallen

Churches around the North East contain silhouettes representing soldiers who did not come home from World War One.

This photo shows one of the figures at St Paul's Church in Spennymoor.

Ten of the figures were commissioned at a service in the church on Thursday ahead of Remembrance Sunday and will be displayed in churches across the town.

Copyright: ST PAUL'S SPENNYMOOR

Canon Alan Huges sent this photo after conducting a service in St Mary's Parish Church at Belford. He said they represent the 56 servicemen who left Belford and district to fight in World War One and did not return."The silhouettes placing them poignantly and spiritually in the pews to which they could never physically return," he said.

Rafa Benitez: 'Everyone is a bit happier'

Newcastle United manager Rafa Benítez says "everyone is a bit happier" after their win against Watford.

He was speaking ahead of Bournemouth's visit to St James' Park on Saturday and said the result has provided the city and the club with much needed energy.

"You can feel the difference on the training pitch and in the city, the confidence is higher, but it is just one step forward," he said.

"Bournemouth are in a very good position in the table - they are playing well, and playing with confidence."

Sunderland mosque hit by vandal attack

Vandals who sprayed graffiti and smashed windows at a Sunderland mosque are being sought by police.

The Anware Madina Mosque, off St Mark's Road, in the Millfield area, was targeted on Monday.

What was described as "various offensive slogans" were sprayed on to a door, and have since been removed.

Northumbria Police said it was investigating the incident, which it was treating as a hate crime, and appealed for witnesses.

Thousands of illegal cigarettes seized in County Durham

Illegal tobacco thought to be worth thousand of pounds has been seized and a man was arrested in a joint operation by Durham County Council and the police.

Officers found 8,800 counterfeit cigarettes and 9.5kg of hand rolling tobacco. Their combined worth is £3,690.

A 48-year-old man from Blackhall Colliery was arrested for offences related to illegal tobacco.

Copyright: Durham County Council

Newcastle City Council announces new budget cuts

Fergus Hewison

BBC Newcastle political reporter

Newcastle City Council has set out proposals to make cuts of £60m over the next three years, with about 100 job losses.

These cuts include more than £13m of proposed cuts from the adult social care budget.

The council is also looking into closing the City Library on Sundays and increasing council tax by 2.95% in 2019-20

Labour council leader Nick Forbes (pictured) says there's no end to austerity in sight.

The public are invited to take part in a consultation.

More tributes ahead of Armistice Day

Northumberland Fire and Rescue Service has created a giant poppy to mark 100 years since World War One ended.

Copyright: Northumberland Fire and Rescue Service

Watch: The cat who lives at Durham Cathedral

Watch out for this one when you next visit Durham Cathedral! 'Celebrity' cat Badger has one of the most unusual homes in the country.

Sunderland fans banned after match disorder

Two Sunderland fans have been slapped with lengthy banning orders by a judge for their parts in disorder which marred a friendly against Scottish giants Celtic on Wearside.

Copyright: Sunderland Echo

Puppy rescued after falling into river

A little dog had a lucky escape after falling from a path into the River Tees.

A Redcar RNLI crew was called to the water beside Tees Teesaurus Park in Middlesbrough on Thursday night.

They found the pet trapped among bramble bushes part-way down the river embankment.

Mike Picknett, helmsman of the Redcar lifeboat, said: 'It was tricky spotting the dog. She was small and dark, and the light was fading fast.

"We found her tangled in some brambles. She'd cut her paw, but apart from that she was OK."

He said the owner did the right thing by dialing 999 instead of trying to rescue the dog as often he says the pet is safe and the owner gets into difficulties.