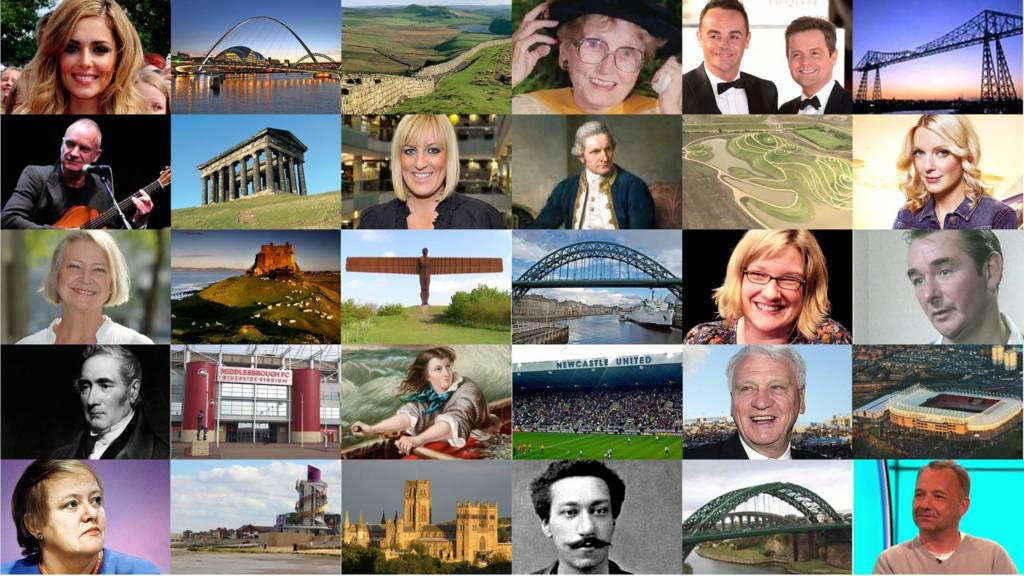 BBC Local Live: North East England
Listen live to your BBC local radio station: BBC Newcastle and BBC Tees
Severe disruption: A1(M) County Durham northbound

BBC News Travel

A1(M) County Durham northbound severe disruption, from J59 for A167 to J60 for A689.

A1(M) County Durham - Lane closed and very slow traffic on A1(M) northbound in Durham from J59, A167 (Aycliffe) to J60, A689 (Bradbury), because of a broken down vehicle.

To report traffic and travel incidents dial 0330 123 0184 at any time

Our live coverage across the day

Our live updates have finished for the day and week - thank you for joining us.

This page will be updated for the rest of today with any breaking news or sport stories as well as travel updates.

You can stay up to date online, on BBC Newcastle, BBC Tees and on Look North.

If you want to get in touch with any news or send us photos you can tweet us, contact us via our Facebook page, or email us.

We'll be back on Monday from 08:00 with more live updates.

FA Cup: Paul Gascoigne's good luck message to Dunston UTS

He grew up close to where Dunston's 2,500-capacity ground is now situated and learned to play football in the surrounding streets before going on to star for Newcastle, Tottenham, Lazio and England.

On Saturday, Paul Gascoigne's hometown club can create history for themselves by reaching the FA Cup first round for the first time.

Dunston-born Gascoigne, regarded as one of England's finest players, had a stand named after him at the Northern League Division One club before it was destroyed by fire.

As part of a good luck message he said: "Dunston is very special to me. I have a lot of fond memories growing up there and it's where I first learned to kick a football."

You can watch tomorrow's match against Gateshead FC on the BBC Sport website and app and Connected TV from 12:20.

Weather: Cloudy, dry and a bit warmer this evening

Generally partly cloudy and mainly dry this evening and overnight. In the clearer interludes, patchy fog is likely to form. Not as chilly as recent nights.

Minimum Temperature: 6 to 9C (43 to 48F).

Tomorrow early patchy fog will gradually lift as the breeze picks up. Thereafter, expect a partly cloudy and breezy day with the best of the hazy, warm sunny spells in the east, and the odd shower to the west.

Maximum Temperature: 12 to 15C (54 to 59F).

Breastfeeding protest in Middlesbrough

A "nurse-in" has been held at a Middlesbrough restaurant where a woman was told to breastfeed her baby in the toilets.

The management at World Buffet Two in Captain Cook Cook Square has apologised to Ellie Webster and all mothers, saying it's not policy to tell mothers where they can breastfeed.

Today the restaurant welcomed breastfeeding mothers for a complimentary lunch.

Engineer posted terrorist material on Facebook

Civil engineer Addulrahmen Alcharbati has been found guilty of posting terrorism videos on Facebook.

The 32-year-old was accused of making 70 Facebook posts promoting a "wealth of Islamic State material".

At his trial at Newcastle Crown Court he denied six counts of sharing terrorist material and one of possessing a bomb-making manual.

He was found guilty of the seven charges

Breaking

Engineer guilty of terror charges

Alison Freeman

BBC Look North

An engineer has been found guilty of seven terror-related offences at Newcastle Crown Court.

Abdulrahman Alcharbati, who is 32 and has lived in Newcastle and Sunderland, was convicted of six charges relating to the sharing of terrorist material and one of possessing a bomb-making manual at Newcastle Crown Court.

Suspected arson at former city waste plant costs council £176k

Local Democracy Reporting Service

Chris Binding

A blaze which broke out at Sunderland's former Alex Smiles waste site cost the city council £176,000, a report has revealed.

Smoke could be seen from miles around as the fire took hold at the abandoned waste plant site in May - with fears it could continue burning for months.

Investigations are still ongoing around the fire, which took three weeks to fully extinguish and is being treated as suspicious by Northumbria Police.

A budget report, presented to the city council's cabinet this week has now revealed the "unrecoverable costs" of moving waste on the site and air monitoring as £176,000..

Sunderland Liberal Democrats on the council have now slammed city leaders over the "lack of action" around the site, despite warnings from the Environment Agency over safety risks.

Liberal Democrat group leader on the council, Niall Hodson, whose Millfield ward covers the site called the event "a disaster waiting to happen".

Fireworks stolen from club

Thousands of pounds worth of fireworks have been stolen in Saltburn.

The burglary took place at Saltburn Cricket, Bowls and Tennis club between 16 and 17 October.

The brands of the fireworks are include Celtic and Brothers Pyrotechnics and police are appealing for witnesses.

Community centre bar causes concerns

Daniel Holland

Local Democracy Reporter

Plans to open a bar within a community centre are facing opposition from residents and a "very concerned" neighbouring nursery in Newcastle.

The Newcastle Community Asset Trust (NCAT) wants to move into the Galafield Centre in Newbiggin Hall, which is used as a Sure Start children's centre, and says that a "vibrant" bar will be essential to generate funds.

However, councillors will have to decide on the future of the plans, following a number of objections from neighbours and the area's Co-operative nursery - including fears over drug use and noise

The council's licensing sub-committee will vote at a hearing next Tuesday whether to grant an alcohol licence for the centre, from 11:00 to 23:00 every day.

Darlington street artist Mozer has died

The Northern Echo

Newspaper

Overnight road closures in North Tyneside

If you live between Silverlink and Holystone, this could affect you tonight.

Family fight for compensation after dad-of-two's death

A charity supporting the family of a South Tyneside man who was killed in a 'one punch' attack have told of his mother's battle over compensation.

Copyright: SHIELDS GAZETTE

New hate crime reporting system for Newcastle

Local Democracy Reporting Service

A helpline to tackle the rising number of hate crimes in Newcastle will launch in November.

Figures released this month showed that hate crime in the city increased by 17% in 2017/18, with 969 recorded incidents.

Police have warned of racial tensions and a spike in abuse towards disabled people. A new system run bu charity Sop Hate UK will replace the out-dated council-run ARCH service, which can only be accessed in person or over the phone.

It will allow victims to make reports online or via email, as well as providing access to specially-trained staff.

Victims of misogynistic hate crime in Newcastle will be able to report attacks using the new system, as will members of subcultures such as goths, punks, and emos.

Extra cash to boost Metro performance

Almost £1m is to be spent on improving train maintenance on the Tyne and Wear Metro.

Operator Nexus said the cash aims to boost the performance of its aging fleet.

This move comes after a difficult week for the network, with failed trains and leaves on the line causing delays.

The £900,000 will be spent between now and April.