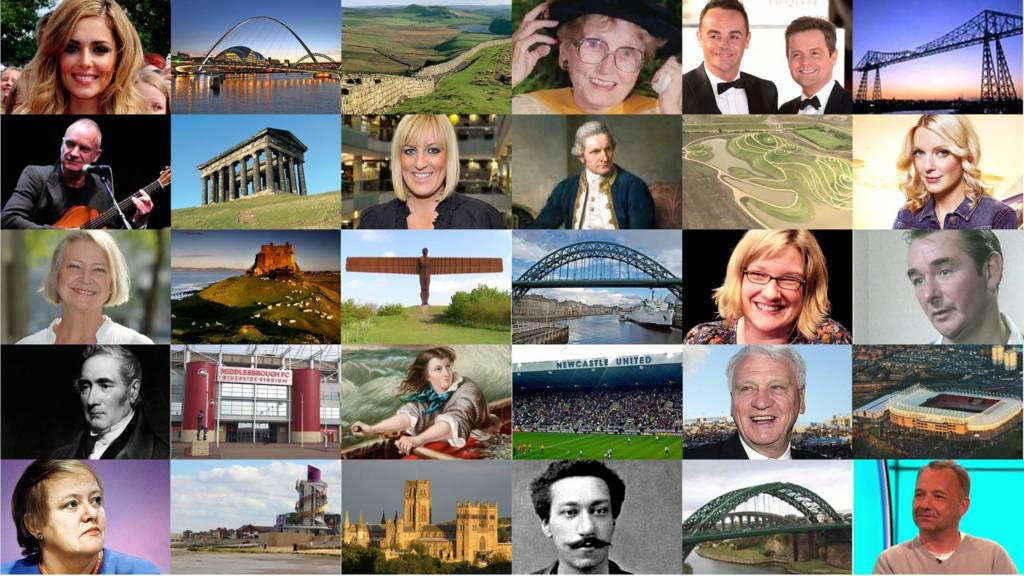 BBC Local Live: North East England
Listen live to your BBC local radio station: BBC Newcastle and BBC Tees
Our live coverage across the week

Our live updates have finished for the week, thank you for joining us.

You can stay up to date online, on BBC Newcastle, BBC Tees and on Look North.

If you want to get in touch with any news or send us photos you can tweet us, contact us via our Facebook page or email us.

We'll be back on Monday morning from 08:00.

The mothers of Liam Curry and Chloe Rutherford, who died in the Manchester Arena attack, will take part in this weekend's Great North Run

Elderly woman arrested at anti-Semitism protest

Local Democracy Reporting Service

A 72-year-old woman was arrested for a breach of peace during an anti-Semitism debate at Newcastle City Council, police have conmfirmed.

The protest, which was led by the revolutionary communist Fight Racism Fight Imperialism group, was opposing Newcastle City Council's adoption of the International Holocaust Remembrance Alliance (IHRA) definition of anti-Semitism, which they claimed would "criminalise solidarity with Palestine in Newcastle".

It was claimed that one member of the civic centre's security staff was put into a headlock by the demonstrators.

However, Northumbria Police say there have been no further reports of criminal offences during the meeting.

A police spokesperson confirmed: "The protest in question passed without incident and the majority of the group left the area... Later that evening a small number of protesters entered the council chamber and disrupted proceedings.

A 72-year-old woman was arrested for breach of peace but has since been released from custody."

Afterwards, council leader Nick Forbes labelled the group "clowns" who "don't do anything to further the cause of the Palestinians".

We'll just leave this cute picture of a police puppy right here... Happy Friday.

The goalkeeper 'on par with Harry Kane'

Boyzone add Newcastle tour date

Good news for Boyzone fans: The boyband have added an extra North East show to their farewell tour next year.

They will play Newcastle's Metro Radio Arena on Wednesday 13 February, as well as their 30 January date.

Horses killed in Sunderland

Two horses have been found dead in Sunderland following a fire.

At 01:36 today a fire at a stable in Rhodesia Road was reported to the police.

Emergency services attended and found a car alight and discovered that the fire had spread to a nearby stable, where a horse was found deceased.

Police are treating the fire as suspected arson.

Another horse was then found severely injured outside the stable. He had been attacked with a knife and later died.

Substance thrown at man during suspected 'road rage' attack

An "unknown substance" was thrown at a driver during an altercation on Teesside.

A white Mercedes A Class and a grey BMW pulled over on the A19 slip road towards Billingham and the drivers of both cars apparently had an argument.

The 19-year-old male driver of the Mercedes allegedly then threw the substance towards the 44-year-old male driver of the BMW.

As a result, he was taken to hospital where he is being treated for irritation to the skin on his face.

The Mercedes driver was arrested on suspicion of grievous bodily harm with intent and for possessing a weapon for the discharge of a noxious liquid.

He currently remains in custody.

Weather: Clouds but no more rain

It is expected to be mainly dry this evening and tonight with long clear periods, although some cloud may edge in from the south-west towards the end of the night.

Brisk winds easing.

Cigarettes stolen in Middlesbrough robbery

A armed robbery took place in Grangetown, Middlesbrough, last weekend.

A man entered McColl's on Birchington Avenue and threatened the shopkeeper with a weapon, then stole three packets of cigarettes.

The incident took place on 1 September at 08:40 and police have now released CCTV images of a man they would like to speak to.

Copyright: CLEVELAND POLICE

Your Pictures: Grey skies return

It's been a very rainy day so far.

Grey skies have taken over, as you can see in this pictures taken at Tynemouth Pier this morning.

The sun is meant to return tonight, but in the meantime you can send us your raining pictures. You can tweet us, contact us via our Facebook page or email us.

Man assaulted on Teesside

A man was left with facial injuries after an assault in Billingham.

The 53-year-old victim was driving a blue Jaguar and the suspect was driving a white Vauxhall van along the road before the altercation took place.

The driver of the van assaulted the victim with something similar to a trowel.

The victim required stitches and glue to wounds on his ear, nose and forehead.

The incident took place on Wolviston Road, near to Whitehouse Road, at about 11:15 on Monday.

Rolando Aarons leaves NUFC on loan

Newcastle United's Rolando Aarons has joined FC Slovan Liberec on loan.

The winger has completed a six-month switch to the Modrobílí, who are currently eighth in the Czech top flight.

Aarons, 22, made his Magpies debut against Manchester City on the opening day of the 2014-15 season and has made 27 appearances for the club, scoring four times.

The former England under-20 international was loaned to Italian side Hellas Verona for the second half of last season, and made 11 Serie A appearances.