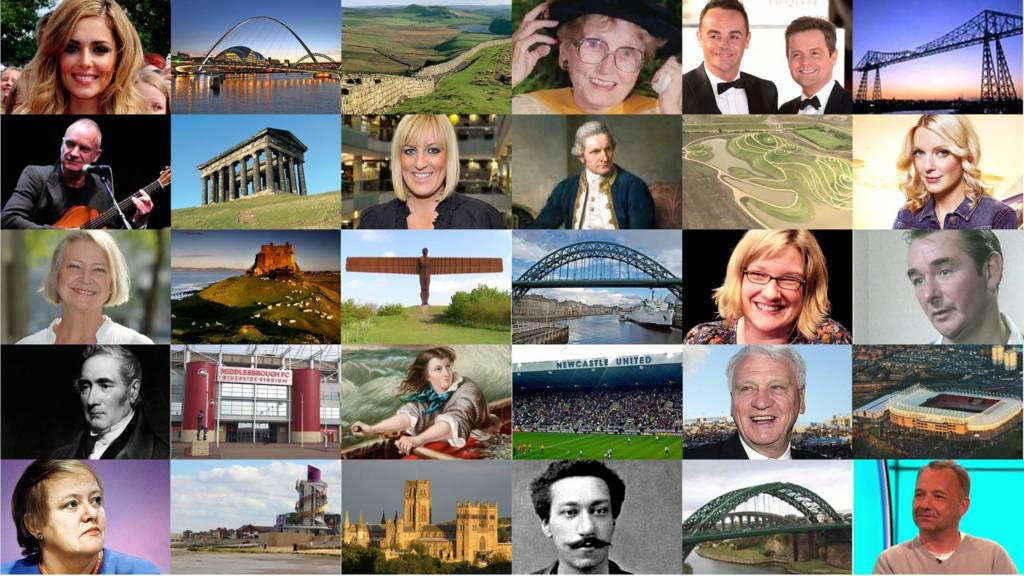 BBC Local Live: North East England
Listen live to your BBC local radio station: BBC Newcastle and BBC Tees
Our live coverage across the day

Our live updates have now finished for the day and for the week.

You can stay up to date with the latest news on BBC Newcastle,BBC Tees, online and on Look North.

We'll be back with live updates from 08:00 on Monday.

In the meantime, if you'd like to get in touch with news or photos you can tweet us @BBCNewsNE, email us,or contact us via our Facebook page.

Have a lovely weekend.

Weather: Low cloud and mist becoming widespread

Low cloud and mist will become widespread through tonight. The cloud may even thicken enough to give a spot or two of drizzle. Remaining fairly mild.

Minimum Temperature: 9 to 12C (48 to 54F).

Tomorrow plenty of low cloud and mist at first but this will readily thin and break leaving lots of sunshine for the afternoon. Feeling pleasantly warm in general but cooler towards the east.

Maximum Temperature: 18 to 21C (64 to 70F).

Severe accident: County Durham both ways

BBC News Travel

County Durham both ways severe accident, at A1045 Thornaby Road.

County Durham - Millbank Lane in Thornaby-on-Tees blocked at the A1045 Thornaby Road junction, because of an accident.

To report traffic and travel incidents dial 0330 123 0184 at any time

Opportunist thieves 'target Hoppings visitors'

Visitors to The Hoppings have been warned to keep their vehicles locked after a spate of thefts from parked cars.

In the past 14 days there have been 20 reports of goods - including Sat Navs, sunglasses and cash - stolen, and in 18 of those cases it was from unlocked vehicles.

Northumbria Police believe those responsible could be targeting visitors to the Town Moor due to the increased number of vehicles parked on nearby streets.

The annual June event - known as the Hoppings, after an old English word for dance - is billed as the largest travelling funfair in Europe.

Seven deny detention centre abuse charges

Seven former prison officers have denied abusing teenagers at a County Durham detention centre.

The men - who are in their 60s and 70s and worked at the Medomsley centre at Consett, appeared at Teesside Crown Court and entered not guilty pleas.

All are charged with physical abuse and misconduct in a public office, and four are also accused of sex offences.

The first of three trials will start on 3 September.

Image caption: Clockwise from top left; Kevin Blakey, Alan Bramley, Johnson Brian Greenwell, David McClure, John McGee, Christopher Onslow, Neil Sowerby

Travel: Lineside fires slow trains

A trackside fire near Carlisle is disrupting trains on both the Newcastle and Settle-Carlisle railway lines.

Durham Women's Gala returns after 40 years

The Durham Women's Gala returns this weekend after a gap of more than 40 years.

The event ran from the 1920s to 19670s and returns to mark the centenary of Women's Suffrage.

Saturday's gala in Wharton Park, Durham, celebrates the achievements of women in the North East and looks to the future.

The event includes speeches from female North East MPs

Metro delays due to train faults

Gateshead among areas tackling fast food with safety zones

Deprived areas such as Blackpool and parts of Manchester and Liverpool have five times more fast food outlets than affluent areas, a survey suggests.

The data, from Public Health England (PHE), compared levels of deprivation with numbers of takeaways such as chip shops, burger bars and pizza places.

Some local authorities are already developing "healthy zones" by limiting the number of fast food outlets.

In Gateshead, where 23% of 10- and 11-year-olds are obese, new planning rules were put in place in 2015.

All hot food takeaway applications have to be accompanied by a health impact assessment that looks at:

where children congregate
numbers of hot food takeaways already in existence
high levels of obesity

Since then, no new planning applications for fast food takeaways have been approved.

Twelve South Tyneside schools in the red

Water firm urges wastage warning

Geordie Shore stars surprise Teesside car crash survivor

Season ticket refund for delay-hit passengers

A compensation package has been agreed for the season ticket holders worst affected by rail disruption in the North of England.

It follows a timetable overhaul, which led to cancellations and overcrowding.

People in Lancashire, Cumbria and Greater Manchester holding Northern season tickets will get a refund equivalent to four weeks' travel costs.

Those with Northern and TransPennine Express tickets elsewhere in the north will receive a week's worth.

Transport for the North said it has now agreed the package with the Department for Transport.

Copyright: STEPHEN PIMLOTT

Thief stole man's disability scooter

Severe disruption: A1(M) County Durham southbound

BBC News Travel

A1(M) County Durham southbound severe disruption, between J58 for A68 and J57 for A66.

A1(M) County Durham - One lane closed on A1(M) southbound between J58, A68 (Burtree) and J57 A66(M) Darlington, because of a lorry having a tyre changed. Traffic is coping well.

To report traffic and travel incidents dial 0330 123 0184 at any time

Jury out in George Ormond trial

A jury has been sent out to consider its verdicts in the trial of George Ormond, who worked in Newcastle United's youth set up and is accused of historical sexual abuse.

Mr Ormond, 62, denies 36 counts of indecent assault, one of indecency with a child and a serious sexual assault.

His trial at Newcastle Crown Court trial has seen 19 complainants give evidence and the alleged offences span from 1973 to 1997.