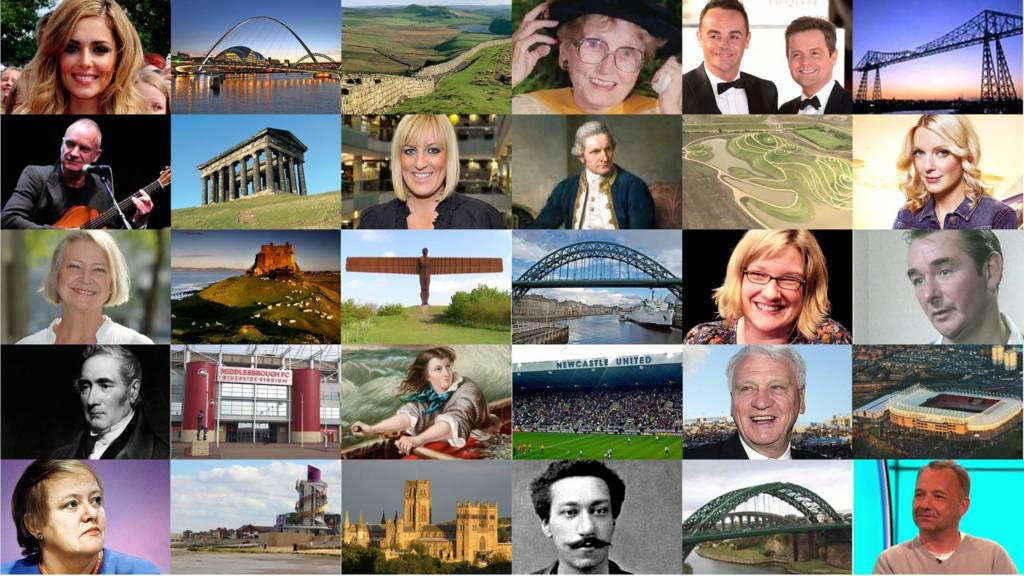 BBC Local Live: North East England
Our live coverage across the day

Our live updates have finished for the week.

You can stay up to date online, on BBC Newcastle, BBC Tees and on Look North.

We'll be back with more updates from 08:00 on Monday and hope you can join us then.

If you want to get in touch with any news or send us photos you can tweet us, contact us via our Facebook page or email us.

Seventeenth Century Scottish soldiers reburied in Durham

The remains of 17th Century Scottish soldiers, discovered during construction work at Durham University in 2013, have been reburied in Durham City.

The soldiers were imprisoned and died in Durham following the Battle of Dunbar in 1650.

The ceremony was held at Elvet Hill Road Cemetery, less than a mile away from the original exhumation site on Palace Green.

Professor Chris Gerrard, of Durham University's Department of Archaeology, said: "It has been a privilege to research these soldiers and, having learnt so much from their remains, it was important to us to lay them to rest with respect and dignity.

"Today we are able to give these men the burial they were denied when they died almost 400 years ago."

Go-karting track close to green light in Stockton

Local Democracy Reporting Service

An indoor go-karting track in Stockton is close to getting the green light despite concerns over noise.

TeamSport wants to turn the former Arco warehouse off Portrack Lane into a racing circuit, which would create about 40 jobs.

Officers in Stockton Council planning department have advised councillors to approve the application at their upcoming committee meeting.

Concerns have been raised by residents over the level of noise and the plans for opening hours extended until 23:00.

TeamSport has sent out letters to residents to try and allay worries about noise, air pollution and anti-social behaviour as well as other misgivings.

The letter added: "We have been operating for 25 years and we work closely with our landlords and team of technical experts to ensure that our centres do not adversely impact on the local community and environment.

"I am pleased to say that in all our years of operation we have never received any complaints about our operation and we are extremely keen to maintain this record of neighbourliness that we have acheived."

Stockton Council's planning committee will decide whether or not to approve the centre on 23 May.

Holiday photograph saved toddler's life

This photograph saved the life of a toddler from Jarrow.

A professional photographer took this snap of Presley when she was seven-months-old and on holiday in Tenerife with her family.

The photographer noticed that her right eye was reflecting white in the images.

Parents Sophie and Darren took her to get checked out, and doctors found an eye cancer called retinoblastoma in their daughter, who is now two.

Sophie said: "We are so thankful for the photographer for letting us know, and it was just a complete nightmare.

"It could have been a lot worse, she could have lost her eye and it could have travelled to her brain."

Presley's family are now spreading the word about a White Eye App, which is free to download, and can help parents detect the cancer.

Teesside man banned from owning dogs for five years

A Hartlepool man has been banned from owning dogs for five years after an incident which led to police shooting and killing a German shepherd-type dog.

Suleman Halane, 22, of Baden Street, appeared before Teesside magistrates and admitted having a dog dangerously out of control.

Cleveland Police were alerted to an aggressive dog tied to a post in the town in January and despite desperate efforts to trace the owner were left with no choice but to kill it.

Halane was given a 12-month community order, 12-week curfew and ordered to pay £620 costs and an £85 victim surcharge.

Cleveland Police Assistant Chief Constable Jason Harwin said: "Based on the aggressive behaviour of the dog, the expert views of animal welfare professionals and the fact that officers at the scene believed that the dog's collar was likely to break, potentially putting the public's safety at risk, the difficult decision was made to destroy the dog.

"Public safety is our priority as always. I am pleased that the person responsible has now been dealt with by the courts."

More than a hundred homes in Stockton recommended for approval

Local Democracy Reporting Service

A second bid to build 130 homes on the outskirts of Eaglescliffe has been recommended for approval.

Stockton Council planning committee will decide whether to allow Site Plan UK outline planning permission for the homes at Hunters Rest Farm off Urlay Nook Road.

The proposal has been met with dozens of objections including concerns over increased traffic on the A67, water draining into Nelly Burdon's Beck "increasing the risk of flooding of housing downstream".

A council report to go before members said the traffic network in and around Yarm would "suffer some congestion", however, it added that the cumulative impact of traffic could not be shown to be severe.

And when it came to flooding, no objections have been submitted by either Northumbrian Water or Stockton Council's flood risk management team.

Stockton Council's planning committee will vote on the proposal next week.

One hundred jobs to be created in Newcastle

One hundred new jobs are to be created at an outsourcing company with a base in Newcastle.

Sitel is a global outsourcing firm and one of the big employers in the North East.

The firm opened in Newcastle in 2016 on Quorum Business Park in Longbenton and has steadily grown ever since.

It now employs 800 staff and is looking to recruit more throughout June and July to sell warranties on electrical equipment.

Crash closes section of A68 near Crook

A crash has closed a section of the A68 close to Crook.

The closure is between Helme Park Hall and the Harperley roundabout.

Cleveland Police's finest can smell the weekend from here

It's Friday and Cleveland 's Police dogs are ready for the weekend after a busy week.

You can check out what Sam and Elsa have been up to in the link below.

Cyclist left with eye injuries after fail to stop collision on Teesside

A cyclist has been left with a fractured jaw and eye socket after a collision with a vehicle which failed to stop in Dormanstown.

The 41-year-old was on the junction of Staithes Road and Huntcliffe Avenue at 23:20 last night when the crash happened.

Police are now appealing for anyone with information to come forward.

Ram raid at Teesside shopping park

Thousands of pounds of designer clothing has been stolen in a ram raid at Teesside shopping park.

A white transit-style van reverse rammed the shutter of JD Sport at about 23:00 yesterday.

It's believed several men wearing balaclavas and hooded tops took Lacoste polo shirts, T-shirts and hoodies then left the scene.

Ten minutes later a white van was reported to be on fire in Balmoral Avenue in Thornaby.

The clothing has high tech security devices still attached and these will spray coloured ink on to the clothes if tampered with.