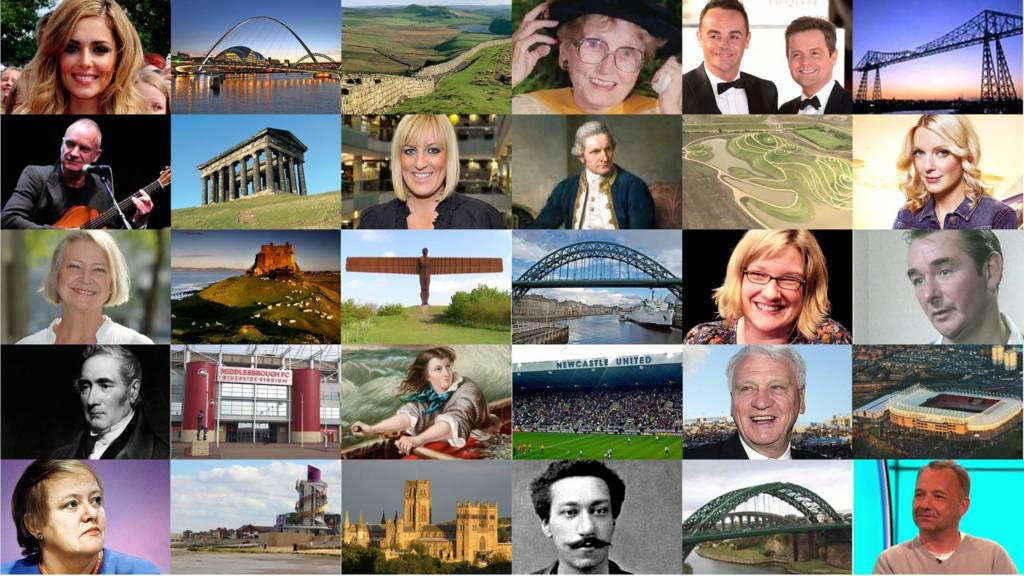 BBC Local Live: North East England
Brendon Mitchell

BBC Sport

Our live coverage across the day

Our live updates here have now finished for the week - thank you for joining us.

This feed will be updated with breaking news, sport and travel updates overnight and you can also stay up to date on BBC Tees, BBC Newcastle and on Look North.

We'll be back on Monday from 08:00.

Have you got any news or photos you'd like to share with us? In that case you can tweet us @BBCNewsNE, email us,or contact us via our Facebook page.

Charities gain from Police Interceptors calendar

Fans of the TV show Police Interceptors have helped to raise thousands of pounds for charity following the sale of a calendar featuring officers from two North East forces.

The popular Channel 5 programme showcases the work of the Cleveland and Durham Specialist Operations Unit (CDSOU) as they clamp down on criminals.

Sales of the Police Interceptors 2018 calendar raised £3,100 and will be divided between PawsUp, a benevolent fund to support retired police dogs and the Police Treatment Centres which provides intensive treatment to thousands of injured and ill police officers every year.

PC Ian Squire, one of the show's Interceptors and founder of PawsUp, said: "Some of our biggest fans are children, many of whom now hope to become budding police officers.

"Inspiring the next generation is at the pinnacle of what Police Interceptors is about for us."

Copyright: Cleveland Police

Trees to be planted in £100,000 scheme

Daniel Holland

Local Democracy Reporter

A £100,000 scheme to plant new trees across Newcastle is being launched with more funding promised in the years to come.

Newcastle City Council says it plans to catalogue the city's existing trees and formally register their importance to ensure that they can be protected in the future.

A one-off budget of £100,000 has been allocated to fund a planting programme over the next 12 months, during which time officers will be drawing up future funding plans.

Newcastle City Council says the initial project will allow residents to "immediately start to enjoy the benefits of having more trees around our city".

The council has commissioned an iTree survey of the city's tree stock, which will start in 2019 and cover trees on both public and private land.

The study will enable the council to put financial values on the benefits that trees bring to the city, based on factors including flood prevention and energy savings, and help develop future planting programmes.

Council steps in to maritime engine dispute

History enthusiasts have welcomed moves to help save a piece of Sunderland maritime engineering.

The last Doxford engine is kept at Beamish Museum and was maintained by a friends group until access was denied over safety issues.

But now Sunderland City Council is trying to resolve the deadlock.

Retired engineer James Duncan worked at Doxford's as did his brother, dad and grandad and says: "We have at this present time no history of shipbuilding except this and we want to hang on to it."

Artefacts of everyday life on Hadrian's Wall go on display

Danny Savage

North of England correspondent

Previously unseen artefacts, detailing everyday life along Hadrian's Wall during Roman times, are going on display for the first time.

Archaeologists have found more evidence about the lives of women and children who lived there nearly 2,000 years ago.

Among the artefacts going on display from a rare cemetery excavation at Birdoswald Fort, are the cremation urns of a young woman and a child aged about five.

Infants feeding bottles (pictured below), remnants of a doll, Roman board games and what's described as an "exquisite perfume vase" made of blue enamelled copper will also go on show in nearby Corbridge.

English Heritage, which manages parts of the wall, says the discoveries emphasise the area wasn't just a military installation but was also a thriving centre with numerous communities.

Copyright: ENGLISH HERITAGE

Police dogs get into the team spirit!

'Prison within a prison' operates as a normal jail

A "prison within a prison" to segregate extremists is operating as a "microcosm" of a normal one, a report has found.

The unit, at HMP Frankland in Durham, opened last year, following the Acheson review into radical Islam in UK jails.

The Independent Monitoring Board (IMB) acknowledged that as the first it was developed under both time and budgetary pressures, and management and staff "deserve a great deal of credit for the successful delivery of a fully functioning unit".

Its report found that prisoners held there enjoyed a full regime with the exception of any association with prisoners outside the unit.

One area of concern was the compact nature of the centre which "gave rise to a claustrophobic feeling", and the board felt the guideline population ceiling should be "reduced in the interests of safe and harmonious living for the prisoners and staff."

The IMB said: "All the staff ... received high quality special training and have embraced the challenges in what, for them and prisoners alike, is a totally new and different environment.

"It will be significantly easier to deliver the further planned units in other jails, following the pioneering work at Frankland and the early lessons learned."

Former England man Parker among candidates for Town job

TWTD understands former England international Scott Parker is among the candidates for the Ipswich Town manager's job.

Post update

Newcastle v West Brom - Sat (15:00 BST)

Benitez would rather focus on getting into the top 10 in the last few weeks of the season.

"We have to remain compact, be organised, then some games we have won because we take our chances," he said.

"We have been one of the best 10 teams for shots, but also the best 10 for defending.

"We have had good balance and we need to keep that."

Retiring Sunderland lollipop man Ray Vickery says his job "means a great deal".

Your pictures: A cloudy Northumberland

Thank you to Michael Bradley who captured this cloudy but beautiful scene in Allenheads, Nothumberland, this week.

Copyright: MICHAEL BRADLEY

Have you got any photos you'd like to share with us? You can tweet them @BBCNewsNE, email them, contact us via our Facebook page.

Weather: Hazy sunshine with the odd spot of rain

Well, we're still nowhere near last week's temperatures but today should see a little hazy sunshine from time to time.

However, skies will often be cloudy and it may become thick enough to produce the odd spot of rain.

Tonight looks set to be dry with clear periods and patchy cloud cover. It will become chilly with just a light or gentle breeze.

Woman sought after theft from pensioner

The incident took place on Fawcett Street in Sunderland last month.