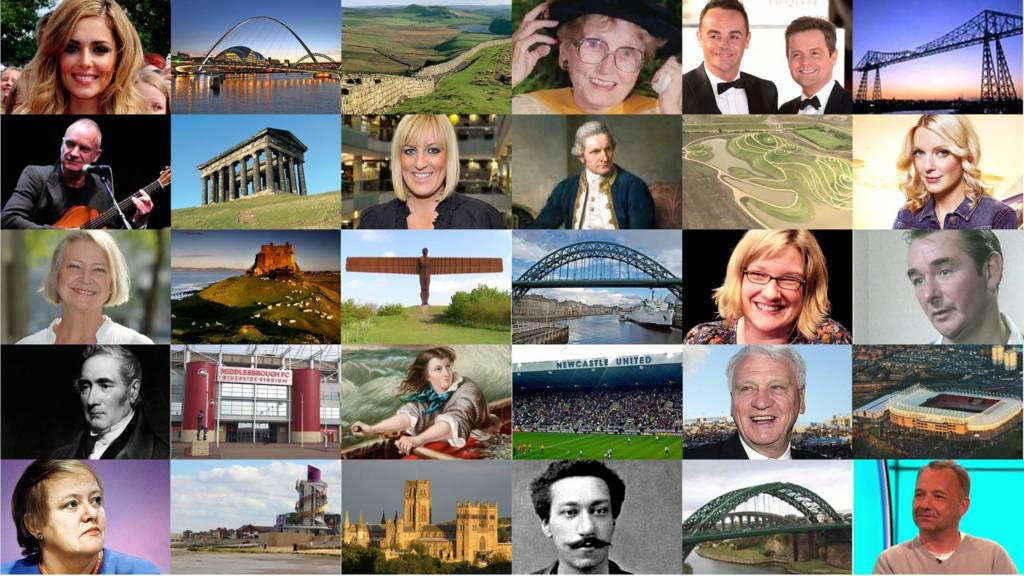 BBC Local Live: North East England
Our live coverage across the day

Our updates here have now finished for the week - thank you for joining us.

This feed will be updated with any breaking news, sport and travel. You can also keep up to date on BBC Newcastle, BBC Tees and on Look North.

We'll be back on Monday from 08:00.

Have you got news or photos you'd like to share with us? In that case you can tweet them to @BBCNewsNE, email them,or contact us via our Facebook page.

Your photos: Snow along Hadrian's Wall

It looks like the snow might be making a return over the weekend so we might see some more scenes such as this.

KD Watson tweeted us this beautiful photos of the snow along Hadrian's Wall.

He wrote: "The Sycamore Gap last Monday when I had a rare day off for hill running!"

Kielder ospreys spotted in Africa

The smallest osprey chick to fledge at the Kielder Forest site last year has been sighted in West Africa.

Ospreys have been breeding in Northumberland since 2009, after an absence of 200 years.

Last year four chicks fledged from one of the nests and in early September began their migration to warmer climes - a journey of over 6,700 km.

"Acomb" the smallest chick has now been photographed in Senegal, and another 2017 osprey was spotted in Mauritania.

Joanna Dailey an osprey volunteer with the Kielder project said: "Mortality rates for ospreys are high in the first couple of years, and we know that only about one in three ospreys make successful return migrations to the UK.

"The fact that two of [the] four offspring who migrated, are now known to be alive, is a positive sign."

Copyright: Steven Houston

Copyright: Kielder Osprey Project

Shearer inspires future Magpies legend

Newborns sought for sleep study

Durham University is looking for parents-to-be or parents with newborn babies to take part in a study in their own homes.

Researchers at the Parent-Infant Sleep Lab want to find out how the hormone cortisol - important for stress response, immune system function, metabolism, and the body's daily sleep-wake cycle - develops in newborn babies.

The team is particularly looking at its development in babies who will be breastfed and who sleep next to or close to the parents, either in the same bed or the same room as the parents.

Expectant parents, or those with babies less than four weeks old, are invited to take part.

No let-up in schedule for Magpies

Uni vice-chancellor steps down for 'home reasons'

The vice-chancellor of Sunderland University is stepping down after four years at the helm.

Shirley Atkinson said that it had been an enormous privilege to lead the university, but unfortunately her home circumstances had changed and she would be unable to fulfil the role beyond the summer.

Copyright: Sunderland University

Quote Message: We fully respect her decision to leave and have accepted her resignation with deep regret. The board has started the selection process for a new vice-chancellor." from John Mowbray Chair of the board of governors

Temporary canal barriers erected following student's death

Temporary barriers have been put up near a stretch of canal in Manchester where a student was found dead earlier this month.

Charlie Pope, 19, from Ponteland, Northumberland left a city centre bar early on 1 March and was found later that day following a search of the Rochdale Canal just off Whitworth Street West.

His father Nick has called for safety railings to be built alongside waterways in the city and met this week with the council, emergency services and the Canal and River Trust.

Waterways Manager David Baldacchino said plastic barriers have been placed at Lock 89, behind Rain Bar to deter people from taking a shortcut over the lock gates and steer them towards a nearby footbridge instead.

Pools fans thanked for their generosity

Hartlepool thanks fans for the Just Giving appeal funds.

Homes plan gets thumbs-up in 'high-risk' area

More now on the story we reported earlier about a plan for almost 200 homes near a Darlington water park being approved by the local council.

Members of Middleton St George Parish Council said the proximity of the houses to the water park would make it a "high-risk" area - especially as the developers are aiming to attract families to the two, three, four and five-bedroom homes.

Planning agents for the developers said the safety of children living near the water park was "a genuine concern" but they would work with the parish council "to do something positive".

Building work is expected to get under way in the autumn.

Murder accused claims friend carried out killing

A man accused of murdering a woman and torching her body in her car in Shiney Row has claimed his friend was the killer.

William McFall and Stephen Unwin deny raping and murdering Quyen Nguyen, 28, from Killingworth.

Mr McFall told Newcastle Crown Court he was outside having a cigarette when he heard Mr Unwin arguing with her on 14 August.

He said Mr Unwin then dragged the mother of two across the floor of the lounge by her hair, and threw her to the ground.

Copyright: Family handout

He claimed he saw Mr Unwin tie Miss Nguyen's hands behind her back, cover her head and remove her clothes with scissors before attempting to rape her.

Mr McFall said: "I heard her say 'help me' a few times. I said 'Steve please let her go'.

"He smothered her and left her lifeless on the floor."

Mr Unwin has claimed throughout the trial that Mr McFall carried out the murder.

The trial continues.

Magpies step out in Spain

Players get into training at Spanish camp.

Award win for tourism landmarks

There's good news for the region's tourism industry.

According to the Association of Leading Visitor Attractions, the UK as a whole saw a huge increase in visitor numbers last year, with a record year for overseas tourism.

This included Durham Cathedral, which had more than 800,000 visitors - an increase of 20,000 on the previous year.

In addition, County Durham and Northumberland have been recognised in the BBC Country File Magazine Awards for Tourism.

High Force waterfall came second in the Landmark of the Year category, and Northumberland was awarded National Park of the Year title.

Universal Credit could cost council £3.2m a year

Daniel Holland

Local Democracy Reporter

Rent arrears caused by Universal Credit could cost Newcastle City Council more than £3m a year by 2022, it is estmated.

The rollout of the controversial benefits scheme is already believed to be responsible for £1.36m of unpaid rent owed to the council, linked to delays in the processing of payment claims.

But a council report now states the figure could rise to £3.2m annually by 2022, as more households are moved over to the all-in-one benefit.

Newcastle was the first city to be chosen as a pilot site for the benefits overhaul, which council bosses have labelled a "disaster" for many of the city's most vulnerable residents.

There are currently 3,830 Your Homes Newcastle (YHN) tenants on Universal Credit, but that is estimated to rise to 12,000 by 2022.

Labour councillor Joyce McCarty, deputy leader of Newcastle City Council, said: "We know of far too many residents who have fallen into rent arrears when they are moved onto Universal Credit, often linked to the initial built-in delays in processing claims.

"In many cases these delays are hitting families who have barely enough money to live on, and risks trapping them in debt for years to come."

So far this year, the council's rent collection rate for tenants who have moved over to the new benefits system is 89.44%, compared to 98.84% for those not on Universal Credit. The estimate of £3.2m is based on the 2016/17 annual collection rate of 93.9%.

In a letter presented at last week's council meeting, employment minister Alok Sharma said the Government was making a "number of further improvements to Universal Credit" - include scrapping the seven-day wait at the start of Universal Credit claims and extending the repayment period for advances to 12 months.

From April, claimants who are already receiving housing benefits will be given an extra two weeks of payments to support them during the transfer to Universal Credit. The Government is also looking at paying housing costs directly to landlords to mitigate payment problems.

Homes plan gets go-ahead despite safety protests

A scheme to build almost 200 family homes next to a water park in Darlington has been given approval despite warnings the move could lead to a child's death.

Members of Darlington Borough Council's planning committee granted planning permission for the development on land off High Stell, in Middleton St George.

The application for the 198 homes received 420 objections - many of them safety-related. The development received outline permission in 2016.

Concerns have been raised as there are no barriers between the proposed estate and the water park, which consists of three reservoirs left to the village by Northumbrian Water in the 1950s.

New river footpath to avoid rail walk

A new footpath has been constructed as an alternative to a flood-damaged section next to the River Wear in County Durham.

The 200-metre section at Holebeck between Wolsingham and Frosterley has been subject to years of erosion, meaning that walkers were travelling along a very narrow strip between the river and the Weardale Railway, with some walking along the live railway.

A council spokesman said: "After assessing the options we teamed up with the railway to construct a new footpath along the edge of the railway's land, and so moving it away from the river and securing a future-proofed route.

"The footpath is one of Weardale's busiest, popular with both locals and visitors alike."

Copyright: Durham County Council

From Frankenstein to Shrek: South Shields welcomes monsters

South Shields is set to host an exhibition of monsters from history, horror stories and Hollywood.

Monsters! The Good, The Bad and The Cuddly, opens at The Word: National Centre for the Written Word at the weekend.

Created to mark the 200th anniversary of the publication of Mary Shelley's Gothic horror story Frankenstein, it brings visitors up close to beasts of early mythology and the modern, digital creations of Pixar and Disney.

Tania Robinson, from The Word, said: "We couldn't let the 200th anniversary of Frankenstein go by without marking it in some way.

"Creating an exhibition based on monsters gave us the chance to have some fun with the whole genre of horror writing and to explore the creatures that have frightened or entertained people through the centuries."