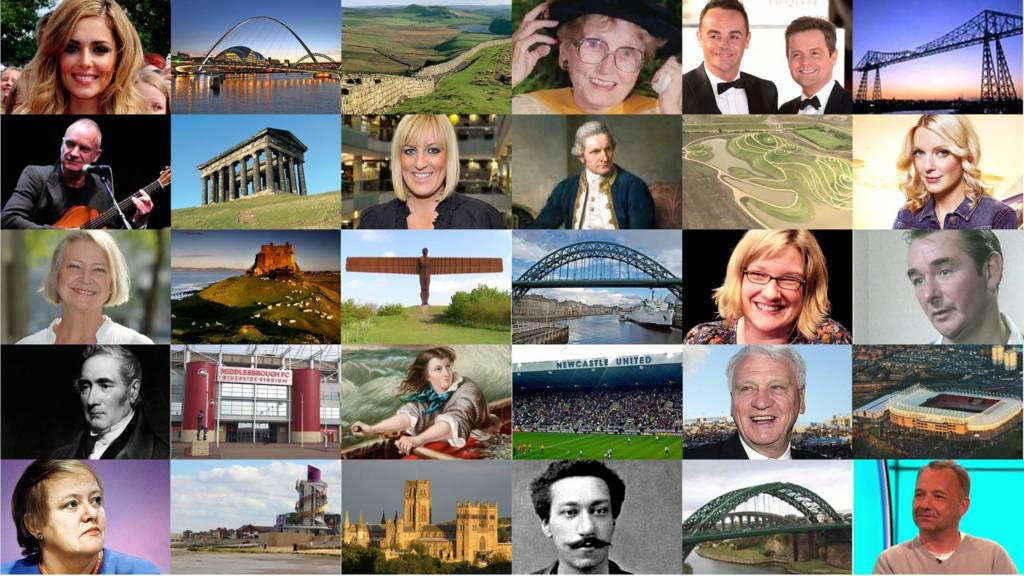 BBC Local Live: North East England
Summary
Updates on Wednesday 15 November 2017
Our live coverage across the day

That's all from us here today - thank you for joining us.

You can stay in touch with the latest news overnight on BBC Tees, BBC Newcastle, Look North, and online.

If you'd like to get in touch with news or share your North East pictures with us, you can do so on Twitter, Facebook, or via email.

We'll be back tomorrow from 08:00.

Plastic found in deepest living organisms

Plastic has been found in the stomachs of animals in six of the deepest places on Earth, a study led by Newcastle University has found.

The research was part of Sky Ocean Rescue, a campaign to raise awareness of plastics and pollution affecting seas.

The team, led by Dr Alan Jamieson from Newcastle University, tested samples of crustaceans found in the ultra-deep trenches in the Pacific Ocean.

Dr Jamieson said: "This is a very worrying find. Isolating plastic fibres from inside animals from nearly 11km deep (seven miles) just shows the extent of the problem.

"Also, the number of areas we found this in, and the thousands of kilometre distances involved shows it is not just an isolated case, this is global."

Teenagers 'threatened by man brandishing gun'

Four men have been arrested after a group of teenagers were reportedly threatened with a gun in Sunderland.

The incident happened on 11 November in the Kings Terrace area of the city when a passenger in a Vauxhall Insignia car is said to have brandished a handgun at teenagers involved in an altercation.

The men, aged 21, 24, 26 and 44 were arrested on suspicion of possession of a firearm with intent to cause fear, Northumbria police said.

No-one was hurt.

A force spokesman added: "A search has been carried out in the area, including the recovered vehicle and several addresses, but the firearm which has been reported as seen has not yet been recovered."

An appeal for witnesses has been made.

Counterfeit Scottish notes prompt police appeal

Police have appealed for information after counterfeit Scottish notes were used at businesses in Blyth.

On Saturday afternoon various premises in the town centre were visited and counterfeit Scottish £20 notes were exchanged for sterling £10 notes, or low value items were "bought".

Northumbria Police has released CCTV images of men the force want to speak to.

Bar owner remembered with art show

BBC Tees

www.bbc.co.uk/BBCTees

A well-known bar owner from Bishop Auckland who died in April after a short illness is being remembered with an exhibition of his artwork.

Michael Dolan was a popular personality in the town due to his decades spent managing a number of different bars and pubs, most notably Harvey's Wine Bar in the 1980s and 1990s.

However, fewer people were aware Mr Dolan was also a talented artist who had studied at Darlington Art College and continued working on his passion whenever he could find the time.

His sister Kathryn, who decided to display his work at Bishop Auckland Town Hall said: "I wanted people to see the great work he had done and I feel like he would have been very pleased about it."

Would-be robbers threaten man with hunting knife

Two would-be robbers who threatened a man with a large hunting knife are being sought by police.

The 32-year-old was confronted at the building site compound of the new Thornaby Fire Station on Millbank Lane by the pair, who made off empty-handed.

Both suspects were dressed in dark clothing with hoods concealing their faces.

Details of the incident, in the early hours of 26 October, have only now been released by Cleveland Police.

Sentimental jewellery stolen in house burglary

BBC Tees

www.bbc.co.uk/BBCTees

Sentimental items of jewellery and collectable coins were stolen in a burglary in Hartlepool.

The burglary happened between 08:00 and 11:00 on 30 October in Ventnor Avenue, Cleveland Police said.

The stolen jewellery included a gold signet rope ring, a cubic zirconia ring with leaves and a gold bracelet and necklace.

The stolen coins are the size of a 1p. One is a UK gold sovereign, the second is silver and features St George and the dragon.

Breaking

Hairdresser guilty of infecting men with HIV

Hairdresser Daryll Rowe, 27, has been found guilty of 10 charges of deliberately trying to infect men he met on Grindr with HIV.

The victims were from Brighton, Carlisle and Wallsend in North Tyneside.

More to follow.

Teenage yobs warned they could lose their home in disorder crackdown

Parents have been warned they could lose their homes as police launch a crackdown on a 20-strong bunch of teenage terrors who have brought misery to a Sunderland neighbourhood.

Copyright: SUNDERLAND ECHO

Warning after death of man from suspected drugs overdose

Police are issuing a drugs warning to the public following the death of a man from a suspected ecstasy overdose.

Woman in court over Eid festival crash

A Gateshead woman has appeared in court over a crash which injured a number of Muslim worshippers as they left a mosque in the city.

Marianne Kabah, 42, of Gateshead, is yet to enter a plea to two counts of causing serious injury by dangerous driving.

Hundreds of people had gathered outside Newcastle's Westgate Community College to celebrate the Eid festival at the end of Ramadan in June when the collision happened in the car park.

Ms Kabah will next appear at Newcastle Crown Court on 13 December.

Clergyman named honorary chaplain to the Queen

The Rector of Holy Trinity Washington has been appointed as a chaplain to the Queen.

The Revd Canon David Glover said he was honoured to take up the role.

He said: "It came as a complete surprise, and although it is mainly an honorary title, I will be expected to preach once a year at the Chapel Royal in St James' as well as attending the garden party, other than that I believe the duties are quite light."

Honorary chaplains wear a scarlet cassock and a special bronze badge consisting of the royal cypher and crown within an oval wreath.

Copyright: Keith Blundy/Diocese of Durham

Rehearsals ahead of Durham Lumiere

Durham will be lit up for the fifth time with Lumiere, which starts tomorrow.

Artists from around the world have created light installations for the event.

The festival runs until Sunday and is open from 16:40 to 23:00 each evening.

Rehearsals have been going on this week.

Teesside university among six told to change advertising claims

Six UK universities - including Teesside - have been told by the Advertising Standards Authority to take down marketing claims that could be misleading.

Leicester, East Anglia, Strathclyde, Falmouth, Teesside and the University of West London have all had complaints upheld against them.

Teesside had a complaint upheld for saying it was the "Top university in England for long-term graduate prospects".

The university said it "strongly believed" its message was accurate but respected the authority's decision.

Calls to preserve a former Humber ferry

David Burns

BBC Radio Humberside

Plans are being drawn up to preserve a former Humber ferry.

The PSS Wingfield Castle is currently docked at The National Museum of the Royal Navy in Hartlepool, where it was built.

Radio Humberside was contacted by a concerned listener, Graham Lilley who is appealing to the people of Hull to "bring back our paddleboat, it's rotting in Hartlepool, it's our last chance to save this bit of history and culture".

But Hartlepool Borough Council say there is a Conservation Management Plan which will help them to preserve and display the vessel, which they are committed to keeping there.