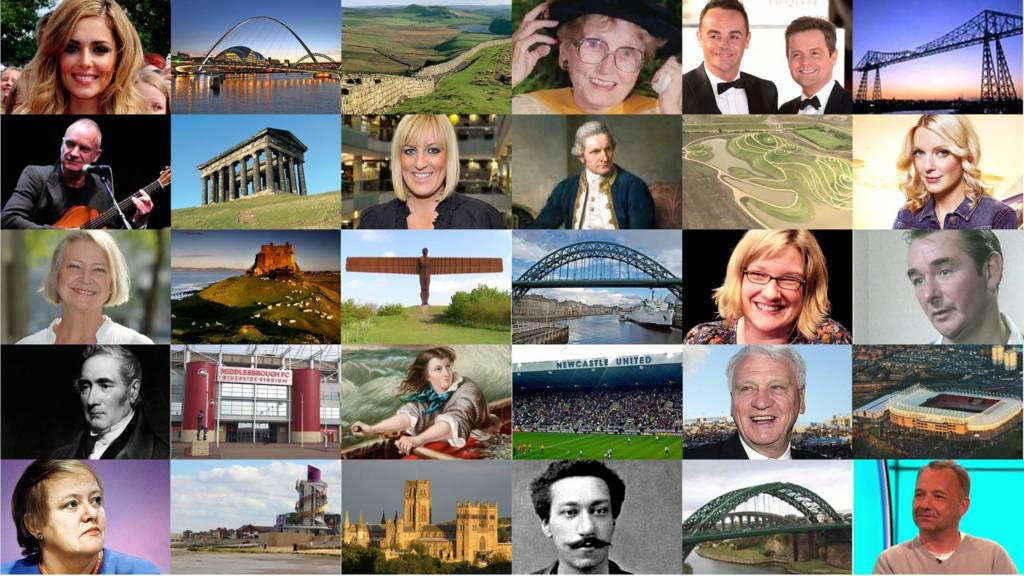 BBC Local Live: North East England
Our live coverage across the day

That's all from us for today - thank you for joining us.

You can catch up with the latest news throughout the night on BBC Tees, BBC Newcastle, Look North and online.

If you'd like to get in touch or share your North East pictures with us, you can do so on Twitter, Facebook, or via email.

We'll be back tomorrow from 08:00. Have a good evening.

'Troublesome' Sunderland house closed down

A house in Sunderland has been shut for three months after bosses won a closure order.

The orders are there to deal with what are described as "nightmare neighbours" and Sunderland North Safer Estates targeted the home in Baxter Road after reports of trouble.

The group is a partnership of Northumbria Police, Sunderland City Council and Gentoo Housing.

Insp Don Wade said: "We know local residents are over moon with this latest closure order, one has even said it will be their first restful night in three months."

Labour MP joins families of jailed Britons

Relatives of six British seamen jailed in India four years ago have lobbied MPs to demand the government do more to help secure their release.

The six were arrested in October 2013 for taking weapons into India's territorial waters. They were convicted and jailed for five years in 2016.

The men deny any wrongdoing, saying the weapons were properly licensed.

A 405,000-signature petition calling for the "wrongly imprisoned" men to be freed has been handed in at Number 10.

Wansbeck Labour MP Ian Lavery is backing their bid:

Listen: Campaign increased to aid security men jailed in India

Relatives of six maritime security guards imprisoned in India are marking the fourth anniversary of their arrest by stepping up the campaign to free them.

They'll hand in a petition to Downing Street later with more than 400,000 signatures.

The six men were arrested in October 2013 on illegal weapons charges. They were convicted and jailed for five years in 2016.

Two Yorkshire men are among those being held: Paul Towers is from Pocklington near York and Nicholas Simpson is from Catterick in North Yorkshire.

Anne Towers is the wife of Paul Towers. She says anyone who knows him knows an injustice has happened:

The BBC's India Correspondent, Sanjoy Majumder, says the conditions in prison there are very grim:

Appeal for help to find wanted man

This is the image of a man police in North Yorkshire are trying to find after he breached his licence conditions.

Paul David Redford, 49, also known as Paul Stevens, was released from prison under licence in October 2014.

Copyright: North Yorkshire Police

He served a 2 year 4 month prison sentence for burglary and is now wanted for theft offences and for recall to prison.

His last known address was in Colburn, North Yorkshire and it'sbelieved that he could be in the Catterick Garrison, Darlington, Lancashire, Berkshire, Thames Valley or London areas.

Severe disruption: A1058 Tyne And Wear westbound

BBC News Travel

A1058 Tyne And Wear westbound severe disruption, between Red Hall Drive and A188 Benton Road.

A1058 Tyne And Wear - Queuing traffic on A1058 Coast Road westbound in Wallsend between the Red Hall Drive junction and Chillingham Roundabout, because of earlier police incident. All lanes have been re-opened. Congestion to the A186 Station Road junction.

To report traffic and travel incidents dial 0330 123 0184 at any time

Breaking

Robber found guilty of ammonia attack

Sophie Malcolm

BBC News Online

A masked robber has been found guilty of taking part in an ammonia attack on a shopkeeper who was almost blinded as his takings were snatched.

Victim Neil Warner feared he was going to die or lose his sight when he was ambushed by robbers Rikki Ward and Paul Rowntree as he walked from a shop in Dawlish to a nearby Post Office with £5,129.90 of cash.

Ward, 28, of Chatham Road, Sunderland, sprayed undiluted ammonia into his face while Rowntree grabbed a bag which contained the takings from the Costcutter shop during the attack on The Strand in Dawlish on 20 January.

Ward was found guilty after a jury at Exeter Crown Court was shown CCTV of him laying in wait for Mr Warner before the attack.

Rowntree, 37, of Oswald Street, Sunderland, but who was staying at Exeter Road, Dawlish, denied but was convicted of robbery and grievous bodily harm with intent.

They will be sentenced later by Judge Geoffrey Mercer, QC, who remanded them in custody.

Hartlepool United boss Craig Harrison says there is healthy respect for South Shields before Saturday's FA Cup tie.

Woman denies stabbing murder

A woman jointly accused of the murder of a County Durham man has denied taking part in beating and stabbing him to death.

Mark Shaw, 29, was found tied up with 86 injuries at his home in Grange Villa, near Chester le Street, last December.

Mr Shaw's girlfriend Zoë Warren, who is 19 and from Washington, became tearful as she claimed she was unable to stop Kieran Adey, her 19-year-old co-accused, from carrying out the sustained attack on Mr Shaw, allegedly over an unpaid debt.

Both deny murder At Newcastle Crown Court,

Damian O'Neil

BBC Look North

If you're sitting there worrying about nuclear war, here's a lovely thing to take your mind of it.

This rather spiffing picture was taken by BBC viewer Reece Carney at Blackhall, on the Durham coast, at about 21:00 last night.

It's obviously the Aurora, but we're not sure what the long white streak is in the upper right; perhaps it's an aircraft, or a meteorite.

Either way, we think you'll agree it's a fine reminder of the natural beauty we are lucky enough to have on our doorsteps.

Warship celebrates 200th birthday

HMS Trincomalee, which has been docked at Hartlepool for over three decades, celebrates her 200th birthday today.

When the vessel first arrived on Teesside she was called the TS Foudroyant and was in dire need of renovation.

She was built in Bombay in 1817 and is one of the oldest warships still afloat in Europe.

New petition for jailed ex-soldier

Damian O'Neil

BBC Look North

It's now four years since a former soldier from Northumberland was arrested in India on firearms charges.

Nick Dunn, from Ashington, is among five men who've served two years of a five year jail sentence. They were working on an anti-piracy ship which strayed into Indian waters and the men were found guilty of possessing weapons.

Nick's sister Lisa - along with their Labour MP Ian Lavery - are in parliament today to lobby for more support . They're handing in a petition signed by over 400,000 people.

Image caption: Nick Dunn

Take That frontman coming to Sunderland

Damian O'Neil

BBC Look North

Gary Barlow, one of Britain's most successful songwriters, is playing the Sunderland Empire Theatre next year as part of a 33-date tour of the UK.

It's nearly four years since his last tour as a solo artist, when he sold out some of the country's largest arenas. This time round he'll be playing intimate venues, it says here.

The man with 14 number one singles to his name will play Sunderland on 30 April and 1 May. Tickets go on sale on Friday 20 October at 10:00.

New trains on track to roll off Hitachi production line

An important landmark in the development of the Hitachi Rail factory in County Durham will be reached this morning as a new line of commuter trains comes off the production line.

The first of 70 class 385 trains being made for the Edinburgh to Glasgow line for Scotrail will roll off at 11:00.

The plant at Newton Aycliffe is also assembling the new Inter City Azuma trains (pictured) for use on the East Coast next year.

Work on the body shells began in Japan with construction taking place here.

Ben Stokes loses New Balance sponsorship following arrest

Ben Stokes has lost his sponsorship with sportswear brand New Balance.

The Durham and England all-rounder was arrested on 26 September on suspicion of causing actual bodily harm following an incident near a Bristol nightclub.

The deal with the company - which also provides the kit for the England team - is worth a reported £200,000 per year to Stokes.

New Balance said it "does not condone behaviour that does not match our brand culture and values".

Weather: Dry, bright and breezy

It's set to be mostly dry, bright and breezy with sunny spells, although with cloud tending to increase later in the west.

This may bring outbreaks of rain to the Pennines later in the evening.

Tonight, it will be cloudy in the west and over hills with periods of rain and fog.

Check the forecast where you live here.