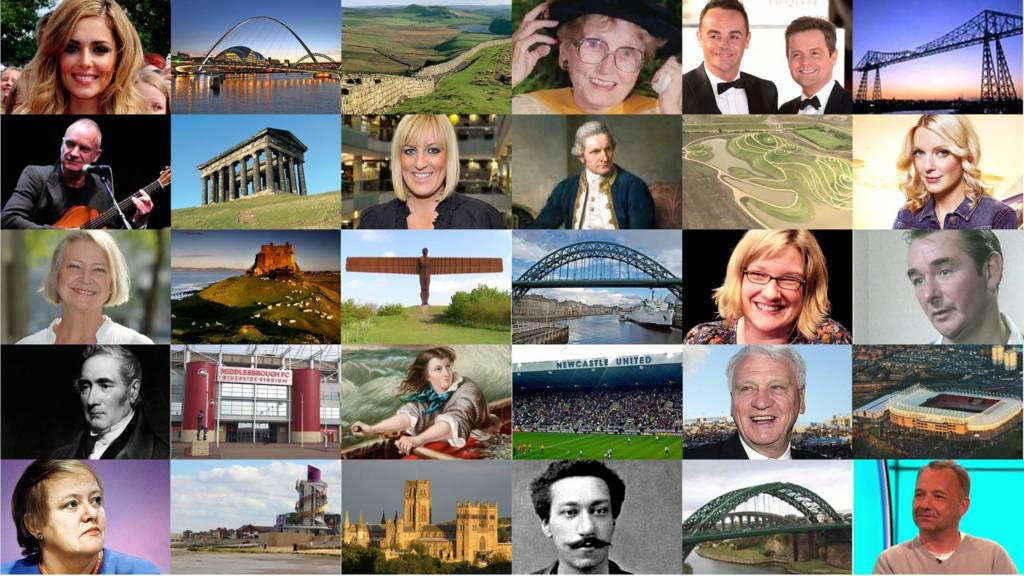 BBC Local Live: North East England
Summary
Updates on Friday 6 October 2017
Our live coverage across the day

That's all the coverage from us today and for the week, thank you for joining us.

Don't worry though you can still catch up with the latest news throughout the night and weekend on BBC Tees, BBC Newcastle, Look North and online.

If you'd like to get in touch or share your North East pictures with us, you can do so on Twitter, Facebook or via email.

We'll be back on Monday from 08:00. Have a great weekend.

We'll leave you with this lovely photo taken by Press Association photographer Owen Humphreys of dog walkers on the beach at Tynemouth.

Weather for the evening across the North East

It's a dry start to the evening, but winds will strengthen and cloud will thicken bringing spells of rain eastwards from late evening onwards.

Later, most of this rain will become restricted to western hills, with drier conditions further east.

What's it like as a stand-up comedian if you can't talk?

Comedian Lee Ridley, a.k.a. Lost Voice Guy, has cerebral palsy and can't use his voice.

Here he reveals what it's like to work as a stand-up comedian when you have to rely on a synthetic voice on an iPad for that all-important comedic timing and tone.

BBC Ouch Storytelling Live: Awkward Moments will be broadcast on the BBC News Channel at 21:30 today.

Police looking to end North Tyneside criminal damage spree

Residents in North Tyneside have reported dozens of incidents of criminal damage in the last week.

Offences include damage to windows which happened late on the evening on Wednesday and Thursday.

One of the areas affected is Great Lime Road where a dark saloon car is said to have been seen at the time of the offences.

It's believed suspects have been using a catapult as large steel ball bearings have been recovered nearby.

Work starts on Grade-2 Hartlepool Post Office

Building work has started today on a Grade II listed building which used to be the Hartlepool Post Office.

It's part of a £3m project by the Tees Valley Combined Authority to turn the Church Street area of the town into a creative hub.

The Bis as it's been called will be a centre to encourage business start-ups

The conversion is expected to be finished next summer and create 28 studio units.

Cleveland College of Art & Design will run the building along with Hartlepool Borough Council.

Graham Clark & Michael Richardson extend Durham deals

Batsman Graham Clark and wicketkeeper Michael Richardson (pictured) have extended their contracts at Durham, which will now expire at the end of 2019.

Clark, 24, was the county's third-highest first-class run scorer in the 2017 season, making his first century and nine half-centuries in all formats.

Richardson, 31, has been with Durham for seven years and made nine half-centuries in the 2017 season.

"They will each have a big role to play," head coach Jon Lewis said.

"Both have a good range of skills that can be utilised in red-ball and white-ball cricket and in 2018 they have a chance to show what they can do as key members of the first team."

Jobs under threat at Virgin call centre in Gateshead

Rebecca O'Neill

BBC Newcastle

Up to 100 jobs are under threat at Virgin Media's call centre in Gateshead.

The company blamed the move on more customers using online services.

A spokesman said: "As we simplify and grow our business and improve how we serve our customers, Virgin Media has started discussions with employees on proposed changes within one area of our Gateshead Centre.

"Our proposal reflects the reducing amount of calls handled at Gateshead as more and more customers move to online channels."

The company, which provides broadband, mobile and streaming services, said a final decision would not be taken until consultations were complete.

The Cleveland Police dog squad have got in to the spirit of World Smile Day

Meet the County Durham comedian who can't speak

Consett-born stand up comedian Lee Ridley can't speak but that doesn't stop him getting up on stage.

He's known as Lost Voice Guy and was born with cerebral palsy.

Specialist software on his iPad enables him to perform his jokes to audiences like that of the Edinburgh Fringe Festival using a synthetic voice.

He says the most awkward thing is meeting people after gigs.

Quote Message: It still amazes me how people can quite happily watch me on stage and laugh at my jokes, but as soon as I'm off stage, they aren't sure how to treat me. They either think I'm deaf, and write everything down to show me, or they talk to my mates instead, even though they've just seen me on stage." from Lee Ridley

CCTV images released of Metro station ticket machine thefts

A CCTV image has been released of a man police who are investigating Metro station ticket machine thefts would like to speak to.

Copyright: British Transport Police

Officers are investigating a series of thefts at five Metro stations in Sunderland.

The machines at Brickley Whins, East Boldon, Seaburn, Stadium of Light and St Peters are said to have been tampered with between 22 September and 28 September.

Stokes will not travel to Australia with Ashes squad

The England and Wales Cricket Board has confirmed that Ben Stokes will not travel to Australia with the rest of the Ashes squad as it stands.

Durham player Stokes was arrested on suspicion of actual bodily harm after an incident outside a nightclub in September.

He has still been awarded a central contract.

England director of cricket Andrew Strauss said: "We have spoken to Ben and assured him that our decision in no way prejudges the outcome of the ongoing police investigation or cricket discipline commission process, as can be seen by the award of central contracts."

Teesside cyclist dies after County Durham car crash

A cyclist from Teesside has died in hospital following a car crash yesterday afternoon.

It happened at about 13:00 on the A689 dual carriageway next to the junction to Castle Eden Walkway.

The 73-year-old man from Stockton was airlifted to the James Cook University Hospital.

Tributes paid to County Durham dad who died in car crash

The family of a man who died on a County Durham road say they are 'heartbroken' and 'missing an important part of our jigsaw'.

Lenny Deugo who would have turned 27 yesterday, died after a crash on the A692 near Consett on Sunday.

Copyright: Durham Constabulary

The father-of-one originally from Germany was driving a blue MG ZR when it was involved in a collision white Renault van. He was pronounced dead at the scene.

His parents Perry and Christine described 'Big Lenny' as having a huge heart,

Quote Message: He was a very easy person to get on with. He was guaranteed to make you laugh and make fun in any situation."

The driver of a black Vauxhall Insignia was arrested on suspicion of dangerous driving on Monday and has been released under investigation.

Police are appealing for any information and dashcam footage of the incident.

MP says calls for leadership challenge are 'absolutely extraordinary'

The Conversative MP for Middlesbrough South and East Cleveland, Simon Clarke, has described calls for a leadership challenge as 'absolutely extraordinary'.

It comes after the former Conservative party chairman Grant Schapps said about 30 MPs are calling for Theresa May to step down.

Mr Clarke told BBC Tees that it is totally counter productive.

Quote Message: It is the very last thing that the Conservative party should be doing as we face the challenges of negotiating Brexit, of continuing to deliver strong economic growth and making a success of the job we were elected to do just three months ago." from Simon Clarke MP for Middlesbrough South and East Cleveland

Your photos: Moon over Seaham

Many of us enjoyed a stunning Harvest Moon last night - that is the first full moon closest to the Autumn Equinox.

Dan Myers took this stunning photo this morning and said: "Chilly morning but lovely Moon at Seaham."