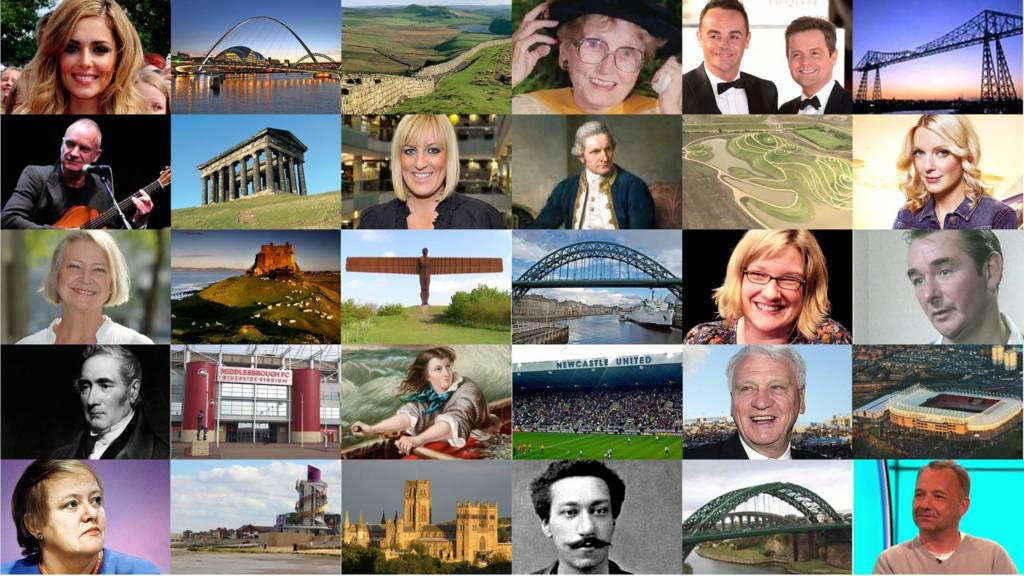 BBC Local Live: North East England
Summary
Updates on Thursday 5 October 2017
Our live coverage across the day

That's all from us for today - thank you for joining us.

You can still catch up with the latest news throughout the night on BBC Tees, BBC Newcastle, Look North, and online.

If you'd like to get in touch or share your North East pictures with us, you can do so on Twitter, Facebook, or via email.

We'll be back tomorrow from 08:00, have a good evening.

Freddy Shepherd's family invite his supporters to his funeral.

The funeral of former Newcastle United chairman Freddy Shepherd will be open to all his supporters.

The 75 year old died at his home last Monday.

He was a major figure in the fortunes of Newcastle, especially during the 1990s.

His family has confirmed his funeral will be held at 12:00 on Saturday at St George's Church in Jesmond.

Anyone wishing to attend the service should arrive no later than 11:00.

Spaces will be allocated on a first-come first-served basis.

Members of the public unable to enter the church will be able to listen to the service outside, where it will be broadcast via loudspeaker.

Sunderland illuminations switch on tonight

It's the big switch-on for the Sunderland illuminations tonight - and this year you'll need to buy tickets online in advance.

They cost £1 each and allow entry into Roker Park.

And if you take any photos you'd like to share with us. You can tweet them to @BBCNewsNE, email them, or contact us via our Facebook page.

Stroke victim 'waited 10 hours for ambulance'

Two years after Tunisia terror attacks - Foriegn Office says it's okay to go there on holiday

Holidaymakers are being warned they will still have to be careful if they return to Tunisia.

Lisa Burbidge from Gateshead was killed in Sousse in 2015 along with 29 other British people when a gunman opened fire at a beach resort.

Copyright: Northumbria police

The Foriegn Office relaxed its travel advice this summer because the Tunisian authorities have improved security measures.

But the British Ambassador to Tunisia has told the BBC that she cannot guarantee the safety of tourists returning to the country.

Four schools in County Durham are involved in the "Fuel for School" project to sell on surplus stock donated by supermarkets.

Albert Dryden released 26 years after killing planning officer

Albert Dryden, the County Durham man who killed a planning officer in front of TV cameras 26 years ago, has been released from prison because of ill health.

The 76-year-old was serving life in prison after he shot a planning officer from Derwentside Council on his land in Consett in 1991.

He also shot and injured a police officer and a BBC reporter.

Mr Dryden has been placed in a residential care home after having a stroke.

New evidence of Liam Fee social work visit weeks before murder

A BBC investigation has uncovered new evidence of social work involvement in the case of murdered toddler Liam Fee, who was from Gateshead.

It has emerged that a social worker visited his home weeks before he died, after hospital staff raised concerns.

No action was taken and the visit was not mentioned in the summary of the official investigation into his death.

Body found in search for a missing County Durham man

Durham police say a body has been found in the search for Brian l'anson.

It was discovered in a wooded area in the Bracks Farm area of Bishop Auckland yesterday.

His family have been informed but formal identification has not yet been carried out.

The death is not being treated as suspicious.

Severe accident: A689 County Durham eastbound

BBC News Travel

A689 County Durham eastbound severe accident, between Butterwick Road and The Wynd.

A689 County Durham - A689 Hartlepool Road in Wynyard Village closed and queuing traffic eastbound between the Butterwick Road junction and The Wynd junction, because of an accident involving cyclist.

To report traffic and travel incidents dial 0330 123 0184 at any time

Ben Stokes set for England central contract

Durham and England all rounder Ben Stokes is set to be awarded an England central contract when the list is announced on Friday.

The announcement was due yesterday but has been delayed.

Test vice-captain Stokes, 26, was arrested on suspicion of actual bodily harm in September after an incident outside a Bristol nightclub.

He and batsman Alex Hales, who is set for a renewed limited-overs contract, will not be considered for selection until further notice.

Two further arrests following Sunderland hit and run

Consett bungalow dispute killer Albert Dryden released from prison after stroke

The Northern Echo

Newspaper

A notorious killer who shot dead a planning officer in cold blood in front of media cameras has been released from prison after suffering a stroke, The Northern Echo can reveal.

Passengers hit by further rail strike

BBC Tees

www.bbc.co.uk/BBCTees

Passengers across the North East are facing more disruption with the second rail strike in less than a week.

Members of the RMT union who work for Northern Rail have begun a 24-hour walkout over plans to make train doors driver-only operated.

Rail companies have said this means a guard is no longer needed but some workers believe safety procedures would be compromised.

Northern said it expected to run about 46% of services, with many terminating at 19:00.