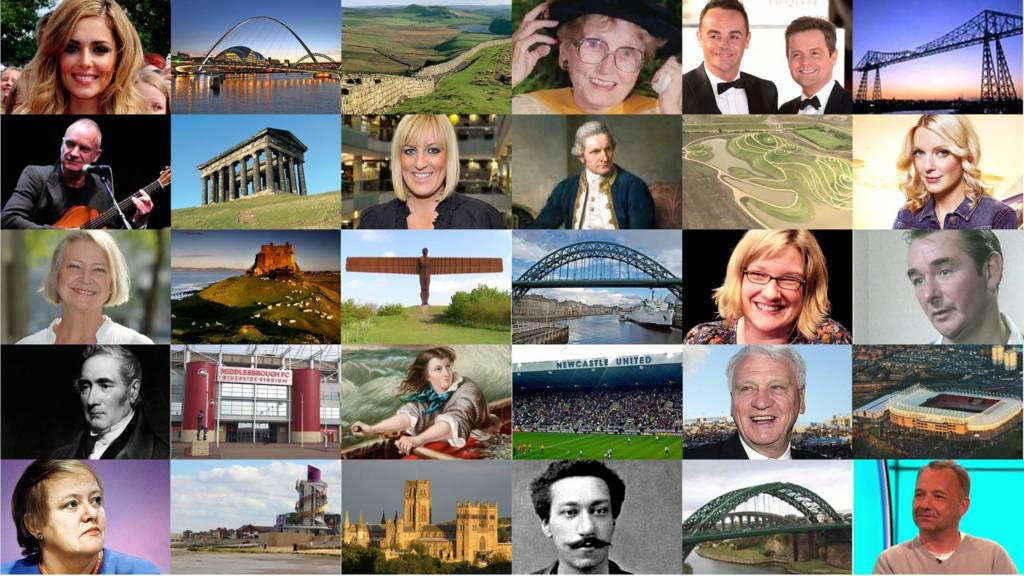 BBC Local Live: North East England
Summary
Updates on Tuesday 3 October 2017
Through the day: BBC North East Live

That's all from us for today - thank you for joining us.

You can still catch up with the latest news throughout the night on BBC Tees, BBC Newcastle, Look North, and online.

If you'd like to get in touch or share your North East pictures with us, you can do so on Twitter, Facebook, or via email.

We'll be back tomorrow from 08:00, have a good evening.

Dry but chilly and breezy through the evening and overnight

It will remain dry this afternoon and evening, and also rather breezy, especially along the coast.

Overnight it will stay chilly, with the gusty breeze persisting, perhaps turning strong by dawn.

Cheryl Tweedy proves she's worth it at Paris Fashion Week

Tyneside's very own Cheryl Tweedy was among those taking to the catwalk at Paris Fashion Week.

She sported a black and white checked jacket, teamed with matching boots and a slinky black skirt, for L'Oreal's first catwalk show, where she appeared alongside Dame Helen Mirren and Jane Fonda.

However, what really drew gasps from the audience was the arrival of platform Crocs, seen on the runway during the Balenciaga show.

"If you walk past a person in the street, you don't know what their life is like."

Robbers ransack elderly couple's Thornaby home

Two burglars who ransacked an elderly couple's home are being sought by police.

The pair forced their way into the house in Rissington Walk in Thornaby on Monday night, where the 89-year-old householder was watching television in his living room.

One of the suspects held the door so he was unable to leave, and another man searched the bedroom.

His 88-year-old wife, who was in the bedroom, suffered a dislocated finger when the suspect grabbed hold of her.

The men made of with £320 and two cordless telephones.

Church to commemorate Las Vegas shooting victims

A church in Durham city centre is to hold two special services after a gunman killed 59 people and injured 527 in Las Vegas on Sunday

St Nic's, in the Market Place, has also opened books of condolence, which will be available to sign until Sunday, after which they will be sent to the American Embassy in London.

The services - allowing people to come together to express solidarity with those who suffer as a result of events in Las Vegas - will take place tonight at 18:00 and on Thursday at 13:00.

Quote Message: Durham is an international city where students and staff from the USA have made their temporary home. In the midst of their sorrow we pray with them and stand alongside in response to this tragic event." from Rev Arun Arora Vicar of St Nic's

Pair deny Grange Villa house murder

A man and woman have gone on trial accused of murdering a man at his County Durham home.

Newcastle Crown Court was told that Mark Shaw, 29, (pictured) and of Grange Villa, near Chester-le-Street, was tied up, beaten and then stabbed last December.

Kieran Adey, 19, and 20-year-old Zoë Warren, both deny murder.

The trial is expected to last about three weeks.

Copyright: Durham Constabulary

Illuminations festival to brighten Sunderland

Tenant turfed out for anti-social behaviour

A tenant who made his neighbours' lives a misery has been evicted from his South Shields home.

South Tyneside Council said it had been receiving complaints about Mark Titley intermittently since February 2015.

Despite numerous warnings, he continued to plague neighbours on the Laygate estate with drink-fuelled parties, shouting, arguing and drunken behaviour.

He has now been turned out of his ground-floor flat for breaching the terms of his tenancy.

A spokesman for South Tyneside Council said: "Titley had been warned repeatedly and although there were periods where he appeared to have changed his ways, he always lapsed back into bad behaviour.

"He has shown complete disregard for his neighbours."

Industrial unit fire extinguished

A large fire at a Sunderland industrial estate has been extinguished, although emergency services remain damping down at the scene.

At the height of the blaze in Southwick smoke could be seen across the north of the city.

It is believed to have broken out in a vehicle recovery unit.

The North East Ambulance Service said there had been no reported casualties.

Copyright: Tyne and Wear Fire and Rescue Service

Hartlepool visitors come face to face with family history

Two Canadian visitors took a step back in time during a visit to Hartlepool.

Isla Evans, 89 and from Victoria, British Columbia, is the granddaughter of Hartlepool Alderman Barton Grainger and the niece of William Watt, who was Mayor of Hartlepool in the 1930s.

Along with her niece Jane Rilett from Hamilton, Ontario, she was welcomed to the Civic Centre by the town's current mayor, Councillor Paul Beck.

They viewed an antique fur-trimmed robe, which is believed to be the same one worn by Alderman Grainger in one of the family's photographs.

Copyright: Hartlepool Council

Date announced for Freddy Shepherd funeral

The funeral of the former Newcastle United chairman Freddy Shepherd will take place this weekend, his family has announced.

The multi-millionaire died last week at the age of 75.

There will be a service at St George's Church in Jesmond on Saturday which is open to all, followed by a private cremation.

Fire crew tackle Sunderland blaze

About 40 firefighters are battling a large blaze in Sunderland.

It's thought a unit which specialises in vehicle recovery is on fire at the Southwick Industrial Estate, near Wessington Way.

Smoke can be seen across the north of the city, and Tyne and Wear Fire and Rescue Service said seven appliances were at the scene.

Breakfast boost for Greggs

Newcastle-based Greggs has posted a healthy rise in sales as the company announced the launch of an "all-day breakfast" wrap.

Total sales grew by 8.6% and like-for-like sales rose 5% in the 13 weeks to 30 September.

The group recorded particularly strong trade at breakfast time, along with an increase in its healthy eating ranges.

The company trades from 1,830 stores and is in the midst of a shop refurbishment programme that has seen 120 refits.

MP to take Post Office to task

The Conservative MP for Berwick is taking up the concerns of constituents about Post Office services in rural areas, in particular where there have been closures.

Anne-Marie Trevelyan said: "The situation as it currently stands is unacceptable."

Copyright: Northumberland Gazette

Operator and union bandy words in rail dispute

BBC Tees

www.bbc.co.uk/BBCTees

Northern Rail, which operates across the North East, North West and Yorkshire, said it aimed to run about 1,200 services - 46% of its normal timetable during today's industrial action by members of the RMT union.

It is part of a long-running dispute over the role of guards and driver-only trains.

Sharon Keith regional director for Northern Rail said: "We've offered everyone protection of role and protection of salaries."

She said they wanted to encourage the union to come back for talks.

But Karlson Lingwood, from the RMT Union, said: "It's a common misconception that members have taken strike action for an increase in pay. That is absolutely not the case.

"This is about delivering a service which is a service for all in our community, and having a safety critical person and a second safety critical role on board."

Arrests in hare coursing clampdown

Four Darlington men suspected of setting dogs on hares are being questioned by police in Lincolnshire.

The arrests are part of Operation Galileo, which clamps down on hare coursing in the area, and were the result of the use of drones.

Lincolnshire Police said it introduced the measures to tackle what it described as the "scourge of the English countryside".

Cash stolen in post office robbery

A man who stole cash from a post office in Newcastle is being sought by police.

The offender, whose face was concealed with a motorbike helmet, targeted Westerhope Post Office on Chatsworth Gardens on Monday.

He threatened staff with what is thought to be a knife and left with an undisclosed amount of cash and other property.

Northumbria Police has appealed for witnesses to the robbery at about 17:18.