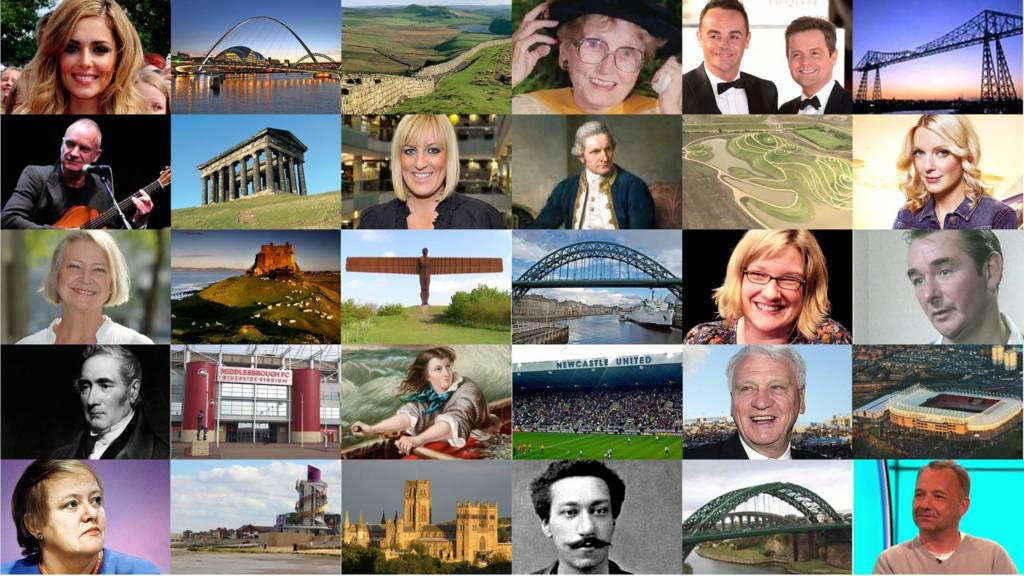 BBC Local Live: North East England
Summary
Updates on Tuesday 12 September 2017
Our live coverage across the day

Ana Guerra-Moore

BBC News Online

Sunderland Ladies find new home on Tyneside

Sunderland Ladies have explained their move to South Shields' Mariners Park.

Copyright: SUNDERLAND ECHO

Landmarks to show you're nearly home: The Penshaw Monument

Long journeys can seem even more tedious when they're accompanied by the kids in the back seat asking "are we nearly there yet?" every few miles.

So it can be something of a relief when a familiar landmark comes into view, indicating the comforts of home are just around the corner.

One of the key landmarks in our region that makes you feel at home in the Penshaw Monument:

Copyright: LEE FOSTER/GETTY

It was built in 1844 in memory of John George Lambton, the first Earl of Durham.

He was a reforming Whig politician with the nickname Radical Jack who inherited vast wealth, created by the coalmining interests on his family's estates, when he was only five.

He then became known as Jog Along Jack after saying "a gentleman could jog along comfortably on £40,000 a year".

Man left with punctured lung in Middlesbrough crash

A man suffered a punctured lung and fractured his ribs and pelvis in a crash between a motorbike and a vehicle.

The collision took place at 11:15 on Sunday 3 September at the junction of Flatts lane and Oaklands Road in Normanby, Middlesbrough.

The 46-year-old rider of the motorcycle was taken to hospital where he was treated for his injuries.

Police are now appealing for the driver of the unidentified vehicle to come forward.

Get Inspired Unsung Hero 2017: The search for great volunteers widens

Do you know anyone who devotes their free time to help people through activity and sports?

You can now nominate them for a BBC Get Inspired Unsung Hero award.

So here's to the volunteer fitness instructors who offer classes in your community; the person who spends their free time running the social media accounts for your dance club; and that one steward who turns up every week to cheer on the runners in your weekly 5km run.

You can find out more and submit your nominations here.

Champions League returns, with memories of Tino

Twenty years ago, Newcastle fans had one of their greatest ever nights as Tino Asprilla hit a hat-trick against Barcelona.

Our friends over at ITV Sport are reliving it as the Champions League returns to our screens tonight:

Weather: Heavy wind and rain

Owain Wyn Evans

Weather presenter, BBC Look North

Initial outbreaks of rain will become heavy and persistent overnight, especially across the north.

Meanwhile strong winds will spread across many areas, with localised gales likely, perhaps severe gales.

A yellow warning has been issued by the Met Office.

Attempted robbery in Bishop Auckland

Police are trying to identify two men following an attempted robbery in Bishop Auckland.

It happened at the Late shopper, Woodhouse Estate, at about 06:25 yesterday.

Two males entered the store with their faces covered and demanded money.

They have left empty-handed but police are appealing for anyone who may have witnessed the events.

Video: The Teesside family who endured Hurricane Irma

The Chilton's home in the Virgin Islands was severely damaged by the hurricane.

Tyne pedestrian and cyclist tunnels on course to reopen after five-year closure

The pedestrian and cycle tunnels linking South Tyneside and North Tyneside under the River Tyne are on course to reopen after a five-year closure.

Copyright: THE SHIELDS GAZETTE

Jodie Wilkinson said 'I've been stabbed' in 999 call

More on the trial of a man accused of stabbing a woman to death:

The jury has has been shown CCTV images of the moment Jodie Wilkinson was stabbed in broad daylight on a Newcastle street.

Newcastle Crown Court also heard the 999 call made by the victim, saying "I've been stabbed" twice, before falling silent.

Teenager left with broken jaw after attack

A teenager was left with a broken jaw after being assaulted by two men in Hartlepool.

The 17-year-old was riding his bike along York Road on 27 August when a man grabbed him.

A second man then hit him with a small wooden bat, breaking his jaw.

The first suspect is described as a white male in his late 20s, about 6ft, of medium build and slight stubble.

The second suspect is also described as a white male in his late 20s and about 5ft 10in.

Severe disruption: A67 County Durham both ways

BBC News Travel

A67 County Durham both ways severe disruption, between A1044 Green Lane and Forest Lane.

A67 County Durham - A67 in Yarm closed and heavy traffic in both directions between the A1044 Green Lane junction and the Forest Lane junction, because of an overturned vehicle.

To report traffic and travel incidents dial 0330 123 0184 at any time

Woman caught stealing charity box

Police have released cctv footage showing a woman stealing a charity box.

This happened in the reception area of the Metro Inns Hotel in Portrack, Stockton, on 17 August.

The woman was checking out of the hotel and once she had left, staff noticed the charity box belonging to Donna's Dream Homes had gone.

The suspect is described as a small, tanned, female, about 5ft 4in, of slim build and aged between her late 40s to early 50s.

She is thought to be from the Newcastle area and she was accompanied by a local man.

Northumbria Police 'requires improvement'

Northumbria Police has been told it requires improvement after failing to record crimes, HM Inspectorate of Constabulary and Fire & Rescue Services (HMICFRS) has found.

The force failed to record between 7% and 12% of crimes since August 2016.

Other forces which require improvement include Cambridgeshire, Avon and Somerset and North Wales.

HM Inspector Matt Parr said: "If a crime is not recorded correctly it is unlikely to be investigated properly and it can have a direct effect on the prosecution of the perpetrator, who may go on to commit further crimes.

"Inexcusably, it denies victims the proper service they are entitled to."

Man accused of stabbing woman to death in court

A man accused of stabbing a young woman to death in a Newcastle street in broad daylight is appearing in court today.

Jodie wilkinson, 27, died after a confrontation between two groups of people in Stanhope street in Newcastle last October.

Copyright: NORTHUMBRIA POLICE

The prosecution alleges that 42-year-old local man David Waterston ran out of his house to join in the trouble, stabbing Jodie "without warning".

The jury at Newcastle Crown Court has been told that various CCTV cameras give "a clear picture" of what happened.

David Waterston denies murdering Jodie and wounding another man. He and another defendant also deny violent disorder.

A man is in a critical condition after being stabbed outside a restaurant in Stockton yesterday.

It happened at about 18:00 at the junction of Prince Regent Street and Yarm Lane.

The 29-year-old victim is receiving treatment in hospital.

A 23-year-old man and a 26-year-old man have been arrested on suspicion of wounding with intent and they currently remain in custody.