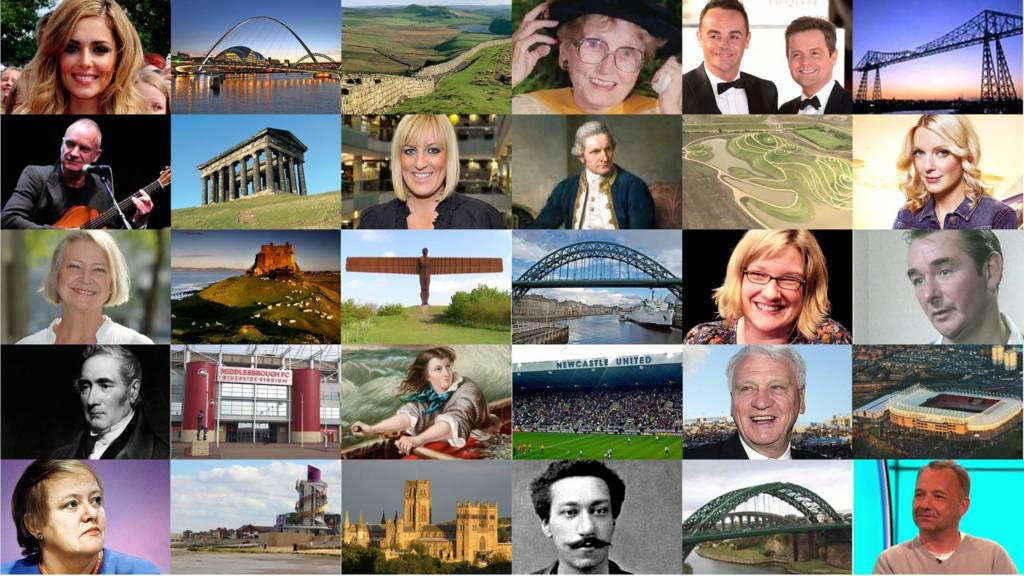 BBC Local Live: North East England
Summary
Updates on Tuesday 13 June 2017
Thanks for joining us. Our updates are now finished for the day.

To keep up with what's happening overnight, head to BBC Tees, BBC Newcastle, Look North, and online.

If you have a photo you'd like to share with us, you can get in touch via @BBCNewsNE, email us, or contact us on our Facebook page.

We'll be back tomorrow morning from 08:00.

RSPCA inspector: 'This is the worst case equine I've seen'

The RSPCA is appealing for information after a pony was discovered crawling with thousands of maggots and barely able to stand.

An inspector was called out on Sunday to a derelict farm building near to Rodridge Cottage Farm in Wingate, County Durham, where the pony had collapsed.

RSPCA inspector Nick Jones said: "This is as bad as it gets. Hand on heart this is the worst equine case I've ever seen."

The pony was treated by a vet but died from its injuries.

West Auckland World Cup medal sold for £4,000

A winner's medal from the The Sir Thomas Lipton Trophy, often referred to as the first World Cup, has been sold for £4,000.

Amateur side West Auckland FC won the tournament after beating professional sides from countries including Germany.

Alf "Tot" Gubbins was part of the winning team who went on to emigrate to New Zealand, and his grandson put up the medal for auction.

It was sold by Anderson & Garland Auctioneers to the great nephew of Syd Douthwaite, a former secretary of West Auckland.

Copyright: Anderson & Garland Auctioneers

Jordan Pickford on brink of joining Everton

Everton have agreed a £30m deal with Sunderland for keeper Jordan Pickford.

Pickford, who is on duty with England Under-21s before the European Championship, is expected to have a medical and complete the formalities of the deal when he returns.

The 23-year-old will become the most expensive British keeper if he completes the move.

Pickford made 29 Premier League appearances last season but could not prevent Sunderland being relegated.

Meet the inspirational visually-impaired veteran completing runs and triathlons

Veteran David Cranson from Trimdon has competed in numerous races for Blind Veterans UK since 2009.

Severe disruption: A174 North Yorkshire westbound

BBC News Travel

A174 North Yorkshire westbound severe disruption, at A1053 Greystone Road.

A174 North Yorkshire - A174 in Lazenby closed and queuing traffic westbound at Greystones Roundabout, because of an overturned vehicle.

To report traffic and travel incidents dial 0330 123 0184 at any time

Watch: Northumbria Police video shows effects of lethal highs

Northumbria Police have released a video showing the effects of a new blend of the lethal high Spice, known as Power.

It says the effects of the drugs can be unpredictable.

Papiss Cisse speaks at memorial service for Cheick Tiote

Friends and former team-mates of ex-Newcastle United midfielder Cheick Tiote have attended a memorial service held for the player by his club Beijing Enterprises.

The 30-year-old, who joined the second-tier Chinese side in February after seven years at Newcastle, collapsed during training and died in hospital last week.

"I lived some extraordinary moments with this man and today he's gone," Tiote's former Newcastle team-mate Papiss Cisse said at the memorial.

All the rest of the day's news

We now bring you some other stories which have happened today across the North East

Mother's statement tells of 'disgust' at girls

Angela Wrightson's mother, Maureen, gave a victim impact statement at the killers' court case last year.

Mr Justice Globe told the schoolgirls: "She describes the horror of seeing Angie's battered body in the mortuary.

"She does not think she will ever be able to blink those images away. Having seen photographs of what Angie looked like at that time, I readily understand why she is of that view.

"She cannot understand how you could have been as violent as you were. She is not alone in that view.

"She had been disgusted by the laughing and giggling and sharing of photographs during the time of and immediately after the attack."

Schoolgirl killer had taken 'tramadol and codeine'

The two teenagers who murdered Angela Wrightson had been drinking and the older girl had been taking prescription drugs before they went to her Hartlepool home in December, 2014.

Last year the court heard up to six litres of cider from two bottles may have been drunk by the girls and Ms Wrightson.

The judge said the older girl said she had either taken tramadol and codeine or what was known by her as "Blues".

Mr Justice Globe said: "You described yourselves as tipsy, but I am sure you were more than just tipsy.

"Whatever you took, I am satisfied you took it during the day and it didn't have a significant effect upon you later on."

Schoolgirl killers 'will never be named'

The two girls convicted of killing Angela Wrightson will always have their anonymity protected.

A court order has prevented the naming of the two girls, who are now both 15, since they first appeared before magistrates in 2014.

Various media organisations had asked for this order to be lifted once they were sentenced to at least 15 years, but the judge said their welfare was at risk after hearing how one of them tried to kill herself a number of times during her trial.

Mr Justice Globe said: "Each defendant poses a risk of self-harm. In one case, it is a real and present danger.

"Removing anonymity is likely to exacerbate what is already a dangerous situation.

"In circumstances where I might be satisfied that both of you were stable, strong-minded defendants convicted of serious crime, the balance might arguably have been in favour of the lifting of anonymity."

The final moments of murdered woman Angela Wrightson

This CCTV footage shows Angela Wrightson and the two teenagers convicted of murdering her from the night of her death.

Murdered woman 'was just harmless'

Angela Wrightson's neighbour told the BBC last year that she drank a lot, but was harmless and was "almost like the street's burglar alarm".

Speaking about the 39-year-old, who was found murdered in her home in Stephen Street, her neighbour Michael Holbeach said: "She used to sit in the doorstep most of the time.

"If I had a good pay week - I drive a truck part-time - I would go down and buy her a bottle of cider and 20 fags.

"She was almost like the street's burglar alarm in a way. If one of the slightly more troubled people was giving one of the kids a bit of a hard time she'd shoo them away, even boozed you know she was fairly responsible.

"She would hand out lollies to some of the kids when she got her pension or dole or whatever it was and she was harmless."

Teenage murderer drew picture of stabbing

This picture was drawn by the older girl two weeks before Ms Wrightson was killed.

It depicts a female figure stabbing another person.

The girl said she drew it when she was "really really angry" and that she had been advised by her carers to use drawing as a way to manage her feelings.

The court was told last year it had been "a successful strategy" on previous occasions.

'Dickensian' characters who surrounded Angela Wrightson

Details of a Dickensian cast of characters emerged in the trial of two girls who murdered Angela Wrightson.

Tens of people, including "Mad Molly", "Goofy" and "Cider Bill" would go to Ms Wrightson's home in Stephen Street in Hartlepool at all hours of the day and night.

hey would not bother knocking.

Groups of youths started dropping by first thing in the morning so she could buy them cigarettes.

Underage drinkers congregated in her living room and on the proviso she could share their drink, she would buy them alcohol from the local shop - where three-litre bottles of 7.5% cider can be bought for about £3.

Sometimes she called a neighbour "to make the kids scatter" when they ignored her pleas to leave.

CCTV shows girls going back to murder house

This CCTV image shows the two schoolgirl murderers walking back to Angela Wrightson's house after attacking her in December 2014.

They had left the house in Hartlepool for "time out" at about 23:00, during which time they went to see a friend, who asked them why they were covered in blood.

Copyright: Cleveland Police

They told him they had both fallen over and began listening to rap music.

The pair are seen above at 02:00 going back to the Stephen Street property.

They stayed for a further two hours before calling the police to take them home.