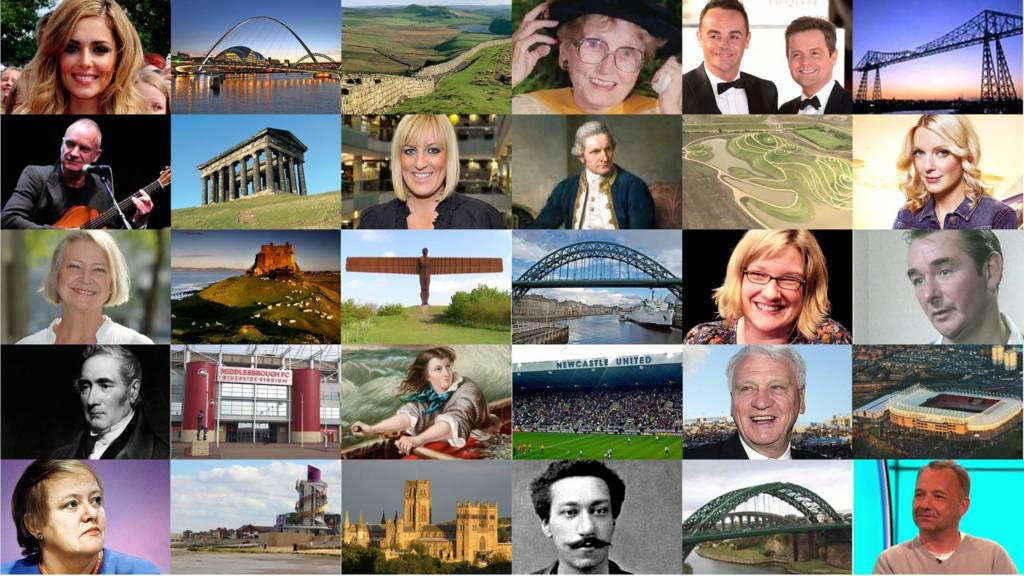 BBC Local Live: North East England
Summary
Updates on Monday 5 June 2017
Our live coverage across the day

Thanks for joining us. Our updates are now finished for the day.

To keep up with whats happening overnight, head to BBC Tees, BBC Newcastle, Look North, and online.

If you have a photo you'd like to share with us, you can get in touch via @BBCNewsNE, email us, or contact us on our Facebook page.

We'll be back tomorrow morning from 08:00.

Newcastle University launches scheme to tackle anti-social behaviour in Jesmond

Newcastle University and its Students' Union have launched a new initiative with Northumbria Police, Newcastle City Council, Northumbria University and local councillors to tackle the anti-social behaviour of some students living in Jesmond.

The revised action plan has been drawn up in response to an increase in the number of large house parties in Jesmond and concerns from residents around anti-social behaviour.

It includes a new Halls to Homes campaign for students moving out of student accommodation to live in the community, a series of hard-hitting postcards highlighting the impact of anti-social behaviour on people's lives; and a push to encourage more student volunteering in Jesmond.

Newcastle and Northumbria Universities will also continue to fund additional policing in the area.

Man critically injured after Sunderland car crash

Police are appealing for information after a man was seriously injured in a car crash in Sunderland.

The collision between a silver Skoda Fabia and a black coloured Ford Focus took place at around 17:30 last night on the A1018 Ryhope Road at the traffic lights with The Cedars in Grangetown.

The 69-year-old driver of the Ford Focus is in hospital with with life-threatening injuries.

Officers are carrying out inquiries and are keen to identify the driver of a dark-coloured saloon-type vehicle that was seen in the area at the time of the collision.

Copyright: Northumbria Police

PC shown dancing with kids talks of viral fame

I've been speaking to Paul Taylor, who found fame after being shown dancing to Justin Beiber at the One Love Manchester concert.

PC Taylor, a father-of-two, said he would not even class his moves as "Dad dancing", but nevertheless many people felt the clip of him hand-in-hand with youngsters was one of the highlights of the gig.

He said: "I wouldn't describe myself as the best dancer in the world but I was more than happy to oblige.

"If it makes people feel happy and has put a smile on people's faces that can only be a good thing, especially after what is going on in the last few weeks.

"I'm quite privileged to have been there."

Former team-mates pay respects to Cheick Tiote

Cheick Tiote's former Newcastle United team-mates have been paying tribute on social media following his death in China.

The 30-year-old collapsed after a training session.

Watch: Cheick Tiote's stunning volley against Arsenal

Watch Cheick Tiote's memorable strike against Arsenal from February 2011, when Newcastle United came back from 4-0 down to draw with Arsenal in the Premier League.

It was the Ivorian's only goal for the Magpies during his six-and-a-half years at the club.

Rafa Benitez pays tribute to Cheick Tiote

Newcastle United manager Rafa Benitez has paid tribute to Cheick Tiote after his sudden death.

He said: "It is with great sadness that I have this afternoon learned of Cheick's death.

"In the all the time that I have known him, he was a true professional, dedicated and above all, a great man.

"Our hearts go out to his family and friends at such a sad time."​

World of football pays tribute paid to Cheick Tiote

Tributes have been paid on social media to former Newcastle United midfielder Cheick Tiote.

He died aged 30 after collapsing during a training session in China.

'We ask for all your prayers'

Here is the statement in full from Cheick Tiote's spokesman Emanuele Palladino after the 30-year-old died while training:

Quote Message: It is with deep sadness that I confirm that my client Cheick Tiote sadly passed away earlier today after collapsing in training with his club Beijing Enterprises.

Quote Message: We cannot say any more at the moment and we request that his family's privacy be respected at this difficult time. We ask for all your prayers.

Memories of Cheick Tiote after he passed away

Nisha Joshi

BBC broadcast journalist

I interviewed Cheick Tiote for BBC Late Kick Off in 2014, where we talked about everything from the World Cup to his plans to bring out a clothing line.

We had a technical hiccup, which meant we had to restart our interview and he was very patient and obliging.

His long-range goal in the famous 4-4 draw with Arsenal at St James' Park in February 2011 will live long in the memories of Newcastle United fans.

Former Newcastle United midfielder Cheick Tiote dies

Former Newcastle United midfielder Cheick Tiote has died aged 30 after collapsing during a training session in China.

The Ivorian made 139 league appearances for Newcastle after joining them in August 2010 from Dutch side FC Twente.

He joined Chinese second-tier side Beijing Enterprises in February for an undisclosed fee.

He was also part of the Ivory Coast squad that won the 2015 Africa Cup of Nations.

Breaking

Former Newcastle midfielder Tiote dies

Former Newcastle midfielder Cheick Tiote has died at the age of 30 after collapsing in training with his club Beijing Enterprises, a spokesman for the player has announced.

Dancing police officer: 'my phone hasn't stopped ringing'

Jeremy Corbyn tours Northumberland

BBC News reporter Dan Johnson has followed Jeremy Corbyn to Northumberland:

Severe accident: A66 North Yorkshire westbound

BBC News Travel

A66 North Yorkshire westbound severe accident, between A6108 and A67.

A66 North Yorkshire - A66 closed and very slow traffic westbound between Scotch Corner in Middleton Tyas and the A67 junction in Bowes, because of an accident.

To report traffic and travel incidents dial 0330 123 0184 at any time

A history of the Hoppings

An exhibition celebrating the 135th anniversary of what is billed as the largest travelling funfair in Europe has opened in Newcastle.

This photograph of the annual Newcastle funfair known as the Hoppings, was taken in 1925:

Copyright: Tyne and Wear Archives

The Discovery Museum exhibition explores the fair's history and the lives of the travelling showmen.

This photograph shows one of the fair's most popular attractions in the 1950s:

Copyright: Alan Proudlock

Severe accident: A19 County Durham northbound

BBC News Travel

A19 County Durham northbound severe accident, near Ron Perry Services.

A19 County Durham - A19 in Wolviston blocked and queuing traffic northbound near Bp services, because of an accident involving a motorcycle.

To report traffic and travel incidents dial 0330 123 0184 at any time

Teesside 10-year-old pictured hugging police officer at Ariana Grande concert

A 10-year-old girl from Teesside made an emotional return to Manchester for Ariana Grande's One Love concert in Manchester yesterday.

Poppy was at Ariana Grande's concert two weeks ago when it was targeted by a suicide bomber.

Returning to Manchester was an emotional experience for her.

She was pictured hugging a police officer in a heartwarming photograph.