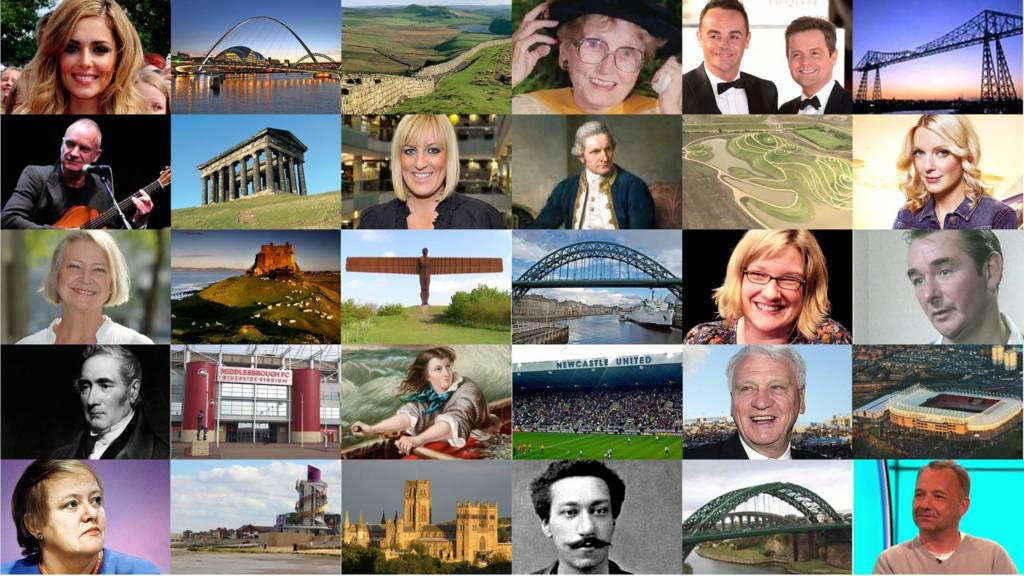 BBC Local Live: North East England
Severe disruption: A1(M) County Durham southbound

BBC News Travel

A1(M) County Durham southbound severe disruption, between J58 for A68 and J57 for A66.

A1(M) County Durham - One lane closed and slow traffic on A1(M) southbound between J58, A68 (Burtree) and J57 A66(M) Darlington, because of a broken down vehicle.

To report traffic and travel incidents dial 0330 123 0184 at any time

Our live coverage across the day

Our updates here have finished for the day, thank you for joining us. You can still find the latest news on BBC Tees, BBC Newcastle, Look North and online.

We'll be back with more news, sport, weather and travel at 08:00 tomorrow.

Thanks to Kevin Redpath for sending in this image of the sun going down over Roseberry Topping near Middlesbrough. 

Have you got any photos you'd like to share with us? In that case you can tweet them to @BBCNewsNE, email them, or contact us via our Facebook page.    

Weather: Showers clearing most areas and a cold night to come

Showers mostly clearing this evening although a few may continue to affect some coastal parts overnight. 

Clear spells will lead to a cold night with a frost forming in some rural areas. 

 Minimum Temperature: 2C (36F).

Country Durham charity touched by bike donations

A County Durham charity says it has been touched by people's generosity after they have received more than 20 bikes following an appeal. 

The Darlington Assistance for Refugees asked local people to donate unwanted bikes to help those who are new to the country get around cheaply. 

Sally Forth, who works for the charity, said: "When the children have bikes they can go out and play with other children.

"It really helps them integrate as well as give them a means of freedom and transport and obviously it saves some money on bus fares."

Bogus caller burgles man in Gateshead after pretending to work for the council

A Gateshead man was burgled on Monday after receiving a call from a man claiming to be a council worker. 

A 69-year-old from Whickham received a call from a man who knew his name and that he needed to arrange a utility service inspection to be conducted at his address. 

The man, who carried a clipboard but no identification, entered a number of different rooms within the house before leaving with a quantity of cash that he had stolen from the occupant.

The victim of the burglary contacted police when he realised the money was gone and officers have now confirmed that the man was not a legitimate council worker.

Driver-only trains would become 'muggers' paradise'

A union has warned that removing train guards will cause a rise in anti-social behaviour and crime.

RMT general secretary Mick Cash said: "Removing staff from trains, which will travel through over 300 unstaffed stations, is a toxic combination that will increase anti-social behaviour and unleash a surge in crime which will see Northern rail becoming a muggers' paradise."

This comes after news that Northern rail workers plan to strike over the suggested plans for driver-only trains. Members of the Rail, Maritime and Transport union at Arriva Rail North will walk out for 24 hours on Friday for the third time to protest staffing plans for new trains due to come into service in 2020.   

Richard Allan, Northern's deputy managing director, said: Any changes to Northern's services are always fully risk assessed, consulted upon, and approved in accordance with relevant health and safety legislation." 

Teenage shooting victim was riding on the back of a motorcycle

A man who admitted shooting a 15-year-old boy in the head as he rode on the back of a motorcycle has been jailed for 11 years and 10 months.

Steven Thompson, 39, shot the teenager on Hewitt Avenue in Sunderland in October. He suffered a serious head wound.

Last month Thompson, of Hewitt Avenue, admitted causing grievous bodily harm with intent and possession of an air rifle without a firearms certificate,

He was jailed today at Newcastle Crown Court.

Man jailed for more than 11 years for shooting teenager in head with air rifle

Megan Paterson

Reporter, BBC Look North

A man from Sunderland who shot a 15-year-old boy in the head with an air rifle has been sentenced to 11 years and 10 months in prison.  

More to follow.

Conservative Tees Valley Mayor candidate tackles Tees quiz

Richard Moss has been quizzing the Tees Mayoral Election candidates ahead of the election. 

Here's how Conservative candidate Ben Houchen got on.

Northumbria Police reveal acid attack figures

There were 120 reported acid attacks in the last three years, Northumbria Police said.

In comparison the Metropolitan Police in London reported that there were 881 acid attacks. However each force records data differently. 

New figures obtained by the BBC, after some high-profile incidents, show there were more than 400 hospital admissions for acid attacks in the last four years. 

Figures from police forces across the UK suggest that the number of assaults involving corrosive substances has risen by 30% in two years. 

Police say hundreds of attacks with acid, and other noxious substances, are being recorded each year. 

Hospital trial parking charge changes after patient and visitor complaints

New parking charges have come into force at Peterlee Community Hospital after complaints by patients and residents. 

Copyright: Hartlepool Mail

Former KGB spy Makarov claims MI6 thwarting job attempts

A former Soviet spy faces a life of poverty because UK secret services are preventing him getting a job and his benefits have been cut, he claims.

Ex-KGB agent Viktor Makarov, who now lives in Haltwhistle, Northumberland, was smuggled into Britain by the MI6 intelligence agency in 1992.

But he was "still suspected of being an enemy agent" by the UK, he said.

MI6 said it never commented on staff or agents and the Foreign Office said it could not discuss intelligence issues.

Copyright: Courtesy of Viktor Makarov

Rafa: 'Focus is on football, not fraud probe'

Matthew Raisbeck

BBC Newcastle Sport

Newcastle United boss Rafa Benitez says he is concentrating on football rather than the HMRC probe into alleged Income Tax and National Insurance fraud.

"It's a pity, all the issues about the investigation that was [for] something that happened four of five years ago," the Spaniard told the assembled media at a club press conference.

"We can concentrate on our normal football business. I was talking with Lee [Charnley] today about pre-season. We will start on 3 July."

Managing director Charnley was arrested yesterday and later released without charge.

It has since been reported former Newcastle player Sylvain Marveaux has been arrested in France. 

Little Mix star's clothes raise £1,400 for charity

A clothes shop in South Shields has raised more than £1,400 for charity by selling pop star Jade Thirlwall's clothes.

The Little Mix member (second left), who is from the town, has been donating bags of her unwanted clothes to Empire and they are then sold for a set price or go up for auction online.

Every penny goes to local charity Cancer Connections.

Your Photos: How do you like your eggs in the morning?

Thanks to Tracey Laing, in County Durham, for this photo of a blackbird's nest full of eggs, which she can see from her kitchen window!

Have you got any photos you'd like to share with us? In that case you can tweet them to @BBCNewsNE, email them, or contact us via our Facebook page.