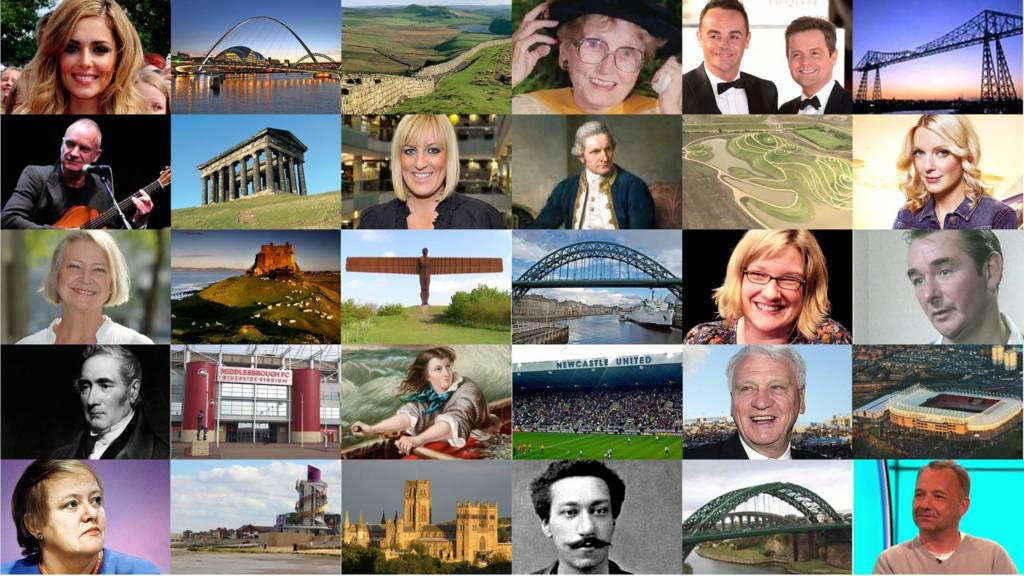 BBC Local Live: North East England
Our live coverage across the day

Ana Guerra-Moore

BBC News Online

That's us all done for another day - thank you for joining us.

You can catch up with the latest news tonight on BBC Tees, BBC Newcastle, Look North and online.  

If I had a dog, I would take it for a walk along one of our region's lovely parks.

But I don't - so this picture sent by Look North watcher Mark Beadle is giving me serious walkies envy.

If like Mark you have a photograph you'd like to share with us, you can Tweet us @BBCNewsNE, email, or contact us via our Facebook page.

We'll be back tomorrow from 08:00 and hope to see you then. 

Darlington car park changes

A car park in Darlington will close on Monday to make way for the new Riverside Park.

Darlington Borough Council said the spaces at the back of the Town Hall will be redeveloped into a park which will include walkways, trees, seating areas and a viewing platform to provide some "much-needed green space close to the town centre".

Quote Message: The new park will more than compensate for the loss of car park spaces at the Town Hall as it will create an area where people can enjoy the riverside location whilst still only being a stone's throw from the town centre." from Bill Dixon Council leader

It is estimated the park will be completed by summer 2017. 

Weather: Cloudy and windy ahead of Storm Doris

Windy and mostly cloudy with outbreaks of rain, spreading to affect most parts for a time overnight with some heavy bursts possible. 

Colder, drier air will spread southwards before dawn - minimum temperature 4C (39F). 

And don't forget - Storm Doris is coming:

Motorcyclist dies in parked van collision

A man has died after his motorbike collided with a van in South Tyneside.

The collision happened just after 21:00 on Monday in the back street of Mountbatten Avenue at the junction with Kelly Road in Hebburn.

It has not yet been established why the motorbike collided with a parked van.

The victim, a man in his late 40s, was pronounced dead at the scene.

A number of jobs will be lost following a review of Sunderland AFC's business operations, the club has confirmed.

In a statement, the business said it had "lost its focus".

Quote Message: We want to ensure that the football club is in the best possible position to grow stronger, both on and off the field. The decisions have not been taken lightly... club staff have been advised of the procedures and timescales involved." from Martin Bain Chief executive

Arson attack in Darlington park

BBC Tees

www.bbc.co.uk/BBCTees

A children's play area in Darlington's South Park has been badly damaged by vandals in an arson attack.

Police believe the climbing frame and play equipment were set on fire last night.

Our reporter Andy Bell is at the scene:

Prince Harry praises local charities

During Prince Harry's visit to the region he spent time with Head Start, a charity which provides mental health support to ex-service personnel, and Project Nova, which identifies and supports veterans involved in anti-social and criminal activity.

He praised the groups, saying that many people "have been taken out of an incredibly dark place" thanks to their help.

Prince Harry added: "They have turned their lives around and can be recognised for the service that they gave and the people that they are, rather than the mistakes they made."

Man who spat in baby's face during racial attack is spared jail

An attacker spat into a baby's face and shouted "white people shouldn't breed" in a sickening race-hate assault in South Tyneside.

Copyright: THE SHIELDS GAZETTE

Missing 15-year-old boy found

A 15-year-old boy has been found after being reported missing more than 10 days ago.

Brandon Rainbow, who went missing on 10 February, has been found safe and well in the Grangetown area of Middlesbrough.

Copyright: CLEVELAND POLICE

Boris Johnson mistaken for Mr Trump in Toon

Boris Johnson has admitted he's been mistaken for Donald Trump.

The Foreign Secretary - who like the American President has distinctive hair - told the Commons it happened when he was in Newcastle.

Quote Message: I'm embarrassed to tell you Mr Speaker, that I was mistaken for Mr Trump I think in Newcastle which rather took me back... a very humbling experience it was for me, as you can imagine." from Boris Johnson Foreign Secretary

Armed robber steals cash from bookmaker

A robber armed with a knife stole cash from a bookmaker in Newcastle.

The man threatened a female worker at Coral on Acorn Road in Jesmond during the robbery at about 19:30 GMT on Sunday.

Northumbria Police said nobody was injured, but staff were "very shaken" by the incident. 

The offender is described as white, about 6ft (1.8m) tall and of slim build. He was wearing a black top, a black hat and a scarf that covered his face. 

He made off down Coniston Avenue towards West Jesmond Metro station. 

Parking charges coming to Seaton Carew

BBC Tees

www.bbc.co.uk/BBCTees

More than 3,000 people signed a petition against it - but Hartlepool Borough Council has today announced that parking charges will be coming to Seaton Carew.

The new system will be installed on 1 April, with charges set at £1 for two hours of parking.

One local business owner says the changes will cost her £442 a year as she needs regular access to the beach.

Councillor Marjorie James denied that the changes were "purely a money-making exercise", and said the area had a "problem with nuisance parking that needed dealing with".

Hospital plans: Durham, Darlington and Teesside

Elderly woman in critical condition following car crash

A woman is in a critical condition after driving on the wrong side of the road in Alnwick.

The accident happened on the A1 on Saturday when the woman's vehicle collided with another car.

The woman was travelling south on the northbound carriageway when the crash took place.

The 76-year-old woman suffered serious injuries and was taken to the Royal Victoria Infirmary for treatment, where she remains in a critical condition.

A 33-year-old man also suffered serious injuries and was taken to hospital. His condition is described as stable.

Boat rescue video released

Video footage has been released by the RNLI of their Blyth crew assisting a stricken boat off the North East coast.

The lifeboat towed the small fishing boat into South Blyth Harbour on Friday.

Crowds await Harry at the quayside

Peter Harris

BBC Look North

His visit to Gateshead is one of Harry's three engagements in the North East.

Man stabbed in Newcastle city centre

A 22-year-old man is in a critical condition after being stabbed in Newcastle city centre.

The attack took place in Princess Square yesterday afternoon. Five people remain in custody.

Police are asking to speak to anyone who was in the area at the time so they can "paint an accurate picture of what exactly happened".

Officers and a cordon remain in place at the scene.

Prince Harry visits Tyneside

Prince Harry has begun his North East visit.

He arrived at Gateshead Civic Centre to a cheering crowd to meet veterans at a Walking with the Wounded event.

He will later visit mental health charity Together at the quayside before finishing his visit with a trip to Gosforth.

Anyone spotted him yet?