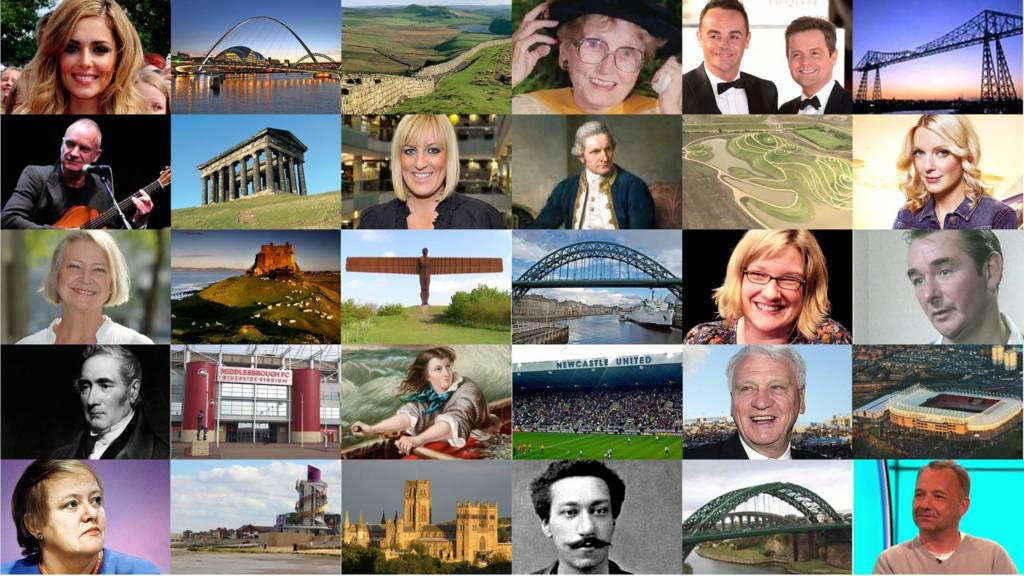 BBC Local Live: North East England
Summary
Updates on Friday 27 January 2017
Our live coverage across the day

Our coverage for the week has come to an end. Thanks for being with us - we hope you have a great weekend.

You can keep up to date with what's happening at BBC Tees, BBC Newcastle, Look North and online.

We'll have more news, sport, weather and travel for you at 08:00 on Monday.

You can get in touch with us using Twitter and Facebook, or alternatively you can send us an email.

Ant and Dec toast special day

Ant and Dec received their OBEs today at Buckingham Palace and seem pretty chuffed about it.

Tonight's weather: Cloudy and misty for many

Here are your weather prospects for tonight:

Cloudy and misty for many overnight, with occasionally heavy outbreaks of rain, these perhaps turning briefly to snow over higher ground. There is also a risk of ice where the rain falls onto freezing surfaces. Brisk southerly winds.  

To check the weather where you are - head to the BBC Weather page.

Tyne and Wear cadets to receive prestigious award

Ant and Dec aren't the only northerners to be gracing Buckingham Palace with their presence this month.

A group of Tyne and Wear fire cadets will be in London next week to collect a national award in the presence of the Prince of Wales.

The West Denton fire cadets have been awarded the Youth United Social Action Award for their community clean-up day in Newcastle, and will visit the palace to collect it on Tuesday.

They collected 78kg of refuse from in and around Farndale Park during the clean-up operation. 

Tyne and Wear Fire and Rescue Service's Assistant Chief Fire officer Chris Lowther says the cadets are leading by example.

Quote Message: All our cadets do an excellent job in promoting fire safety and carrying out voluntary work in their communities, and we are extremely proud that the West Denton unit have earned national recognition for their hard work and dedication".

Copyright: Tyne and Wear Fire and Rescue Service

Author's body took two days to recover

Experts spent two days recovering a children's author from a cesspit where her body was dumped, a court has heard.

Northumberland-born Electra Brown writer Helen Bailey, 51, was found beneath the garage at her home in Royston, Hertfordshire, in July.

Only Ms Bailey's elbow was visible when police first looked inside the deep well underneath her mansion, jurors at St Albans Crown Court heard.

Her fiance Ian Stewart, 56, denies murdering her.

Fire crews tackle bus fire

Bin men go beyond call of duty for two-year-old

We hope you haven't had a rubbish week - and that you smile at this story involving bin men and a two-year-old boy from County Durham.

Young Jack Beswick, from Belmont, looks out for the bin men every Tuesday morning and loves watching the bins being collected and emptied.

This routine has seen something of a rapport build between Jack, driver Paul Hardy and loaders Michael Plant and Keith Holden.

Jack's day was made when the binmen arrived as per usual - with a gift for him - his very own bin wagon.

Copyright: Durham County Council

Quote Message: I've worked in the service industry for 12 years and in that time I've rarely seen such a simple but wonderful gesture that has had such a positive impact." from Aaron Beswick Jack's dad

Quote Message: We've got used to seeing Jack at his window over the past few weeks. Because he enjoys watching us so much, the lads thought it'd be nice to club together and get him a little something. What better than a toy bin truck". from Paul Hardy Driver

Dog walkers may be key to catching thieves

It's hoped that people who regularly walk their dogs in Ingleby Barwick may be able to help police investigate a burglary. 

The incident took place between 20:00 on Wednesday and 01:00 yesterday morning at Wellbrook Close in Ingleby Barwick.

The property was left ransacked and thousands of pounds in cash were stolen.

It's thought the thieves were inside the house for some time.

Detectives say the street is close to a popular dog walking route - and urge anyone who saw anything suspicious to come forward.

Cannabis farm causes house fire

Fire chiefs say the fire which devastated a property on Croft Avenue in Sunderland earlier this month was started by a cannabis farm inside the building.

The fire broke out just after 14:00 on 19 January. About 30 firefighters tackled the fire at the two storey property near Chester's Pub.

Watch: Ant and Dec receive OBEs

North Northumberland nature reserve damaged by 'mindless' trail bikers

Copyright: Northumbria Wildlife Trust

Damage has been caused by bikers at the Whitelee nature reserve in North Northumberland.

The wildlife charity were aware that trail bikes had been ridden on the site over the Christmas break, but the extent of the damage was only recently uncovered after the ground was thawed.

The Trust believe that vegetation could take decades to recover from just one pass with the bikes.

The site, which is a National Nature Reserve, Site of Specific Scientific Interest (SSSI) and a Special Area for Conservation (SAC) was bought by Northumberland Wildlife Trust in 1999, following a public appeal and assistance from the Heritage Lottery Fund.  

The majority of Whitelee Moor's 1,508 hectares are rare blanket bog habitat which is home to a variety of plants including sphagnum mosses, cloudberry, bog asphodel and cotton grasses.

Copyright: Northumbria Wildlife Trust

Copyright: Northumbria Wildlife Reserve

Quote Message: To see such wanton destruction of an internationally important site is heartbreaking; it will take decades to recover from this one mindless act; what may appear to be barren land to some is internationally important for its habitats and the species they support". from Geoff Dobbins Northumberland Wildlife Trust Senior Reserves Officer

Health boost from catching the (walking) bus

Second missing girl found safe and well

Earlier today we brought you the news that a missing teenager had been found safe and well on Teesside.

Cleveland Police have announced that their second appeal for a different missing teenager has now also ended as 17-year-old Chloe Groves has been found.

Again, the force would like to thank those that helped as enquires were ongoing.

'Cancer took away my love for singing'

A 17-year-old girl from Eaglescliffe is sharing her story in a promotional video for music therapy charity Nordoff Robbins.

Evie Whittaker was left paralysed down one side after having a brain tumour removed - which, for the first time in her life, meant she couldn't sing.

As part of her recovery, Evie has been working with Nordoff Robbins, who have helped her to build confidence and find her voice again.

In the emotional video, Evie uses her own handwriting to explain how music therapy helped her find purpose during recovery.

'I feel like we've won the FA Cup'

#PeoplesCup

As we look forward to a weekend of FA Cup action, watch some of the best goals from the FA People's Cup - the UK's biggest free five-a-side tournament - and what it means to those who lifted the trophy.

You can get involved in the 2017 FA People's Cup, in one of 16 categories, now! Find out how to sign up here.

Woman injured in suspected hit-and-run

Police are investigating after a suspected hit-and-run in Sunderland earlier this week.

It happened at about 18:00 on Tuesday afternoon on Hylton Bank near South Hylton Metro Station. 

The car involved, thought to be a red Audi A3, didn't stop at the scene and drove off towards Pennywell. 

The pedestrian, a 28-year-old woman, was taken to hospital with head injuries.