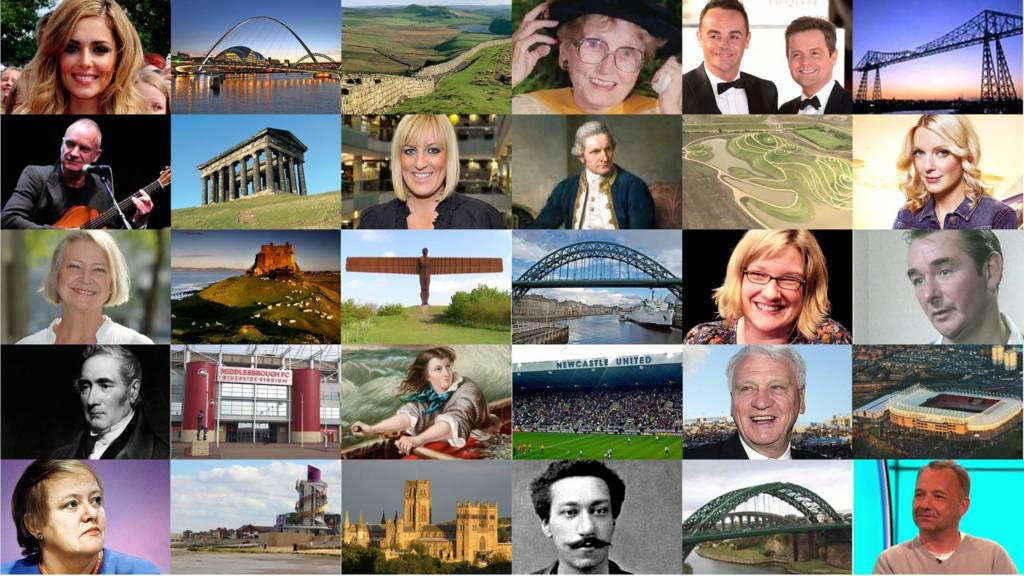 BBC Local Live: North East England
Summary
Updates on Wednesday 18 January 2017
Our live coverage across the day

Francesca Williams

BBC News

Thank you for joining us today. Our live updates are finished but you can still find the latest news on BBC Tees, BBC Newcastle, Look North and online.

We'll be back with more news, sport, weather and travel at 08:00 tomorrow.

'Use the right charger for your phone' warning

A fire caused by an overheating phone has prompted Tyne and Wear Fire Service and Gateshead Council's trading standards to warn people to use proper chargers.

A phone connected to an incompatible USB plug set a bedroom on fire in Blaydon within 20 minutes of being switched on.

Assistant chief fire officer Chris Lowther warned people not to be tempted to buy fake goods advertised as being compatible.

"What may seem like a good deal at the time could cost you a lot more in the long run," he said.

Copyright: Gateshead Borough Council

The authorities warn "different devices draw different amounts of current and if the charger or USB plug used is not the one supplied with the device then people need to check that they are compatible".  

You don't forget this in a hurry, if you stumble across it on a forest path:

Copyright: Kielder Water and Forest Park Development Trust

Silvas Capitalis is one of Kielder Water and Forest Park's artistic gems and is about to get a facelift (sorry) with the help of £49,300 lottery money from the Arts Council England.

New works will include an interactive exploration of Kielder's past, present and future, aimed at children; a sculptural perch for the Kielder Ospreys and an illuminated sculptural screen.

Kielder Water and Forest Park director Lynn Turner said its art and architecture programme needed "to remain visible, attractive and interesting to visitors, as well as being relevant to artists and architects."

Disused clay tennis courts in Middlesbrough could be sold off for housing and the money raised spent on improving other facilities for the sport, the borough's council has said.

The Tennis World clay courts aren't used and selling them could raise fund "paving the way" for about £200,000 to be spent on upgrading other inside and outside playing surfaces, the authority said.

Independently run Tennis World must commit to providing court time and coaching alongside access for health programmes, it added.

Middlesbrough Council's executive member for finance and governance Nicky Walker said the sport was "currently enjoying a golden era" which was reflected in the sport's growing popularity locally.

Are you up for the FA People's Cup?

#peoplescup

Ever dreamed of lifting a trophy on the pitch at Wembley? Well, here's your chance.

BBC Get Inspired has again teamed up with the Football Association to launch the 2017 FA People's Cup, a free five-a-side knockout competition that gives the people of England the chance to play in their version of the FA Cup.Watch as Radio 1Xtra DJ Nick Bright shows his (almost) silky ball skills, while explaining how you can get involved - and for all the information you need, read our Get Inspired guide.

Breaking

Boro re-sign Patrick Bamford

Middlesbrough sign Chelsea forward Patrick Bamford for an undisclosed fee on a four-and-a-half year deal.  

South Shields museum gets money to attract visitors

Museums bosses will use a windfall of £150,000 to help bring in visitors to the Arbeia Roman Fort in South Shields.

They'll use the money from the Deppartment for Culture, Media and Sport to "sign post" people from the sea front and town centre, hopefully raising visitor numbers to 50,000. 

Museum manager Geoff Woodward said there were "huge opportunities with this site to improve the visitor experience".

DVLA is clamping down on untaxed vehicles in the North East.

Cloudy but not too cold overnight

It'll be a cloudy night but there won't be any frost and winds will be light.

Hill fog is likely across the Pennines and this could produce a spot of drizzle.

It could be chillier the further east you are because of breaks in the cloud.

Severe accident: A186 Tyne And Wear southbound

BBC Travel

A186 Tyne And Wear southbound severe accident, between A191 Whitley Road and A1058 Coast Road affecting B1505 Great Lime Road.

A186 Tyne And Wear - A186 Station Road in Newcastle Upon Tyne blocked and slow traffic southbound between the A191 Whitley Road junction and the A1058 Coast Road junction, because of an accident and a spillage on the road. Congestion on A191 to Wheatsheaf Roundabout.

Check local traffic and travel reports for:

It's not a good idea to steal someone else's pills...

BBC Tees

www.bbc.co.uk/BBCTees

Potentially dangerous medication has been stolen from a car in Hartlepool, police have said.

The car was parked at Jesmond Gardens when it was broken into.

Police warn the pills could be "extremely dangerous" and have life-threatening consequences if taken by someone other than the person they were prescribed for. 

They were amitriptyline tablets and gabapentin.

Does living to 100 mean we'll work forever?

Francesca Williams

BBC News

Those clever people who work these things out have come to the conclusion people born since 2000 are likely to live to 100 or more.

But only hang out the bunting if you really like your job.

Because either you're going to have to make your pension stretch for another 30 years or you're going to have to work longer.

She doesn't look happy, does she? I suspect her YouTube loom band tutorial is buffering.

Hartlepool killer Arthur Hutchinson loses court challenge

BBC Look North

North East and Cumbria

In case you missed it yesterday - A Hartlepool man who killed three members of the same family in the 1980s has lost a human rights challenge against his whole life sentence.

Arthur Hutchinson was jailed in 1984. He broke into the home of Basil and Avril Laitner in Sheffield hours after their daughter's wedding and murdered them and their son Richard.

The European Court of Human Rights dismissed Hutchinson's claim that the punishment amounted to inhuman and degrading treatment. 

Severe accident: A189 Northumberland both ways

BBC Travel

A189 Northumberland both ways severe accident, at A197.

A189 Northumberland - A189 in Ashington closed at the A197 junction, because of an accident involving motorcyclist. On the roundabout.

Check local traffic and travel reports for:

Because it's just the kind of thing we like to do...

Francesca Williams

BBC News

...we've been looking at the unemployment figures. Close-up.

Remember back in December when we were told the number of people out of work in the North East had gone down by 14,000 - to 84,000?

Latest figures tell us it's gone down again - by 1,000 to 87,000.

But hold on, I hear you shout at your screen. How can there be more people out of work if unemployment has gone down again? 

Good question. The reason is buried in the overlapping accounting periods. December's figures cover August to October. These latest figures cover September to November.

If you look at the month-by-month figures (go on, you know you want to) you'll see a sharp drop in August, followed by an increase in September and another increase in October. 

October might be less than July by 1,000 people (which is what these latest figures are counting) but it's still higher than it was in September.  

Severe accident: A19 Tyne And Wear northbound

BBC Travel

A19 Tyne And Wear northbound severe accident, between A187 and A193 Tynemouth Road.

A19 Tyne And Wear - A19 in Newcastle Upon Tyne blocked and heavy traffic northbound between Tyne Tunnel and Howdon Roundabout, because of an accident involving lorry and car.

Check local traffic and travel reports for:

North East firm wins windfarm underwater cables contract

Darlington company DeepOcean is one of two firms hired to make and install cables carrying renewable electricity.

Scottish Power said DeepOcean's work on its £2.5bn East Anglia ONE offshore windfarm would safeguard 150 jobs.

The cables will carry electricity underwater using embedded fibre optics.

Copyright: ScottishPower Renewables

Commercial director for cables and trenching Pierre Boyde said there would also be "significant opportunities" for local suppliers.