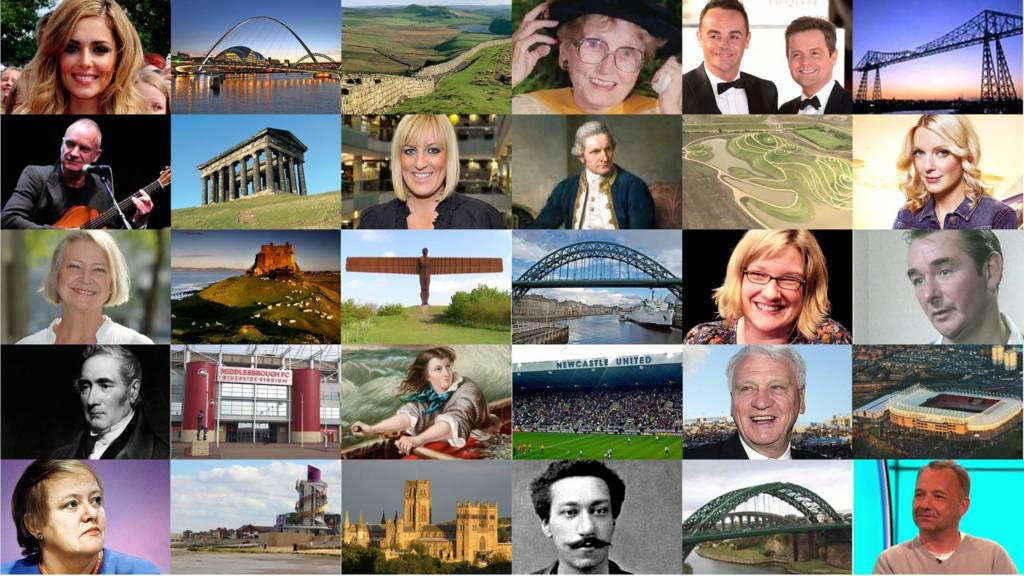 BBC Local Live: North East England
Summary
Updates on Friday 16 December 2016
Funeral for house fire victim
Bradley Lowery's family overwhelmed by support
World War Two bomb found in Rothbury
Mandeep Sanghera

BBC Sport

Patrick Jennings

BBC Sport

Our live coverage across the day

Thank you for joining us today.

Our coverage has come to an end - but you can find the latest news online, on BBC Tees, on BBC Newcastle and on Look North.

We'll be back on Monday with more news, sport, weather and travel from 08:00.

In the meantime you can use Twitter, Facebook, or email if you would like to get in touch.

Bye for now.

Remaining cloudy with patchy fog and drizzle

It will be cloudy to start this evening with hill fog on higher ground and some patchy drizzle or light rain.

Clearer spells will spread southwards later tonight with a slight frost and fog patches forming, mainly in rural areas. 

Winds should be light and variable, with a minimum temperature of around 3C (37F).

BBC Newcastle's Russ Ward has been checking out the festive food on offer at South Tyneside schools.

Wear crossing operation going 'extremely well'

The centrepiece of Sunderland's new Wear crossing is on its way to the North East after the A-frame pylon was loaded on to barges.

Jim Kilcar, bridge supervisor for Atkins, which is supervising the project for Sunderland City Council, said the operation had gone "extremely well".  

He added: "The sheer size and weight of the pylon meant that it was never going to be an easy task and therefore specialists were brought in to devise and oversee operations."

Copyright: Sunderland City Council

"The pylon was inched out over two days while ballast was adjusted on the barges to keep everything balanced," he said. 

"It was a very measured and steady operation – it has gone really well. It's a magnificent structure. It's only when you're up close to it that you can really appreciate just how big it is."

The bridge, an artist's impression of which is pictured above, is expected to open in spring 2018.

Campaigners criticise walk-in centre plans

Campaigners are criticising plans to replace three NHS walk-in centres in North Tyneside with one.

The area's Clinical Commissioning Group said the new facility will be better equipped and open 24 hours and that the public have already been consulted. 

The centre is due to open in October 2017 and would replace those at Battle Hill, Shiremoor and North Tyneside General Hospital. 

Tim Wall, a campaign spokesman, said: "People are not doctors and nurses, they don't know the severity of their conditions, so if the walk-in centre is close by where they live, more people will present themselves at an early stage.

"If it's left to a later stage, that's when health problems get more severe... that's when it cost the NHS more money."

Watch: Northumberland man among BBC Music day unsung heroes

As part of BBC Music Day this year, people were invited to nominate their unsung heroes.

Five winners were chosen and among them was Mike Coleman who set up and runs Core Music, a non-profit, social enterprise and a hub for local music in the Hexham and Tyne Valley community. 

Newcastle United to meet parents after abuse claims

Newcastle United has written to parents and carers of its Academy players after claims of historical sex abuse at the club.

They are being invited to an open meeting next week, where club officials will outline measures in place to safeguard youngsters.

Former Newcastle players Derek Bell and David Eatock are among hundreds of footballers to allege they were sexually abused at big-name clubs.

Newcastle's head of safeguarding, Steve Swinyard said: "It is crucial we provide every reassurance we can to the parents and carers of youth players at the club to ensure they are aware of the stringent safeguarding measures we have in place to protect the welfare of their children enrolled at our Academy. 

"The reports of historic sexual abuse in football will have concerned many parents, and it is important for us to be open and discursive with the families of our young players. 

"We are very proud of the work we do to protect the welfare of children under our care and we are confident we meet all industry practice guidelines in respect of the level of protection and support we provide."

Suspected World War Two bomb removed from River Coquet in Rothbury

A device, thought to be a World War Two bomb, has been removed from the River Coquet at Rothbury in Northumberland.

Part of the town was cordoned off after a diver carrying out routine maintenance on the town's main bridge discovered the device.

Neighbouring homes and businesses were evacuated while specialists from the Explosive Ordnance Disposal Team were drafted in.

A spokesman for Northumbria Police said the device had been successfully removed from the water and a controlled explosion would be be carried out elsewhere.

All roads in Rothbury are now open.

Eleven held over attack on man outside pub

A total of 11 people have been arrested over an attack on a man outside a Newcastle pub.

The victim, who has not been named, suffered a fractured skull and stab injuries in the incident outside The Fosse Hotel pub in the Walker area of the city on 8 December.

Copyright: Northumbria Police

Earlier this week four men were arrested in connection with the attack and a further seven were detained over the past 24 hours, Northumbria Police said.

A white van, pictured, which police say was used in the incident and a number of weapons, including bats, knives, hatchets and ammonia, were later seized by officers.

Tall Ships bring £13.5m boost to Northumberland economy

The North Sea Tall Ships Regatta brought in £13.5m to the Northumberland economy, according to the county council. 

The four-day festival, which took place over the August Bank Holiday weekend, saw almost 500,000 people visit Blyth.

The event attracted 23 vessels from all over the world.

Research for Northumberland County Council claims spending on eating out, accommodation and other services were higher than initially expected. 

It said 99% of those who visted the event described it as 'very good' or 'good'.

Hospitals issue vomiting bug alert

Health officials on Teesside have urged people suspected of having the winter vomiting bug norovirus not to visit relatives in hospital.

The South Tees Hospitals NHS Trust said the condition, which causes vomiting and diarrhoea, could be spread to other patients or staff and lead to ward closures.

It has urged people not to visit any of its seven hospitals, including Middlesbrough's James Cook and primary care units in Redcar and Guisborough, if they feel ill.

The trust's director of nursing and infection prevention control Gill Hunt said: "It is really important that people who have had the bug do not visit relatives in hospital if they are poorly and until they have been free of symptoms for 48 hours to avoid it spreading. The last thing we want to see happen is ward closures."

Diver discovered World War Two bomb

More now on the discovery of what is thought to be an unexploded World War Two bomb in Rothbury in Northumberland.

Stephen Bridgett, who represents Rothbury on Northumberland County Council, said: "From what I understand one of the regular checks on the bridge that are carried out by a company on behalf of the council discovered what looks like an old explosive device. 

"The diver that found it is ex-forces and has seen a lot of things like this before and alerted the proper authorities."

Re-appeal over John 'the badge' murder

Detectives investigating the unsolved murder of a man in Gateshead are making a fres happeal for help to catch his killer four years after his death.

John Roberts, 32, was found dead at his home in Winlaton, on 16 December 2012.

The football badge seller, known as John 'The Badge' Roberts, had suffered head injuries.

Copyright: Northumbria Police

Despite hundreds of inquiries and a number of arrests in connection with the investigation, no charges have ever been brought and his murder remains unsolved, Northumbria Police said.

Town cordoned off after 'World War Two bomb' found

Part of Rothbury in Northumberland has been cordoned off and some properties evacuated after the discovery of what police have described as a World War Two bomb.

The device was found in the River Coquet close to the main bridge in the town, Northumbria Police said.

A force spokesman said: "Officers attended an area next to a play park and found the device in the water next to the bridge. 

"As a precaution a 100m (320ft) cordon is in place and local shops and homes have been evacuated. 

"The road over the bridge is closed with local diversions in place. 

"Emergency services remain on the scene and specialists from the Explosive Ordnance Disposal team will attend the scene to identify the item and dispose of it appropriately."