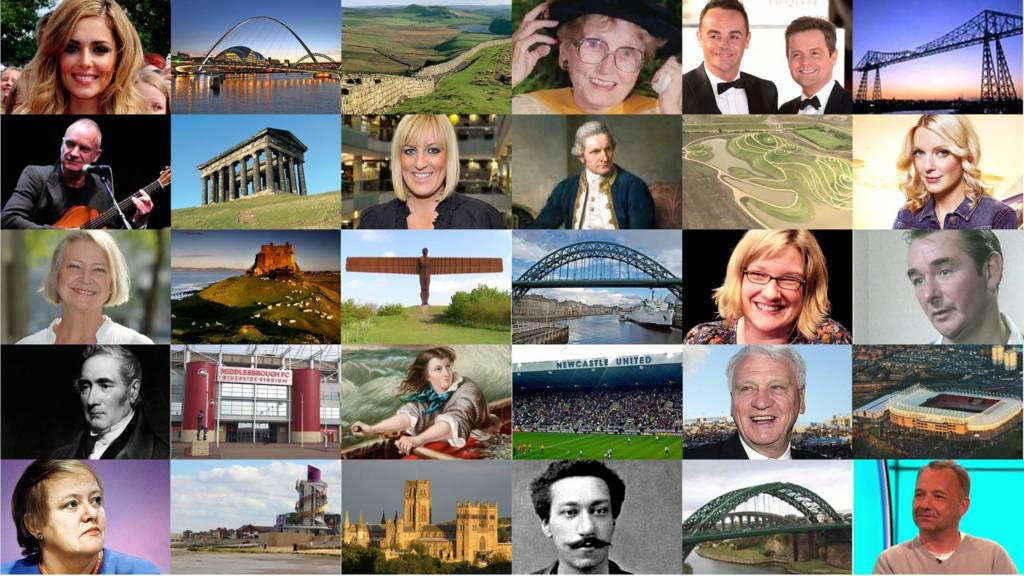 BBC Local Live: North East England
Summary
Updates on Tuesday 29 November 2016
Our live coverage across the day

That's the end of our updates for today - thanks for joining us.

You can still find the latest news online, on BBC Tees, on BBC Newcastle and on Look North.

We'll be back with more news, sport, weather and travel from 08:00 tomorrow.

In the meantime, if you want to get in touch you can contact us on Twitter, Facebook, or via email.

Tribute to A167 crash victim Christine Watson

A woman who died in a crash on the A167 at the weekend has been named by police.

Christine Watson, 59 and from the village of Hurworth, near Darlington, was the passenger in a Citroen Berlingo which was in a collision with a Mercedes on the A167 Croft Road at 22:00 on Saturday.

The driver of the Berlingo was her partner, David Graham, aged 65. He is in a serious but stable condition in Middlesbrough's James Cook University Hospital.

In a tribute released on behalf of the family, Ms Watson was described as "a devoted mother who idolised her children and supported them always".

Breaking

Former NUFC player talks about sexual abuse

Cash to fix potholes in Sunderland – but will funding fill the gaps?

Pothole problems are set to be tackled head-on after Sunderland City Council bosses were given enough cash to fill in almost 5,000.    

Copyright: Sunderland Echo

Motorcyclist Martin Dixon killed in Hartlepool crash

A man has died following a crash in Hartlepool.

Martin Dixon, 56, and from the Billingham area, was on a motorbike on the A179 Easington Road in Hartlepool, near the Sheraton Court Care Home, when the collision happened shortly after 19:00.

The married father-of-two suffered serious injuries and was pronounced dead at the scene.

The driver of a Citroen C3 was not hurt.

Newcastle University in ME research project

BBC Look North

North East and Cumbria

Scientists from Newcastle University are leading research to find a blood test for ME.

The illness, which can leave people exhausted and unable to carry out everyday tasks, affects about 250,000 people every year in the UK.

The team - some of which are from Newcastle - will spend 12 months analysing nearly 300 blood samples.

Finding similarities in the cells of sufferers could help identify a test for the condition - and ultimately a cure. 

Durham County Council to meet with Unison ahead of fifth day of strikes

The Northern Echo

Newspaper

Council chiefs say they are to meet with union leaders for talks to seek a resolution to the increasingly bitter teaching assistants pay dispute.

Fundraising evening for amputee Kieran Maxwell

A village in County Durham is hosting an evening of fundraising for an inspirational teenager who's suffering from terminal cancer.

Amputee Kieran Maxwell produced one of the unforgettable moments from the Olympic Torch relay in 2012.

The 18-year-old will be the guest of honour at tonight's Light Up Heighington for Kieran.

Olympic athlete Amy Tinkler will switch on Christmas lights with all money raised going to the Ewing's Sarcoma Research Trust.

Vandals damage vehicles in North Tyneside

Nine vehicles had their windows smashed this morning in Killingworth and Forest Hall. 

Sgt James Brady said: "These incidents are mindless acts of criminality and are simply unacceptable. 

"They are causing an unnecessary nuisance and expense to the victims."

Extra officers are now on patrol in the area following the damage which happened between midnight and 08:00. 

Man found dead in alleyway 'had fallen'

A man who was found lying in an alleyway is believed to have died in a fall, police say.

Michal Jarzynka, 37, was found off Poplar Street in Chester-le-Street early yesterday morning. 

His death is not being treated as suspicious.

Ben Carter's Tommee Tippee cup search success

A dad's desperate search to replace his autistic son's beloved "little blue cup" has ended - after the Northumberland-based manufacturer stepped in to make a lifetime's supply.

Marc Carter's plea to find a replacement sippy cup for son Ben was retweeted more than 12,000 times.

The 13-year-old has only drunk from the double-handled vessels, which are no longer produced, since the age of two.

Tommee Tippee, registered in Cramlington, said it will produce 500 cups after it searched factories worldwide and found the original mould. 

Click here to read the full story.

Newcastle United 'will not work with with Eric Bristow in future'

Eric Bristow had been due to appear at St James' Park as part of an event billed An Evening with Darts Legends.

Announcing the former world champion has now been dropped, a statement from the club said: "In light of tweets made by the darts player Eric Bristow, Newcastle United has taken the decision today to withdraw him immediately from a scheduled appearance at an event taking place at St. James' Park on 6 December.

"The club will not work with Eric Bristow in the future.

"For those who have already bought tickets for the event, current player Kevin Painter has this morning confirmed he will take part."

Breaking

Eric Bristow axed by Newcastle United over abuse tweets

Richard Conway

BBC Radio 5 live sports news correspondent

Middlesbrough mayor Dave Budd says £68m plan will bring thousands of jobs

BBC Tees

www.bbc.co.uk/BBCTees

The multimillion-pound investment plan for Middlesbrough we told you about earlier could create about 5,000 jobs over the next few years, according to Middlesbrough Council.

It has set aside £68m from its budget over the next four years to create a media and innovation village in the centre of town, build thousands of "high quality" homes and develop 1.7 million square feet of business space.

Mayor Dave Budd insists the scheme is realistic and told BBC Tees: "There's evidence for everything that's in the plan.

"I think anybody who's visited or passed through the town recently will have seen a lot of changes.

"What we're trying to do is, in a coherent way, bring them all together in one place."

Boy, 13, hurt in Newton Aycliffe bike crash

A 13-year-old boy was knocked over by a mini-motorbike at the boating lake in Newton Aycliffe, police say.

It happened shortly before 16:00 yesterday near the small wooden footbridge close to Honister Place.

The boy was on his way from school on his bicycle when the rider of an off-road mini-moto drove along the footpath and hit him.

The rider failed to stop, leaving the victim on the grass verge with leg injuries. He was later taken to hospital.

The rider is described as male, 5ft 9in and wearing a black T-shirt and black helmet. The mini-moto was green and black with black numbers on the side.

Football child sex abuse scandal 'one of FA's biggest crises'

The football child sex abuse scandal is one of the biggest crises in the history of the Football Association, says chairman Greg Clarke.

More than 20 ex-footballers have made allegations of child sex abuse, with five separate police investigations and an FA review launched in response.

Clarke said he was "angry" that "1990s society was sleep walking and we were part of that problem".

Five police forces - including Northumbria - are investigating allegations of historical sexual abuse.

We've got the full story here.