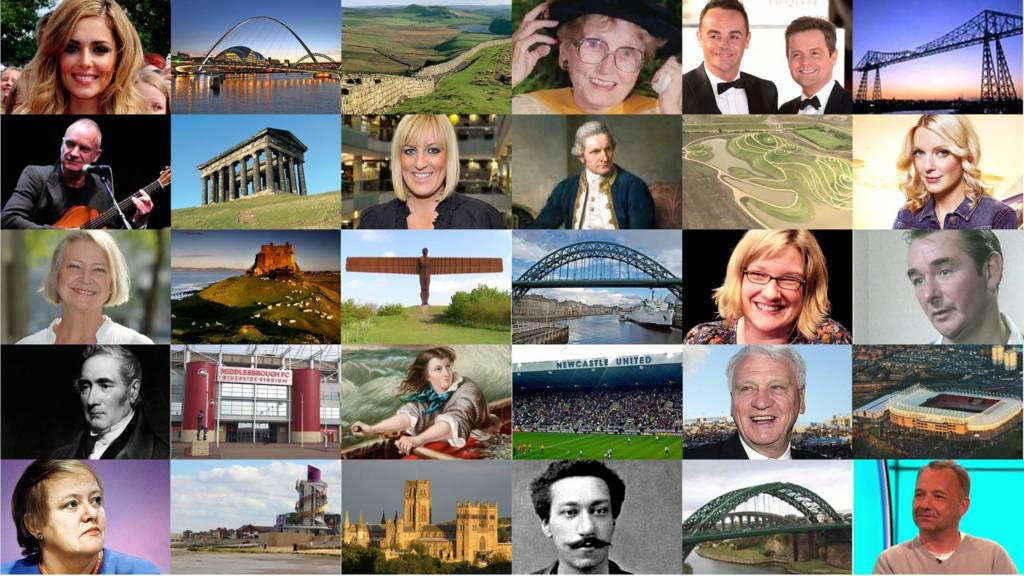 BBC Local Live: North East England
Summary
Updates on Friday 21 October 2016
Our live coverage throughout the day

Clear spells and further showers

There will be some clear spells, but also the chance of further showers overnight.

Winds will be light, and some inland fog patches may form later.  

Partners of expectant mothers urged to give up booze too

Duncan Leatherdale

BBC News Online

A doctor campaigning for women to stop drinking alcohol while pregnant is urging expectant fathers to give up drink as well.

Dr Helen Palmer said men should support their pregnant partners to make it easier for them to stop drinking to prevent their children developing foetal alcohol spectrum disorder (FASD).

Speaking to Gateshead Council's families overview and scrutiny committee on Thursday, Dr Palmer said: "Drinking alcohol is probably the most harmful thing people can do in pregnancy but it's also the most common thing people do. 

"If you go to a pub and you do not have a drink you are asked 'what's wrong with you then'. There is so much social pressure on people to drink.

"It's an addictive substance. We need men to support their partners in giving up drink."

In the last year almost a third of looked after children in Gateshead have been diagnosed with FASD, with others still to be assessed.

Breaking

Man charged over murder of Jodie Wilkinson

A man has been charged with murdering a woman who was stabbed to death in the street in Newcastle.

Jodie Wilkinson, 27, died in hospital after being attacked by a group of men in the city's Stanhope Street on Monday afternoon, police said.

A 25-year-old man who was with her at the time was also injured and needed hospital treatment.

David Waterston, 43, of Hamilton Place, Newcastle has been charged with murder and will appear at Newcastle Magistrates' Court tomorrow. 

Eight people arrested in connection with the investigation have now been released on bail. 

Copyright: Northumbria Police

'Serious concerns' over new mother's death in jail

Stuart Whincup

BBC Look North

A decision to terminate a prisoner's hospital visits to see her newborn baby probably contributed to her death, an inquest has ruled. 

Michelle Barnes, 33, from Cumbria was found hanged in her prison cell at Low Newton Prison in Durham last December. 

She had wanted to keep her child in jail with her, but Cumbria Social Services decided it was in the best interests for the baby to be placed in care. 

Durham Coroner Andrew Tweddle said he had serious concerns about the way the prison treated the mother. 

He described its birthing plan as confusing, inadequate and not fit for purpose. 

After five hours of deliberations, the jury found Michelle Barnes "deliberately hanged herself but at the time she did so, her intention was unclear".  

Anti-slavery operation 'saves' 14 people

An operation aimed at tackling human trafficking, labour exploitation and modern-day slavery has resulted in 14 people being saved, police have said.

It follows raids on eight addresses in Newcastle, Consett in County Durham and Houghton-le-Spring on Tuesday. 

Five people have been charged, and six others who were arrested have been bailed.

Northumbria Police said the operation also involved Newcastle City Council, the Red Cross and the National Crime Agency.

Video: Couple celebrates 70 years of marriage together

BBC Tees

www.bbc.co.uk/BBCTees

They met on a dance floor in Stockton.

And they have just celebrated 70 years of marriage.

Congratulations Jim and Hilary!  

Durham MP claims jobs are being lost due to Brexit

The Labour MP for North West Durham, Pat Glass, claims 150 jobs are being lost in her constituency, with one firm apparently blaming the impact of the vote to leave the EU:

Charges after armed robbery at shop

Two men have been charged in connection with an armed robbery in Hemlington.

Staff at the One Stop Shop in The Viewly Centre in Hemlington were threatened with a knife while £300 taken on 16 October.

Cleveland Police said a 26-year-old man and another aged 36 have been charged with robbery, burglary and theft and will appear at court on 18 November.

Two sheep killed in Redcar

Two sheep were killed in Redcar earlier this week, police have confirmed.

A ram and a lamb were attacked with a blunt weapon, which police believe may have been a piece of wood.  

The attack happened in Wilton Lane, between Bank Top Farm and Court Green Farm, in the early hours of Wednesday.

The deaths are not currently being linked to any other incident.

Watch: I, Daniel Blake director Ken Loach on choosing Newcastle

Ken Loach has set his latest film about one man's battle to get welfare benefits in Newcastle. 

I, Daniel Blake won the prestigious Palme d'Or at Cannes, and the director talks about the "very strong, rich, well-defined character" and the "sense of dignity" of people in the North East. 

He says he believes Geordies will appreciate the film's message.

Breaking

Two held over dog found with nail in its head

Two men have been arrested on suspicion of animal cruelty following the discovery of a severely injured dog in Kirkleatham Woods near Redcar. 

The men aged 60 and 59 are from the Redcar area. 

The dog was found buried alive with a nail in its head in what the RSPCA described as a "horrifying, cruel act".

A couple walking in the woods heard whimpering and found the terrier-type animal in a mound of earth at about midday on Wednesday.

It was rushed to a vet but its injuries were so serious it had to be put down.

Anniversary toast to Trafalgar hero

Naval officers, local dignitaries and members of the public gathered in Tynemouth to toast a local and national hero.

Lord Collingwood, whose statue looks out over the mouth of the River Tyne, helped lead to the Royal Navy to victory at the Battle of Trafalgar, taking charge when Nelson died.

At 12:00 today - the time when the first shot was fired in the battle on 21 October 1805 - people raised a glass to the Vice Admiral.

Paying tribute, Captain Andy Jordan, commanding officer of HMS Collingwood, described him as a true hero whose achievements had often been overshadowed by the "more flashy" Nelson.

Councillor Dave McGarr, chair of North Tyneside Council, said: "If it had not been for Lord Collingwood, we would all be speaking French now."