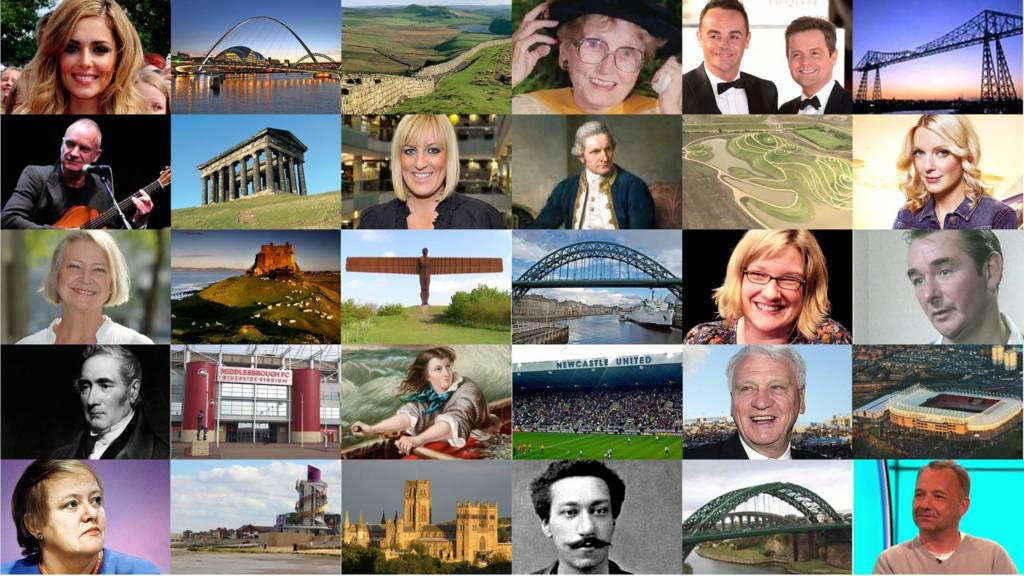 BBC Local Live: North East England
Summary
Updates on Friday 8 April 2016
Our live coverage across the day

Rebecca Turner

BBC North East

Tonight's weather: Dry but chilly

Any showers dying away to leave a largely dry evening, but becoming cloudy with rain affecting all parts after midnight.

A chilly evening but temperatures will rise again as the rain arrives.  

Durham woman wins most stylish award at Aintree's Ladies Day

A first-time racegoer to Aintree's Ladies Day has walked away with £43,000 worth of prizes after being crowned the most stylish woman in her £70 dress.

Dressed in a cream and gold baroque print high neck frock, Anna Gilderoy, 25, from Durham, said she was "shocked" after judges declared her the winner in the Style Award competition.  

Miss Gilderoy  said she would be getting rid of her second hand white VW Golf now she's won a Ranger Rover Evoque.

Football: Middlesbrough v Preston preview

Preston travel to the Riverside for Saturday's Championship clash against Middlesbrough - read the pre-match team news and stats here.

Middlesbrough are unbeaten in eight games in all competitions against the Lilywhites.

Adam Clayton (dead leg) is the only fresh injury concern for Middlesbrough.

The Endeavour to 'set sail' in Middlesbrough again

A scale replica of the famous vessel The Endeavour will reappear in Middlesbrough to mark the Captain Cook Stage of the Tour de Yorkshire.

It hung for 20 years in the Cleveland Centre before its removal in June 2005 during a major overhaul of the complex.

Copyright: Middlesbrough Council

It was dismantled and put into storage, first at Stewart Park and more recently in a unit on the town's Riverside Park Industrial Estate.

But now the model is on its way back to the Cleveland Centre as part of the build-up to Middlesbrough's Tour de Yorkshire Stage three at the beginning of May.

Travel: Delays around Scotch Corner

There is queuing traffic and heavier than usual traffic on A1 southbound in Middleton Tyas between the A1(M) junction and Scotch Corner.  

There are delays and very slow traffic on A66 eastbound in Scotch Corner between the Hargill junction and Scotch Corner, because of an earlier broken down vehicle.  

More details on the BBC Travel website for Teesside.

Charity race named after 'Voice of the Boro' Ali Brownlee

One of the region's leading road races is officially relaunched this week in honour of Ali Brownlee, the BBC Tees presenter and Middlesbrough commentator who died in February.

The Ali Brownlee Cleveland Centre 5k Riverside Run has been renamed in tribute to the 'Voice of the Boro'.

The decision to rename the Riverside 5k was taken in consultation with Ali's family, and it's hoped runners, walkers and charity fundraisers will snap up all 2,000 places in this year's event.

Ali's daughter Alison, who attended Thursday's launch event, said: "He loved this town and would be humbled by your wonderful gesture."

Doughnuts provided at Sunderland press conference

'Heavily intoxicated' woman seen being put into car by two men

A report of a woman being put into a car by two men in Pandon Bank, Newcastle, at about 01.45 is being investigated.

They say a silver car with two men inside stopped alongside her and one of the men then put her into the car before driving towards the Quayside.

The men are described as being aged about 50 and one of the men had a large build.

The woman is described as being "heavily intoxicated", in her early 20s and was wearing a short dress. 

'Parent's worst nightmare' as paedophile snatches and rapes child

A paedophile has been branded the 'living embodiment of every parent's worst nightmare' after grabbing a girl of 11 off the street and raping her.

Paul Ripley, 53, abducted the girl as she walked home in Ellesmere Port, Chester Crown Court heard.

He bundled her into his car and drove her hundreds of miles north to a field where he raped her twice.

Jailing him for 10 years, Judge Nicholas Woodward told him he had acted "for your own sexual gratification".

The girl, who was left alone near Darlington, flagged down a taxi driver, saying: "I don't know where I am. I've been raped."

Football: Sam Allardyce says his team will do their best 'to bring supporters some joy'

Sunderland, in 18th place in the Premier League, four points off safety, can put a spanner in the works for leaders Leicester when the sides meet on Sunday.

"It's astounding that so many people come to the stadium every game to support us and have stayed with us all the way," said boss Sam Allardyce.  

"The players and I really do appreciate it and we will do our best to bring them some joy."  

Norma Bell murder investigation: Missing TV traced

The television missing from the home of Norma Bell, described as being key in her murder investigation, has been traced.

The 79-year-old died overnight between 2 and 3 April prior to a blaze at her home on Westbourne Road, Hartlepool.  

Cleveland Police thanked the public after the missing TV from her home was traced yesterday evening.

Copyright: Cleveland Police

A 32-year-old man arrested on suspicion of murder remains in police custody, and officers have secured a Magistrates warrant to detain the man in custody for longer.

Grand National runner: Yay or neigh?

Ahead of the Grand National, BBC Sport have made a quiz. They want to know: Can you guess which are real horse names and which are fake?

You can vote 'yay' or 'neigh'.

Here it is: Grand National Horse Names Quiz

Dog attacks lamb in Alnwick

A dog has attacked a lamb in Christon Bank in Alnwick, police say.

They've urged walkers to keep dogs on a lead if walking near sheep.

Football: Rafa Benitez says Newcastle must approach tomorrow's match with confidence

Newcastle are 19th in the Premier League, six points from safety.

Last weekend's last-gasp loss to Norwich may prove to be crucial come the end of the season.

"There are things we have to learn," said boss Rafael Benitez. "The only way to do it is to practice every day. The effort is there. The team has to improve mentally. We have to approach the game with confidence."  

And that's all from Benitez this week.

Teenagers 'killed Shane Tunney' after food attack

A man was murdered by seven teenagers after challenging them for throwing food at him and a friend, a court has heard.

Shane Tunney (pictured) and his friend Anthony Kirk were attacked by the group on Norton High Street on 27 June last year, prosecutors said.

Mr Tunney, 24, suffered severe head injuries and died five weeks later.

The defendants are aged between 16 and 18 and deny murder. They also deny attempted grievous bodily harm.

Copyright: Cleveland Police

Family grave spray painted orange in Middlesbrough

A family grave has been sprayed with paint in Cargo Fleet Cemetery.

Copyright: Cleveland Police

Police say they think it took place sometime last week.

The headstone in memory of several members of the Dowson and Ward families was sprayed with orange paint.

Police to use eye detection to manage sex offenders

North East police will be one of the first forces in the world to use eye detection to manage sex offenders after they secured a grant to try out the technology.  

Ben Stokes: England all-rounder 'devastated' by World T20 loss

Durham cricketer Ben Stokes says he felt as if "the whole world had come down" on him after conceding four sixes in the last over of the World Twenty20 final to lose the game.

With West Indies needing 19 to win, Carlos Brathwaite smashed the first four balls over the boundary to complete a stunning victory.

"I thought: 'I've just lost the World Cup'," Stokes told the Daily Telegraph.

"I couldn't believe it. It was just complete devastation."

 But the 24-year-old believes the setback will make him a better player in the long term.  

Weather: Some showers but it should feel pleasant with light winds

A few showers will develop during the afternoon but many parts may miss them.

With light winds it should feel fairly pleasant. 

  Maximum Temperature: 11C (52F).