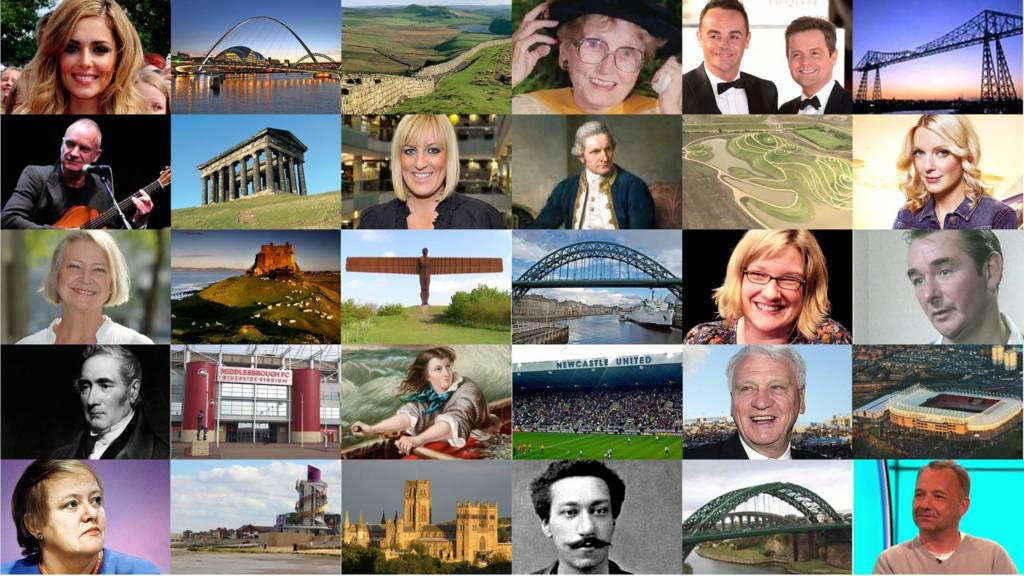 BBC Local Live: North East England
Summary
Updates on Friday 1 April 2016
Our live coverage across the day

Rebecca Turner

BBC North East

Burglar let themselves into house, stole keys and took car

A burglar has let themselves into a house, stolen some car keys and taken a car in North Tyneside.

Police say burglars often take advantage of unlocked doors, and although many people leave their keys near the door, "burglars are wise to this".

The car was later found by police abandoned in the Walker area of Newcastle.

Weather: Cloudy with spells of drizzle

Cloudy or overcast through the evening and night with spells of rain or drizzle, this sometimes persistent and locally heavy over western hills.

Eastern areas will be drier.

Southwesterly winds will be strong and gusty at first over hills.  

Big night for Boro down at QPR

It's a big night for Boro in the Championship. They can go second in the Championship with a win at QPR.

The conditions are perfect for tonight's game:

Travel: Slow traffic on A1 after accident

One is lane blocked and there's slow traffic on the A1 Western Bypass northbound in Dunston at the Metro Centre because of an accident involving a lorry and a car.  

And there's slow traffic on the A1231 Wessington Way in both directions in Sunderland between the Dene Road junction and the Northern Way junction in the roadworks.  

Finally there's slow traffic and one lane closed on the A66 westbound in Thornaby between Teesside Park and the A1130 Acklam Road junction because of a police incident.  

Check the latest travel news for Tyne and Wear and Teesside.

Watch Cowgate Roundabout become Cowgate junction in 20 seconds

Man who used farm to dump waste 'on an industrial scale' jailed

A County Durham man who used his parents' farm to dump waste "on an industrial scale" has been jailed for a total of 14 months. 

Officers from the Environment Agency found electrical items, rubble and plastics. 

Some had been buried or burned. 

Stuart McCarroll, 27, admitted breaching environmental permit rules at Sun Ridge Farm in Thornley. 

 Durham Crown Court heard he ran a skip hire business and used the farm as a "free tipping ground." 

He was jailed for eight months for the environmental offences and a further six months for breaching a suspended sentence for a separate offence.

You the pundit: Are Newcastle safe under Benitez?

Company fined for storing 30,000 tyres next to busy rail route

A company and boss have been fined for illegally storing up to 30,000 tyres and creating a fire hazard next to a busy rail route.

James Robb and Rethink Waste Ltd appeared at Peterlee Magistrates' Court yesterday.

It follows an investigation by the Environment Agency after large numbers of tyres were stored next to the East Coast Mainline in Gateshead.

Robb, 57, of Braeside, Burnhope, County Durham, and Rethink Waste Ltd, registered at the same address, pleaded guilty to operating a waste facility for the storage of waste tyres without a permit.

Both Robb and Rethink Waste Ltd were fined £2,000 and both ordered to pay costs of £3,870.

New victim support service in Tees

Victims of crime in Tees will have an advice and support service from today.

Safe in Tees Valley will provide a free, independent and confidential service to help victims cope and make a full recovery. 

Metro groper squeezed bottoms of 10 women and a child

Schoolgirl sexually assaulted in Middlesbrough

A 14-year-old girl has been sexually assaulted in Middlesbrough.

The teenager was walking towards the entrance of Albert Park at 10:30 on Wednesday when a man stopped in front of her and sexually assaulted her. 

The man then walked along Park Road South towards Westminster Road, Cleveland Police said. 

He is white, about 5ft 10in with short dark hair and was unshaven. He was wearing a hooded grey coat, beige trousers and black shoes. 

Video: Tributes to Denise Robertson

Denise Robertson, resident agony aunt for ITV's This Morning, has died aged 83.

The Sunderland-born presenter revealed in February that she had been diagnosed with pancreatic cancer.

Her This Morning colleagues today paid moving tributes to her work:

Family awaiting news as man shot by police remains critical

Northumbria Police says there's 'not a chance' it will replace dogs with cats

Newcastle Turkish Baths and City Pool saved from closure

Turkish baths which were earmarked for closure as part of £100m council cuts have been saved.

The Grade II listed City Pool and Turkish Baths in Newcastle shut in 2013 due to the "high investment" needed.

Fusion Lifestyle Ltd has now been granted a lease for the site and plans to renovate the building and restore the historic baths.

The Re-open Newcastle Turkish Baths campaign group said it was "delighted" by the news.

Copyright: Newcastle City Library

Man steals cash from 59-year-old woman in the street

A 59-year-old woman had cash stolen from her this morning in the back lane of Keats Avenue in Marley Pots, Sunderland.

She'd just taken out money from the TSB cashpoint on The Green and was walking along the lane when she was approached by a man. 

He demanded cash and took some of it before making off.

He is white, aged about 20, and was wearing a coat with the hood up and grey jogging bottoms. 

The woman was shocked but otherwise uninjured.

More tributes to Denise Robertson

Here's some more tributes to Sunderland-born agony aunt Denise Robertson after she died today aged 83.

And Lisa Faulkner, who has presented cooking segments on This Morning, said this:

Rafa Benitez focused on eight games to play

Toon boss Rafael Benitez has whipped out some classic football cliches to describe Newcastle's relegation clash with Norwich on Saturday. 

"We still have eight games to play and have to concentrate on one at a time," said the Magpies boss. "Norwich are organised. They have a lot of players who know their jobs. We have to work hard from the first minute to the last."  

Newcastle are 19th on 25 points. Norwich are 17th on 28 points. Are we allowed to call it a six-pointer?

Passengers won't pay for rail investment, says operator

The company that has taken over some rail services in the North East says it doesn't expect passengers to foot the bill for its investment plans. 

Arriva North is taking over the Northern Rail franchise today. It's promising to spend £1bn improving services. 

But rail unions say the company wants to cut back on the number of trains that have a guard on board, and this will compromise passenger safety and lead to job losses. 

But Alex Hynes from Arriva North says: "We're going to transform the quality and capacity of rail services in the next 44 months. Faster journeys, new trains, more seats, more services."