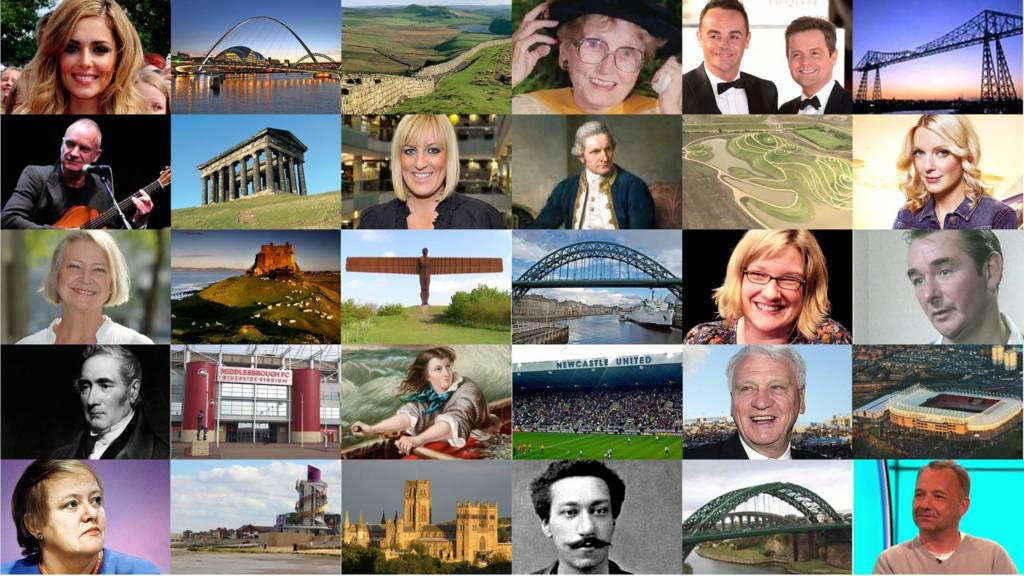 BBC Local Live: North East England
Summary
Updates on Wednesday 30 March 2016
Our live coverage across the day

Rebecca Turner

BBC North East

Tonight's weather: Clear skies, light winds

Remaining showers should die away to leave a mostly dry night with clear spells.

Frost is possible in many areas by dawn, given the largely clear skies and light winds.  

Travel: Heavy traffic on A19 after accident

There's very slow and queuing traffic for four miles on the A19 southbound in Peterlee at the Passfield Way junction because of an accident involving two vehicles earlier on.

All lanes have been re-opened. Travel time is 20 minutes. Congestion is back to the Hawthorn Services junction.  

There's also slow traffic southbound as people stop to look.

Get the latest travel news for Tyne and Wear and Teesside.  

South Bank factory confirms 'pest activity' led to biscuit recall

Manufacturers Baketime have confirmed that there was an "issue with pest activity" at their premises in South Bank, Middlesbrough.

It comes after the Food Standards Agency said a number of biscuits and snacks sold in the supermarket chain Aldi may have been contaminated.

Baketime says it was first identified back in January, and "immediate steps" were taken together with a "reputable pest control company" to "manage the situation and eradicate it as quickly as possible". 

In a statement, it says further evidence of pest activity was then identified this month "and an intense programme of pest control measures was again implemented".

Following a routine site inspection, Baketime then voluntarily ceased production temporarily.

They say the company also decided to recall product manufactured between these months "as a precautionary measure".

Sunderland burglar jailed after blood found at scene

Appeal after five men fight in the street with planks of wood

A group of men were reported to be fighting in the street in Newcastle last night.

Officers believe there were five men involved and that they may have been armed with planks of wood during the disturbance in Hexham Avenue in Walker.

A red Audi A3 was also seen in the area at the time.

Officers are asking anyone with any information to come forward.

County Durham Plan to begin again

The creation of a plan for the future development of County Durham will start again, seven years after the process first began.

Durham County Council withdrew its previous plan after it was called "over-ambitious" by an independent inspector.

Though the inspector's report was quashed by the High Court, the council said it would start the plan again.

The old plan had been to build 31,400 homes and create 30,000 jobs by 2030.

Alan Pardew gave 'suspicious evidence' in tribunal over Jonas Gutierrez

Former Newcastle manager Alan Pardew has "knowingly given untrue evidence" at the tribunal hearing winger Jonas Gutierrez's disability discrimination claim, it's alleged. 

The employment tribunal is over Gutierrez's claims that he faced discrimination from the club after he was diagnosed with cancer.

In closing remarks today, the player's barrister Martin Budworth said the case "involved a number of high profile individuals", including former club managers Mr Pardew and John Carver, and managing director Lee Charnley.

He says these witnesses were "not just mistaken" about the case, "but are giving knowingly untrue evidence".

He also alleged Mr Pardew had given "suspicious evidence". 

The Argentinian, who has already given evidence to the tribunal, is reported to be seeking about £2m in compensation for his claim.

Sean Jones QC, for Newcastle United, said that the club had not broken any rules in its dealings with the player. The hearing continues.

Missing Gateshead man 'may be sleeping rough'

A man who's been missing since yesterday morning "may be sleeping rough despite the colder weather", police say.

Copyright: Northumbria Police

They're concerned for Philip Ramm's welfare, and that he left wearing "only grey shorts, a white top and black hat - but no coat".

He is white, 5ft 8in, slim and balding. 

South Tyneside bucks national library closure trend

Breaking

Confirmed - Rob Elliot ruled out for months

Goalkeeper Rob Elliot has injured his anterior cruciate ligament and will be out for months, Newcastle United have confirmed.

A club statement says: "Rob has returned to Newcastle and has been assessed this morning by the club's doctor. He will now commence a programme of treatment and rehabilitation.

"Regrettably, the severity of this injury will rule Rob out for a number of months.

"Everyone connected with Newcastle United wishes Rob the very best for his recovery."

Alan Shearer on Rob Elliot: 'Football is cruel at times'

Alan Shearer has shared his thoughts on the "devastating news" that Newcastle keeper Rob Elliot has suffered a serious knee injury ahead of the club's battle to stay in the Premier League:

Breaking

Aldi biscuits made in South Bank 'may have been contaminated by pests'

A number of biscuits and snacks sold in the supermarket chain Aldi may have been contaminated by pests, the Food Standards Agency (FSA) has warned.

Customers are being urged not to eat the affected products, made in a factory on Teesside.

The biscuits, including cheese thins, shortbread, chip cookies and fudge brownies, were made by a company called Baketime, based in South Bank in Middlesbrough.

The products are also sold in small convenience stores around the UK.

Baketime, based at South Tees Imperial Food Park, said it was recalling all the biscuits and snacks as a precautionary measure.

In the meantime they are being taken off sale.

Travel: Multi-vehicle accident on the A1213

One lane is closed and there's queuing traffic on the A1231 Sunderland Highway westbound between the Nissan Roundabout and Northumberland Way Interchange because of a multi-vehicle accident.  

Get the latest travel news for Tyne and Wear and Teesside.  

No 10 rebuffs Labour plea to recall Parliament

The government has no plans to recall Parliament to discuss the steel crisis, Downing Street says. 

Hundreds of people are employed by Tata Steel at Skinningrove, Lackenby and Darlington.

Earlier Labour leader Jeremy Corbyn said MPs should be summoned back from recess.

Gossip Column: Paulo di Canio gives another manager advice...

Dozens of bags of litter collected in less than three hours in Consett

A spring clean of Consett has resulted in 30 bags of litter being collected in less than three hours.

County Durham & Darlington Fire & Rescue Service says its "big spring clean", which is being carried out by off-duty staff along the coast to coast track, is "still going strong".

Copyright: CDD Fire and Rescue Service

Britain's steel industry: What's gone wrong?

Over the past few months, one part of the UK economy, the steel industry, has been grabbing the news headlines, but for all the wrong reasons.

The announcement by India's Tata Steel of its plans to sell its loss-making UK business, putting the jobs of thousands of workers at risk, is the latest and most devastating blow to the industry.

You can see an in-depth report, by BBC Business reporter Tim Bowler, here.

Man airlifted to hospital after fall in sand dunes in Hartlepool

A 62-year-old man from Billingham suffered "significant" leg injuries when he fell on the sand dunes at Blue Lagoon beach in Seaton this morning.

It's an area not accessible by road.

The Great North Air Ambulance Service treated him before he was airlifted to James Cook University Hospital in Middlesbrough where he arrived in a "stable condition".  

Elderly woman victim of distraction burglary in North Tyneside

A man knocked on the door of an elderly resident then stole cash from her purse before fleeing yesterday.

It happened in St David's Close in Whitley Bay.

Police say he forced his way into the back garden, knocked on the patio door, then distracted the woman before stealing her money. 

The man is 6ft and about 30 years old and was wearing a navy jacket.