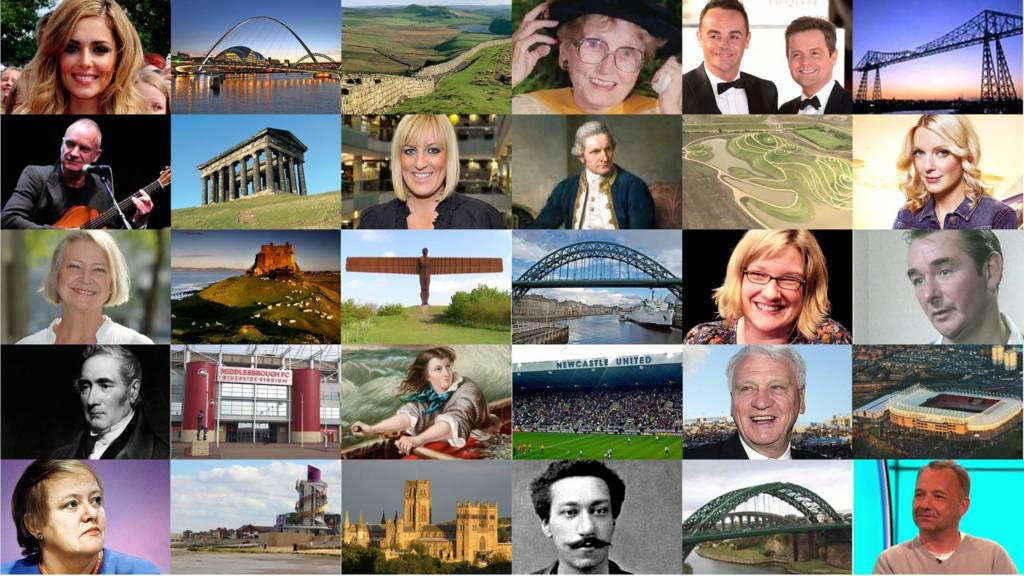 BBC Local Live: North East England
Summary
Updates on Wednesday 23 March 2016
Our live coverage across the day

Rebecca Turner

BBC North East

Tonight's weather: Cloudy and breezy

Mainly dry but rather cloudy overnight, with cloud-cover generally holding to limit frost.

Becoming breezier towards dawn, with the chance of a little light rain in places.

Appeal to identify the 'little helper' who gave police a hand after derby day

Police in Newcastle want to identify a little boy who helped them after the Tyne-Wear derby match.

He stayed after full time on Sunday, when the majority of the 52,000 supporters had left St James' Park, to help officers clear up police tape outside the stadium.

Police want to contact the little boy's parents or guardians so they can thank him for his efforts.

North East devolution deal takes another blow as Durham defers

CCTV released after 17-year-old was 'touched inappropriately' on bus

A picture of a man has been released after an indecent assault on a bus last month.

It happened on the X11 bus travelling from Haymarket, Newcastle, to Blyth.

A 17-year-old woman who was travelling on the bus was "touched inappropriately" by another passenger.

Police are keen to speak to the man in this picture.

Copyright: Northumbria Police

Devolution deal for North East in doubt after vote

Fergus Hewison

BBC Newcastle political reporter

The devolution deal for the region, meant to see elections for a mayor in 2017, won't be in place by the end of this month as originally planned after another council said it wanted to delay signing up in full. 

Durham County Council says it wants further commitments on funding and other issues from government before it can agree to devolution.

The leader of the Labour-run council, Simon Henig, says he supports devolution in principle but the current agreement potentially sets up the region to fail. 

Yesterday Gateshead council rejected the devolution deal outright. On Monday Northumberland said it, like Durham, also wanted further commitments from government before it would go ahead. 

The four other councils in the devolution area - South Tyneside, North Tyneside, Sunderland and Newcastle meet later today to decide whether they'll participate 

Work on the Metro line between Tynemouth and Shiremoor

Man 'warned' for harassing Adam Johnson child sex victim

A man has been warned by police over harassing Adam Johnson's schoolgirl grooming victim.

It's understood a notice under the Prevention of Harassment Act was issued to Steven Knox, the ex-partner of Johnson's sister.

Former Sunderland winger Johnson was found guilty of sexual activity with an under-age girl.

His sister has since launched a social media appeal to clear the convicted child sex abuser.

Durham Police confirmed that they have "issued one notice to someone in relation to the Adam Johnson support pages".

Jonas Gutierrez team choice claim 'offensive and untrue'

Jonas Gutierrez's claim that Newcastle United's board influenced team selection to prevent his contract being extended is "offensive and untrue", the club's MD says. 

Lee Charnley told an employment tribunal that better players had "overtaken" the Argentine international and he was allowed to leave for footballing reasons. 

Mr Charnley said he told Mr Gutierrez's lawyer he had the club's blessing to "investigate whether there was any interest in Jonas in the market" before he was even diagnosed with cancer. 

Addressing the issue of alleged interference in team selection to stop Gutierrez triggering a one-year contract extension, Mr Charnley said Alan Pardew had a clause in his contract "granting him the right to absolute independence" regarding team selection.

Mr Gutierrez is claiming disability discrimination in a case said to be worth about £2m. The hearing continues.

Andy Capp cartoon auction of memorabilia

A collection of Andy Capp cartoon strip memorabilia is being auctioned, with the most valuable items expected to fetch £200.

Copyright: Tennants Auctioneers

The Andy Capp cartoon strip was created by Hartlepool-born Reg Smythe, who died in 1998.

He personally drew and inked every picture for the 18,000 Andy Capp cartoons he produced over four decades.

Teenager could lose sight after being shot in the face

A teenage boy could lose the sight in his left eye after being shot with an air gun.

James Elgy, 15, was cycling home from a friend's house on Saturday night when he was attacked by three boys.

Copyright: Sunderland Echo

NUFC 'never contacted Gutierrez during cancer treatment'

Newcastle United never kept in contact with Jonas Gutierrez during his cancer treatment, his mother claims.

Monica Montore, who is also the former Magpies winger's manager, disputed documents submitted by Newcastle managing director Lee Charnley which said the club kept in touch with family "to ensure that they knew that Jonas remained in our thoughts". 

Ms Montore said: "This is categorically not the case as I remember feeling upset that the club seemed to show a lack of interest in Jonas's welfare once the cancer was diagnosed. 

"Apart from one email from the club doctor to Jonas on 17 October asking for my contact details for the doctor in Argentina, I did not receive any telephone calls or emails from the club and neither did Jonas." 

Mr Gutierrez is claiming disability discrimination after his release from the club last year. The hearing continues.

Middlesbrough goalkeeper shares photo of newborn son

Looks like Boro keeper Dimi Konstantopoulos has already got high hopes for his new arrival's football career:

Travelling drug salesmen using fake ambulances jailed

Two men who used fake ambulances to sell drugs have been jailed.

Both men, in their 50s, collected customers' orders from "bogus paramedics" who used a fleet of fake ambulances.

The National Crime Agency says the drugs had a street value of £1.6bn.

Norman McNestrie, from Consett in County Durham, and his "right hand man" Paul Robson, from Newcastle received 19 years and 3 months and 15 years respectively at Kingston Crown Court.

Home Secretary on Britons caught in Brussels blasts

Here's Theresa May at Prime Minister's Questions talking about Britons caught up in the attacks:  

Police reminder that 'worrying livestock' is a criminal offence

Durham Police have issued a reminder that "worrying livestock" is a criminal offence. 

They say that as we enter lambing season, it's important that people keep their dogs on leads when walking through countryside, as "the stress of being chased by a dog can cause a sheep to miscarry or even die".

Last original Metro escalator replaced

All the escalators installed when the Tyne and Wear Metro was built in the 1970s and early 1980s have now been replaced by engineers.

The last of the 28 old escalators to go were at St James station, where new ones came into use last week in time for the Tyne-Wear derby.

Raymond Johnstone, director of rail and infrastructure for Nexus, said: "After about 35 years the original escalators were at the end of their lives - they were prone to failure and it was almost impossible to source parts when repairs needed to be made."

Fletcher out of Scotland squad

Striker Steven Fletcher has pulled out of the Scotland squad for Thursday's friendly against the Czech Republic because of illness.

The Sunderland forward, on loan with Marseille, has been with the squad at their Renfrewshire base this week.

But he did not join his team-mates on the flight to Prague.

New speed limits on approach to schools in South Shields

There's a new 20mph speed limit and traffic calming measures on the approach to schools in the West Park area of South Shields.

Copyright: South Tyneside Council

It's in an attempt to make children's walk to school safer, and signs have been put up to warn drivers.  

Missing Brussels man 'texted he was safe - then got on bomb metro'

The Daily Telegraph is reporting that missing David Dixon texted his aunt telling her he was "fine and safe" shortly after the airport bombings yesterday.

The family fear he then boarded the Metro train that was blown up, the paper said.