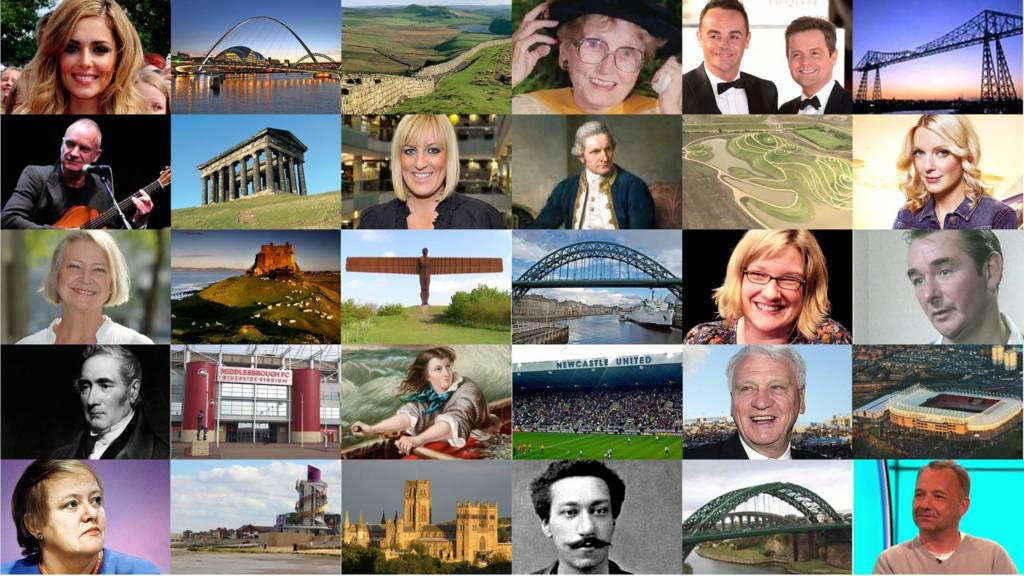 BBC Local Live: North East England
Summary
Updates on Tuesday 22 March 2016
Our live coverage across the day

Duncan Leatherdale

BBC News Online

Weather: Some mist and fog in places

Staying dry during the evening and overnight. 

Temperatures will dip under clear spells given the light winds to perhaps give a slight frost in places, although some mist and fog patches may also develop locally.

Check the forecast where you are.

Am-dram stalwart jailed for sexually abusing girls

Money stolen in betting shop robbery

A small amount of money was stolen during a robbery at a betting shop in Newcastle City Centre last night. 

Northumbria Police said a man entered Ladbrokes in Clayton Street at 21:23 and demanded money at the front counter.

The staff refused and the man managed to grab a small amount of cash from one of the tills before fleeing. 

He is of medium stocky build, about 5ft 5in (1.65m) and was wearing a yellow, grey and cream hooped polo top and dark track pants.

Cancer return saw Jonas Gutierrez 'neglected', tribunal hears

After further treatment in the summer of 2014 when the cancer returned, former winger Jonas Gutierrez says he felt neglected by Newcastle.

"During my chemotherapy treatment, neither the manager, Alan Pardew, nor any club directors contacted me to see how I was feeling or to congratulate me on my recovery," he said.

"This was incredibly disappointing after everything I had done for the club."

His employment tribunal where he alleges disability discrimination is expected to last for 10 days, with evidence from John Carver and Alan Pardew to come.

Penshaw Monument to be lit up tonight to support Belgium

The Penshaw Monument in Sunderland is to be lit in the colours of Belgium's flag tonight as a mark of solidarity following the bombings and shootings in Brussels. 

More than 30 people are believed to have been killed in attacks at Brussels' main airport and a metro station.

The flag on Sunderland Civic Centre has been flying at half-mast, and tonight Penshaw Monument will be lit in black, yellow and red.

Sunderland City Council leader Paul Watson said: "Our thoughts and prayers are with all those affected by the explosions and with the emergency services who worked so tirelessly to rescue them."

Last year the monument was lit up in red, white and blue after the terror attacks in Paris.

Copyright: Jenny Wotherspoon.

MPs again call for Mike Ashley to face Parliament

MPs have repeated their call to Sports Direct boss Mike Ashley to be questioned in Parliament about his firm's treatment of workers. 

The Newcastle United owner has refused to meet the Business Select Committee in London on 7 June, offering instead to give MPs a tour of his head office in Shirebrook, Derbyshire. 

Committee chairman Iain Wright, who is also Labour MP for Hartlepool, said today: "We expect Mr Ashley to attend on 7 June.

"Select Committees rightly expect witnesses to attend evidence sessions. Business leaders and others regularly appear in front of select committees when invited and we see no reason why Mr Ashley should expect to be exempt from the normal parliamentary process. 

 "Among other issues, we are keen to question Mr Ashley on the progress of the review he is leading on working practices at Sports Direct."

Millennium Bridge to turn purple for epilepsy day

The Millennium Bridge across the River Tyne will turn purple on Saturday to raise awareness about epilepsy.

Newcastle man Paul Fawcett, 37, who was diagnosed with epilepsy 19 years ago, has arranged for the bridge to change for Purple Day.

Mr Fawcett, who has had 35 seizures in the last month resulting in several injuries said: "I think it is really important that people learn about epilepsy, and know that there are lots of different types of seizure. 

Copyright: Epilepsy Action

"Epilepsy is a serious and life-threatening condition, and I want people to understand that it has a real impact, not only on the person affected, but also on their family and friends."

It is the second time the bridge has changed colour for Purple Day.

Second arrest after teen injured by air weapon

A second 16-year-old boy has been arrested after a teenager was injured by a pellet from an air weapon.

Northumbria Police said the incident happened at 22:30 on Saturday near Herrington Burn in Houghton. 

A 15-year-old boy remains in hospital with significant injuries. 

Two 16-year-old boys have now been arrested in connection with the incident.

Jonas Gutierrez: Newcastle United thought I was a 'liability'

Former Magpies winger Jonas Gutierrez, who is now at Spanish side Deportivo La Coruna, claims Newcastle's discrimination against him began in December 2013, two months after he had surgery for testicular cancer.

He says Alan Pardew (pictured), his manager at the time, told him he did not feature in his future plans and that he was free to leave the club.

"It came as a great shock so soon after my cancer treatment," added Gutierrez's statement to an employment tribunal.

"I believe the reason for this was due to my cancer diagnosis and very recent operation to remove the tumour as I had clearly been a crucial part of Newcastle's first-team line-up to this point.

"I think they feared that my illness would mean that I could no longer play at the highest level and they considered me to be a liability rather than an asset to the club."

Gutierrez is claiming disability discrimination against the St James' Park side. The hearing continues.

Women's Super League: Can Sunderland do a Leicester?

The Women's Super League One season kicks off this week and while many are wondering if Chelsea can retain the title, others are asking if a surprise may be in store.

Leicester City's success in the Barclays Premier League is giving hope to clubs in the WSL such as Sunderland Ladies. 

Sunderland boss Carlton Fairweather, a member of Wimbledon's infamous Crazy Gang that rose through the English football ranks and won the 1988 FA Cup final against Kenny Dalglish's Liverpool, knows well the power of self-belief.

"Look at the Leicester side, they haven't spent as much money as the big 10 teams in the Premier League and they are competing," he said. "It shows you what a bit of togetherness and having individuals that are willing to learn and who want to improve can achieve."

North East Devolution deal: What does Gateshead rejection mean?

Fergus Hewison

BBC Newcastle political reporter

Continuing the North East devolution theme:

The cabinet committee of each council - Northumberland, Newcastle, Gateshead, North Tyneside, South Tyneside, Sunderland and County Durham - have to agree that their local authority will take part in devolution, and that's where it's beginning to unravel. 

Today, Gateshead's cabinet rejected the deal - largely because there's no provision for a referendum on whether or not there should be an elected mayor. 

Northumberland County Council said yesterday it would participate only if certain conditions are met, while the other five cabinets meet tomorrow. 

Gateshead's decision doesn't necessarily kill off the whole project; the legislation says just two councils out of the seven can go ahead with devolution if they choose to do so without all the others, though this is an unlikely scenario. 

But Gateshead's decision - branded as madness by devolution enthusiasts - does throw the future of the whole devolution agenda into some considerable doubt. 

North East Devolution deal: What you need to know

Fergus Hewison

BBC Newcastle political reporter

The devolution agreement signed in October of last year set out how seven councils in the North East would work together under a directly elected mayor, with elections for that mayor due to take place in 2017. 

They'd co-operate on things like transport, strategic planning, and job creation - with powers devolved from Whitehall to the Mayor and a so called Combined Authority made up the leaders of the seven councils. 

There'd also be £30m of funding each year for 30 years on offer from central government. That's the theory, but in practice it's a bit more complicated. 

Great North Air Ambulance office burgled

Burglars stole diamond rings and supermarket store cards from the offices of the Great North Air Ambulance in Darlington.

The items had been donated to the charity to raise funds to keep the air ambulance flying.

The burglars forced their way through a fire door of the office at the Imperial Centre on Grange Road sometime between 17:45 and 21:00 on 10 March.

Also stolen were car keys, charity cash collections and personal items belonging to members of staff. A significant amount of damage was also caused during the burglary.

Mandy Drake, head of fundraising, said: "We are all shaken by this. We just don't understand why someone would steal from a charity, where every penny makes a difference."

Jonjo Shelvey being schooled by Benitez

Newcastle United midfielder Jonjo Shelvey feels like he is 'going to school again' following the recent arrival of manager Rafael Benitez.  

The Magpies have lost to leaders Leicester and drawn with local rivals, and fellow strugglers, Sunderland since the Spaniard took over two weeks ago.

"You're always being watched - you feel like you're on trial if you like," Shelvey told BBC Newcastle.

"Everyone's looking to impress and being a lot busier than normal."

He also said he is looking forward to working with Benitez during the international break ahead of their next game against Norwich at Carrow Road on 2 April.

"Rafa will come up with a game plan because that's what he does.

"I'm sure we'll go to Norwich and give a very good account of ourselves."

MEP Brannen: Best response is to carry on with democracy

A North East MEP who was in Brussels during this morning's attacks said the best response is to continue with EU business.

Labour's Paul Brannen was in a committee meeting in the parliament building a few streets away from Maelbeek metro station which was hit by a blast this morning shortly after explosions at Brussel's Zaventem airport.

He said: "These are horrible and appalling events. I was voting in a committee when the news came through and while acknowledging the events with a minute's silence we carried on with our work. 

"The best response to such attacks on our democracy is to continue the business of the parliament along with our colleagues from across the European Union.

"All of our thoughts are with those injured and the families of those killed."

Everyone in the MEP's office has been confirmed as safe and well.

Interested in becoming a police and crime commissioner?

Prospective candidates wishing to stand in the elections for the police and crime commissioner in the Durham police area have until 16:00 on 7 April to submit their nomination.

Anyone considering standing for election can request a nomination pack from Durham County Council's electoral services team.

They will be asked to attend an informal briefing session when they collect their pack and should contact the electoral services team to make an appointment.

Anyone wishing to make an appointment to collect a nomination pack should contact electoral services at Durham County Council on 03000 261 212 or email electoralservices@durham.gov.uk.

Mike Ashley says he's 'wedded' to Newcastle United

Newcastle owner Mike Ashley has vowed to stand by the club, even if they are relegated from the Premier League.

The Magpies are currently second from bottom of the table, three points adrift of safety, with eight games remaining.

Asked if he would stick with the club in the event of relegation, Ashley said: "Yes, I think I've got no choice.

"I'm wedded to Newcastle. They have got me and I have got them, that's just the way it is."

Disabled children's charity jelly baby collection box stolen

A collection box for a disabled children's charity has been stolen.

The North Tyneside Disability Forum's jelly baby-shaped jar called Bertie was stolen from beside the charity's office at the Shiremoor Centre in Shiremoor last Thursday.

Copyright: North Tyneside Disability Forum

The charity's chief officer Sue Adams said: "The collection monies in Bertie were to help pay for trips and events, the young people are quite devastated that someone would do such a thing.

"Who would steal a giant jelly baby collection tub from a disabled kids' group?

"We want Bertie home."

Murder accused 'returned and attacked Angela Wrightson again'

The younger girl accused of murdering Angela Wrightson told a court she got the victim's blood on her hands while trying to move her co-accused's foot.

She said: "I was sat on the black couch and Angie was on the floor and (the older girl) was kicking her, I bent over Angie. I don't know what I was trying to do but I was trying to move (the other girl's) foot out of the way and I got blood on my hands, which I wiped on my jeans." 

The girl told the court she did not want to go back to the house but that they returned in the early hours of the following morning so she could get a phone charger.

She said Ms Wrightson was sitting on a sofa mumbling so the older girl hit her with a table again kicked her and "put a tab end out in her ear". 

She told the court they both tried to go to sleep but it was too cold so she called the police to take them home. She said she did not think Ms Wrightson was dead when they left.

The 39-year-old was found dead in her blood-spattered living room with more than 100 injuries. 

The girl told the court she did not attack Ms Wrightson and did not want her to be killed or harmed. She denied encouraging the older girl, who is now 15, to attack the victim. The pair deny murder.