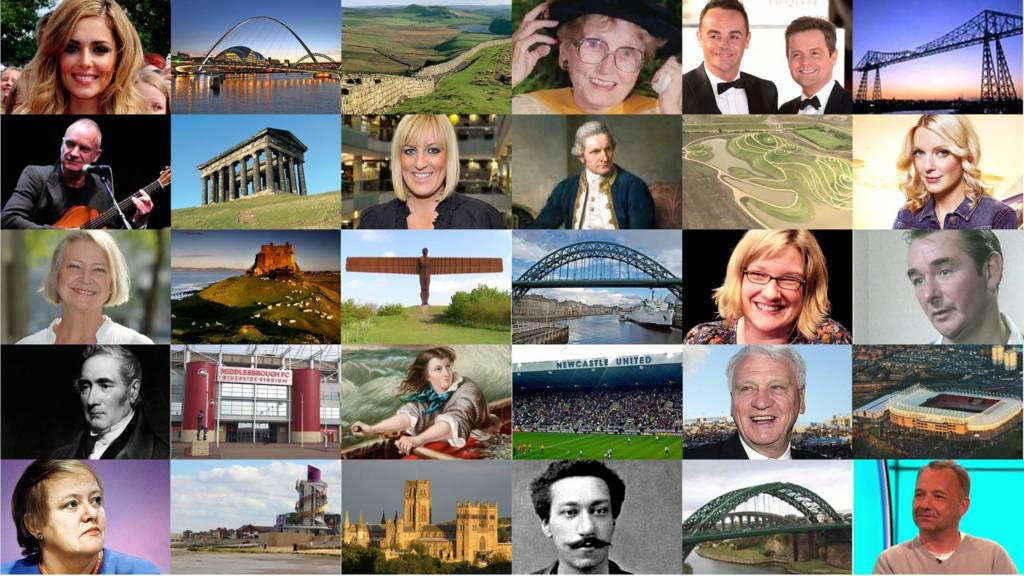 BBC Local Live: North East England
Summary
Updates on Monday 21 March 2016
Our live coverage across the day

Weather: A chilly night with a slight frost possible

Remaining dry with variable amounts of cloud and some clear spells through this evening and overnight. 

A chilly night with a slight frost possible where any prolonged cloud breaks occur along with isolated mist or fog patches, these most likely across rural areas. 

Minimum Temperature: 4C (39F).

Overnight closures on A19 northbound

The A19 northbound will be closed between the A67 and A174 junctions near Middlesbrough for the next two nights.

Highways England said repairs are needed to repair joints on the Leven Valley Viaduct Bridge and while it is scheduled for two nights, it could take longer dependent on weather.

The northbound side will be closed from 20:00 to 06:00 with traffic being diverted via the A67, the A1044 Low Lane, Thornaby Road and the A174 Parkway to rejoin the A19.

Highways England project manager Phil Leng said: "This is essential maintenance work that will ensure the bridge can be safely used by drivers for many years to come."

County Durham's new fire chiefs confirmed

A new chief and deputy chief fire officer have been formally appointed by the Combined Fire Authority for County Durham and Darlington.

Stuart Errington and Colin Bage, who have been leading County Durham and Darlington Fire and Rescue Service (CDDFRS), as acting chief fire officer and acting deputy chief respectively, since their interim appointments in August 2015, will now take up the roles permanently.

CFO Errington has been with CDDFRS since 1993 and has worked in front-line firefighting as well as management roles during the past 23 years. 

He said: "CDDFRS is one of the highest performing fire services in the country but we will need to continue to drive innovation and find new ways of working if we are to continue to flourish against the threat of further funding cuts."

Sports Direct boss brands MPs 'a joke'

Sports Direct's Mike Ashley has branded MPs 'a joke' and confirmed he will not give evidence in Parliament about how his workers are treated.

Mr Ashley responded after being summoned to appear in Parliament and warned he could be held in contempt.

He also urged MPs to attend his firm's Derbyshire headquarters - an invitation they declined.

The Commons business committee said it was "disappointed" about Mr Ashley's refusal to attend.

Stranger danger warning renewed

Police are warning parents following a further report of strangers approaching children in Hartlepool. 

The most recent incident occurred last Wednesday at about 15:30 when a 10-year-old girl was approached by a man and a woman in a dark coloured vehicle who said her parents had sent them to pick her up and repeatedly asked her to get in the car.

The couple then followed the girl as she made her way to a safe address.

The woman driving the vehicle is described as white, in her mid-30s with shoulder-length gingery hair, of slim build and a local accent and was wearing a flowery top, leather jacket and leather style bottoms. 

The male passenger is described as black, about 40 and of stocky build. He had a bald head with bits of black hair and slight facial hair and he spoke with a local accent. 

Clamp down on deliberate fires

Cleveland Fire Brigade has asked parents to keep tabs on their youngsters to hep prevent deliberate fires, after figures show there were 300 incidents over the holiday break last year.

Grassland, buildings, and wheelie bins were all targeted, costing more than £470,000 and diverting resources away from real emergencies.

Phil Lancaster, from the brigade, said: "The clocks going forward and longer days can somehow tempt totally irresponsible behaviour.

"We are urging parents to make sure they know where their youngsters are, and to keep them out of trouble. The last thing you would want is your child to end up with a criminal record."

Cold War letter up for auction

A letter sent to a TV engineer by Mikhail Gorbachev and George Bush after their 1989 summit in Malta is being auctioned.

Walter Oakley received a letter from the Russian and US leaders thanking him for his help in televising the meeting.

Copyright: Walter Oakley/Anderson&Garland

No agreements were signed at the summit but it was said to mark the end of the Cold War.

Mr Oakley from Low Fell, Gateshead, was holidaying when CNN asked him to help organise filming.

Newcastle auctioneers Anderson and Garland said bidding will start at £1,000 but a value is impossible to determine.

New Durham cricket shirt unveiled

School texts to be used to find missing children

School text messaging systems which usually alert parents to school closures will now also be used to help find missing children in County Durham.

If a child is reported missing and Durham Police are unable to locate them quickly, the police communications centre will contact a teacher at that child's school who has access to the text system.

A text message will then be sent out asking all parents or guardians registered to the system at that particular school to call the police if they know the whereabouts of the missing child.

PCSO Marie Garfoot, who devised the plan, said: "I came up with the idea a few months ago when we were trying to locate a missing child; she was at a school friend's house, a friend that her parents weren't aware of.

"If this system had been in place the parents of the friend could have informed police of the missing child's location minimising the trauma to the missing child's family."

Gateshead volunteers take Sport Relief payment calls

Staff at Worldpay in Gateshead volunteered to collect telephone donations for Sport Relief on Friday night.

More than £55m was raised on Friday breaking the previous on-the-night record of £51m.

The Gateshead team wore fancy dress as they took donations. 

The payment processing company has worked with Sport Relief for more than 10 years.

Where can I afford to live?

Where in the country can you afford to live? The BBC has produced a calculator which you can use to find that out as well as whether it would be cheaper to rent or buy.

It works by asking you to enter your requirements and how much you'd like to pay on rent or mortgage repayments each month to see places in your price range.  

The calculator uses pricing and rental data for 1 June 2015 to 31 January 2016 provided by residential property analysts Hometrack

Male sex abuse victims 'need more help' plea

New crime figures suggest more men are finding the courage to speak up about sexual abuse. 

However, survivor Wayne Dearden says unhelpful stereotypes will only be tackled by a dedicated male-only service.  

The 37-year-old father from Blyth, Northumberland, who says he was raped as a child, eventually got help from SomeOne Cares, based in North Shields, which was awarded a lottery grant to help towards its male services last year. 

He believes stereotypes about masculinity need to change to help victims. 

Fire station to close as part of budget cuts

Haydon Bridge fire station in Northumberland is to close as part of plans by the county's fire service to save £500,000 from its budget over the next two years.

Northumberland County Council said there was no "viable alternative" after already being forced to save £1.5m since 2014.

The plans also include the removal of an on-call fire appliance from West Hartford station.

A council spokesman said the scale of the cuts required could see further service reductions in the future.

The Fire Brigades Union has called on the authority to rethink the cuts, claiming they will put the public at risk.

Mike Ashley: 'I'm wedded to Newcastle'

You rarely hear Newcastle owner Mike Ashleyin the media so when he does speak it's usually worth a listen.

We're not sure his latest comments will exactly dispel Newcastle fans' worries though.

On the chances of his side avoiding relegation, he told Sky Sports: "I'm going to say we've got the right manager in the job and if there's any chance of us staying up then hopefully Rafa Benitez can do the business."

And will he stick by Newcastle if they do go down? "I've got no choice, I'm wedded to Newcastle like I'm wedded to Sports Direct."

Sex offenders register removal 'not taken lightly'

In response to Northumbria Police being one of the forces with the highest level of removing sex offenders from the register, it said the safety of the public was the most important factor.

Det Supt Lisa Orchard said: "An application can only be made after being on the register for 15 years, or eight years if the offender was under 18 at the time. 

"Only then can a qualifying relevant offender make an application to be removed from the register. They can only be removed when their case is reviewed and authorised by a senior officer. "The safety of the public is paramount and this is not a decision taken lightly. Anyone who is believed to pose any risk will remain on the sex offenders register for as long as necessary, which could be for life if an officer believes there is a risk to the public."

Hundreds of sex offenders off register

Almost 700 convicted sex offenders have been removed from the register in the past four years, the BBC has learned.

Since 2012 at least 170 rapists and 157 child abusers were told they no longer had to register with the police.

More than 50% of applications - allowed under a 2010 Supreme Court ruling - were successful, a Freedom of Information request revealed.

Northumbria Police had one of the highest levels of requests approved, with just short of 80%.

Alan Shearer: Why I fear for Newcastle

Rafa Benitez is a great manager but he is not a magician, which is why it is going to be touch and go whether he can keep Newcastle up.

That is not a surprise because Benitez is managing the same players as his predecessor Steve McClaren, so they are going to have the same issues.

The Spaniard took over on 11 March with the team in the Premier League relegation zone for two basic reasons - they concede too many goals, and they find scoring them very difficult.  

Arrest after boy, 15, shot in face with air weapon

A teenager has been arrested after a 15-year-old boy suffered "significant injuries" in an alleged airgun attack.

Police said the incident happened on Saturday evening near Herrington Burn in Houghton.

The boy underwent surgery to have a pellet removed from his face.

Northumbria Police said a 16-year-old boy was in custody.

Detectives are looking for two other youths who were understood to be in the area at the time.

Fire crew attacked with stones and missiles

Tyne and Wear Fire and Rescue Service and Northumbria Police are appealing for help to catch a gang of youths who attacked a fire crew in Newcastle on Friday night. 

Firefighters had attended a report of wheelie bins and rubbish on fire at the King George V Playing Field, in the Fenham area, when they were bombarded with stones and other missile by a group of about 15 to 20 youths.

No-one was hurt but the response vehicle was badly damaged, with the side window completely smashed.

A Northumbria Police spokesman said: "This cowardly and extremely dangerous behaviour not only put the firefighters at risk but potentially could have endangered the public as they would not have been able to attend any other emergencies with their equipment damaged."