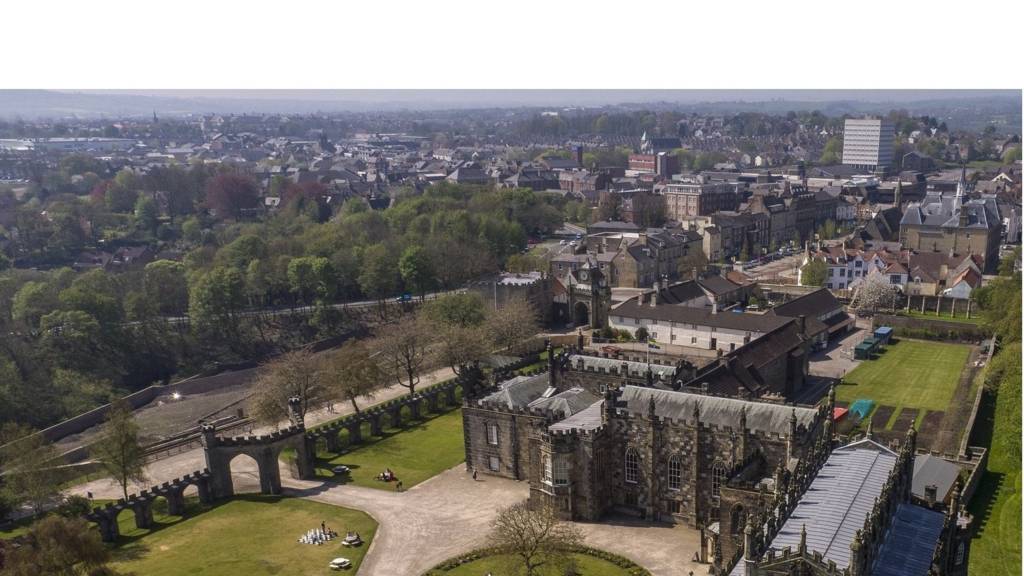 Our live updates from Bishop Auckland

Our live updates from Bishop Auckland have now finished.

There has been coverage across the BBC today as we spoke to dozens of real people about their hopes for the upcoming general election.

Copyright: PETER HAYGARTH

But our coverage hasn't completely ended - Adrian Goldberg is presenting a pan-England show from the North East on Bishop Auckland with interviews and analysis from experts and the community.

Listen live here from 19:00 or listen again below afterwards.

We'd still like to hear from you if you have a question about the election - if you want to get in touch you can tweet us, contact us via our Facebook page or email us.

Have a good evening.

Barnard Castle business owner: Rural broadband a 'pain'

Donna Dobson, owner of Fox and Field, a women's clothing store in Barnard Castle says she wants the government to do more for rural areas in terms of broadband, and often feels like people get neglected in the area.

"We get regular drops in connection at the premises in Barnard Castle, then should I choose to work from home I struggle because we get such a poor speed.

"It's a pain at times because when it's VAT time and such like and when you're trying to get everything reconciled and the internet drops it's really frustrating."

Mrs Dobson said she'd like politicians to remember that "we are up here in the countryside".

"I do think that big cities and towns get favored over us," she added.

"They've put more money into broadband in the Teesside area and I'm sure what they have is already 20 times better than what we have here so I would ask them to remember the countryside.

"They talk about how they want to save the countryside, well they need to step up to the mark and do something about it."

The reason the North is so 'Brexity'

Chris Lloyd, the chief features writer and political commentator for The Northern Echo, blames the north-south divide for the way so many people voted in the Brexit referendum.

"It's this feeling that the North as an entity is just forgotten about," he says.

"This 'Manifesto for the North' [a front page headline run by northern papers on Thursday] is really trying to remind people that the North is still here.

"We have specific demands, if you like, for increased infrastructure spending, better transport spending, actually joining the North East up.

"But it's also about the fact that one of the reasons we are so Brexity up here is that we feel so disconnected, so far away from London and even further away from Brussels."

Call for more police patrols over the weekend

Katie Pryor, 22, from Newton Aycliffe, told me she thinks more shops and pubs would bring people into the town centre.

She also thinks more police patrols would help encourage people to visit Bishop Auckland.

She said: "I think there should be more police patrolling on the weekend because there can be trouble. I think that's one of the things that puts people off coming on a night out here."

'We went to bed as Great Britain and we woke up as little Britain'

John Emmerson, a hill farmer from Bishop Auckland, said Brexit had impacted some fellow farmers as it was the equivalent of "turkeys voting for Christmas".

He said: "It's a faith that we might be better outside of Europe. There's no solid basis for it. I've yet to see anybody put a solid argument up for leaving Europe.

"We're far better working together as a common community than we are split up.

"On the night of the referendum we went to bed as Great Britain and we woke up as little Britain, and that's a tragedy."

Improving business rates 'would help small businesses'

Out on the streets of Bishop Auckland, a woman told me that business rates in the town should be looked at by politicians.

Jane Swinney, 64, said: "I think it's the same with every town, they should be investing to improve the high street.

"I think if the politicians did something with the business rates that would help small businesses start up."

Will The Auckland Project save Bishop Auckland?

Adrian Goldberg

Presenter, BBC Local Radio

Bishop Auckland has empty shops like most town centres in the UK but there's a real sense of new life in one end of town.

Is being a tourist destination is the future?

Michele Armstrong, from The Auckland Project, which is behind the renovation of Auckland Castle, believes it is, but with a caveat.

Copyright: HOUSE OF HUES/THE AUCKLAND PROJECT

"It's about what that does for local people as well," she says.

"We wouldn't be doing anybody any favours if it became the visitor destination and house prices rocketed and all the rest of it.

"It's about local people.

"Which is why we have 357 volunteers, all of whom have gone, 'yeah, we're on board with this, we want to help'."

Listen live here from 19:00 or listen again below afterwards.

Labour voter 'moving towards voting Conservative'

Chris Guille runs a sci-fi toy shop in Bishop Auckland and said: "Our little street is doing quite well, but things like the main high street, it's just a battle for independent businesses to get anything on there because of the cost."

A remain voter in 2016, she says she wouldn't vote that way again if there was a second referendum.

"I'd vote to leave, the people had their say, they voted to leave and we should've upheld that," she said.

She added she was normally a Labour voter but was moving towards the Conservatives, but would read more election material before voting on 12 December.

Firms need clarity, business leader urges

Pamela Petty, of the Bishop Auckland and Shildon Business Network, tells us there is an urgent need for "clarity and certainty" on Brexit and investment in order to give firms reassurance.

She also says north-east England needs a range of jobs in order to help it prosper, such as those on offer at Bishop Auckland television manufacturer Cello Electronics.

"When we actually leave the EU, what kind of incentives will the government give to manufacturing?

"Yes, we'd all like more high-skilled jobs in the North East, but they can't all be high-skilled so we need things like assembly jobs too."

'The parties aren't answering questions'

Undecided voter Lizzie Brophy, a commercial manager for Stiller, said there wasn't enough information to help her make up her mind.

"The people in the parties aren't answering questions, they're just talking around the subject or using big headers like Brexit, no-deal, deal, but there's nothing underneath that that explains which way my vote should go."

Asked if her vote would be about Brexit, she replied: "I think other things are more important, we've been in the EU for such a long time, there's nothing concrete really in people saying why we should leave."

BBC Radio 5 Live spoke to people in Bishop Auckland about the issues that matter to them and what they want to see happen in this election.

'Brexit Party should withdraw from Bishop Auckland'

Paula Kempin, who owns The 68 Cafe high above the Durham dales, has plenty of regulars from Bishop Auckland.

She said: "I'm not voting just for Brexit, which is why at the moment I'm still really torn."

Nigel Farage's Brexit Party think they can take crucial votes in the constituency.

But Paula said: "That's the wrong decision, if that's his tactics it's the wrong decision, because he should withdraw."

Election 'important opportunity to tackle different issues'

Volunteer conservation trainee Alison Laing joined the Newsbeat camper van in Bishop Auckland to talk about what she wants to see during the election campaign.

She said: "It's not just about Brexit, it's such an important opportunity to tackle a few different issues at the same time, you can't just think about Brexit, you need to think about the environment, education, all that sort of thing."

On the campaign trail in Bishop Auckland

Adrian Goldberg

Presenter, BBC Local Radio

John Monaghan only bought the Castlegate Tearooms in Bishop Auckland six months ago.

He plans to vote Conservative because he wants "to get Brexit done and over with" and he doesn't want another referendum - although he voted remain in 2016.

"People have already voted so lets get it done," he says.

He hopes a Conservative government would bring "stability".

"There's a lot of investment going on in Bishop Auckland, especially with the Auckland Project, there's millions and millions of pounds being invested into Bishop Auckland."

But, round the corner in Newgate Street, "it's like a completely different town", he says.

"There's a lot of To Let and For Sale signs up. That part of the town isn't getting invested."

The student vote in the North East

The North East is home to more than 100,000 university students at Newcastle, Northumbria, Sunderland, Durham and Teesside.

The 12 December election date means many students will be back in their family home for Christmas. But they will still have the option to use the postal vote in their university constituency, or got to the polling station local to their home address.

Voting multiple times is a criminal offence. But students can choose where they think their vote would be most influential.

More than half of students are ready to vote tactically in the general election, with Brexit the key factor, according to research.

'I'm going to stick with Boris'

We met two first-time voters at the 17th Century Three Horseshoes Pub in neighbouring Barnard Castle.

Bar worker Kim Moore said: "If somebody came in and explained what they wanted then it would be an easier choice to make, but at the moment I don't understand what anyone is doing."

Famr labourer Dean Bainbridge added: "I'm going to stick with Boris and see if he can get the job done."

'I don't think we'll suffer with Brexit'

John Elliott doesn't set much store by economic forecasts of what would happen after Brexit.

The Bishop Auckland-born chairman and founder of all-British washing machine manufacturer Ebac voted to leave the EU.

"Most economists haven't a good record on forecasting the economy," he says.

"I don't think we'll suffer with Brexit."

But he thinks we need change because we "can be much better than we are".

"If the UK was a company it would be bankrupt - we spend more than we earn, we consume more than we produce," he says.

"The country has been badly run for 30 years."