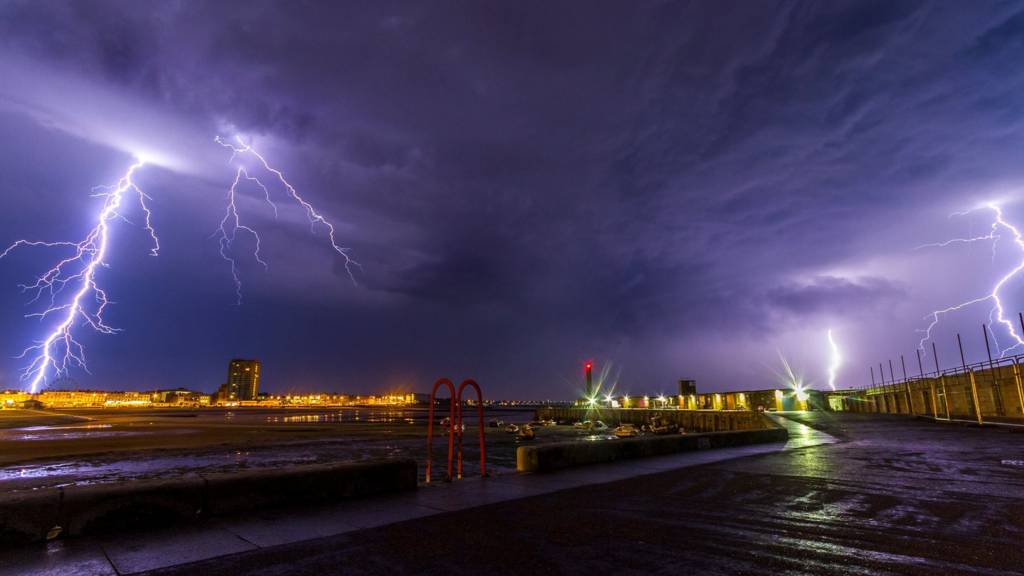 Summary
Our live coverage has now ended
Live updates on Wednesday 19 July

Stuart Maisner
BBC Live reporter
We've made it to the end of another night, and the weekend is looming.
We'll be back bright and early at 06:00 BST tomorrow morning, with more of the county's news, sport, travel and weather.
Full steam ahead for outstanding collection
Take a look at this extraordinary collection of railway memorabilia at the end of a Hastings garden.
Meet Jane Austen superfan Zack
The self-taught period tailor enjoys wearing Regency clothes and doesn't own a pair of jeans, preferring to fashion his clothes on Regency styles.
Zack Pinsent is inspired by author Jane Austen and stars alongside a host of other dedicated 'Janeites' in a special documentary to mark the 200th anniversary of her death on Tuesday.
New head coach for Albion women's team

Stuart Maisner
BBC Live reporter
Brighton & Hove Albion have appointed former England women's national team coach Hope Powell as the club's new women's first-team manager.
She arrives at the club having spent 15 years in charge of England. She also managed the Great Britain Olympic Women's team in 2012.
Powell said: "I am delighted to be back in management at a club that has so much ambition with an amazing infrastructure both on and off the pitch."
Full story here.

Rachel Mackley
Weather Presenter
We've got a bit more soggy weather ahead, but the sunshine will soon make a return.
Here's my latest forecast.
Hove MP presents bill to lower voting age
The Labour MP for Hove has proposed a change in the law to lower the voting age to 16.
Peter Kyle says younger people are being forced to sit on the sidelines while decisions are made about their future.
His Private Members' Bill, presented in the Commons today, is also calling for all young people to be automatically added to the electoral register.
Industrial action called for Tuesday 1, Wednesday 2, and Friday 4 August will not now go ahead.
Read more
ICYMI: New technology to prevent accidents on railway tracks
New technology is being used to keep people safe on some of the South East's level crossings.
Warnings will be sent to mobile phones as pedestrians and drivers approach one of seven crossings in Kent and Sussex.
It comes as shocking footage is released, showing youngsters taking pictures as they walk on railway lines.
Brighton's pride in revamped shelter

Stuart Maisner
BBC Live reporter
One of Brighton's art deco bus shelters has been transformed for the city's Pride.
'He'd been shot 7 times...4 pellets remain in his skull'

Alex Bish
Investigative journalist, BBC South East
The animals killed or maimed by the irresponsible use of airguns, with the South East one of the worst areas of the country for attacks.
'By the time we were there, she was gone'
Brothers Lee and Luke Payne speak out about Sarah's murderBrothers Lee and Luke Payne speak out for the first time about their sister's murder

After a stormy night, the humidity continues.
Showers moving in tomorrow will see put to that, but you might need to wave goodbye to those warm temperatures too.
Calls to the RSPCA complaining about unscrupulous puppy sales have risen in the South East.
A27 scheme: significant, or a 'damp squib'?

Ben Weisz
Political reporter, BBC Sussex
The plans are out. Well, the plan. Just one option is being put to the public by Highways England, who have up to £100m to spend upgrading the A27 at Worthing and Lancing. And they want residents' comments.
Junctions widened or replaced. Some sections are to be dualled. And pedestrian and cycle access is to be improved, though the full details for that aren't out yet.
But there's no flyovers, no bypasses or diversions - and the lights remain at Grove Lodge roundabout.
Highways England told me the improvements would be "significant", and this was the best option given the budget available.
But that's an important caveat - because Highways England's report says they discounted some options, including flyovers, which might have been effective, but cost too much.
Now local MPs Tim Loughton and Sir Peter Bottomley want the Government to make more money available. They say the plans are a "damp squib" and bigger thinking is needed. They've already met Chris Grayling - and will be lobbying hard.
The danger is that, as happened at Chichester earlier this year, too much dissent could be interpreted as a divided community not ready for improvement. Chris Grayling has already shown he's willing to scrap schemes. There are very few in Worthing who think nothing at all should be done to the A27- but that's a risk, without consensus.
Woman to be charged over Debbie Masters' death
Naomi Oxley from St Leonards has been summonsed to appear in court over the death of Debbie Masters who died after a car ploughed into her as she walked with her family.
Mrs Masters, a 37-year-old mother of three, died in hospital after the crash in Battle on 19 March.
Ms Oxley will be charged with causing death by dangerous driving and also causing serious injury to Mrs Masters' husband, Ian Masters.
She is due to appear at Hastings Magistrate's Court on 16 August where she will be formally charged, Sussex Police said.

Lizzie Massey
BBC Live reporter
Stunning displays of lightning as the storm moved across Sussex last night.
'The kids would be publicly flogged'
Sent to Australia as a child, David Hill was beaten and forced to work.
He recalls the abuses he and others suffered in a new book.

Lizzie Massey
BBC Live reporter
The skies in Brighton were electrified.
'It was a real experience and one I'll never forget'
A 20-year-old pilot from Horsham has become the youngest woman to fly with the US Air Force Thunderbird display team.
Beth Moran started flying a year ago after deciding she wanted to do something positive following the Shoreham air disaster.
She took to the skies over RAF Fairford in Gloucestershire.
Belle Tout Lighthouse in Eastbourne during the lightning storm
Full steam ahead for outstanding collection
Take a look at this extraordinary collection of railway memorabilia at the end of a Hastings garden.
The calm after the storm?

After a dramatic night, what will the rest of the day have in store?
Lightning strike starts fire in workshop

Lizzie Massey
BBC Live reporter
A lightning strike sent a workshop up in flames overnight.
At 03:00 BST East Sussex Fire and Rescue Service was called out to the Three Ponds Industrial Estate, South Heighton just on the outskirts of Newhaven.
Fire appliances from Newhaven, Roedean, Eastbourne, Hailsham, Lewes, Seaford and the aerial ladder platform vehicle from Brighton attended.
There are no reports of any casualties.
Storm crashes into the South East
A massive storm hit the South East early Wednesday morning - here's a selection of photos you sent us. Please keep them coming.
You can get in touch on Twitter, on Facebook or by sending us an email.
'I had to try and do something'

Mark Norman
Health Correspondent, BBC South East
A man from Haywards Heath is campaigning to force a social media site to remove material which promotes self harm and suicide.
Richard Harrington attempted to take his own life five years ago.
He says other people on Tumblr made him feel he didn't deserve to be alive.
The social media site has not responded to a request from BBC South East for a comment.
If you have been affected by this and would like advice or support - visit the BBC Action Line where you can find information on issues surrounding self harm.