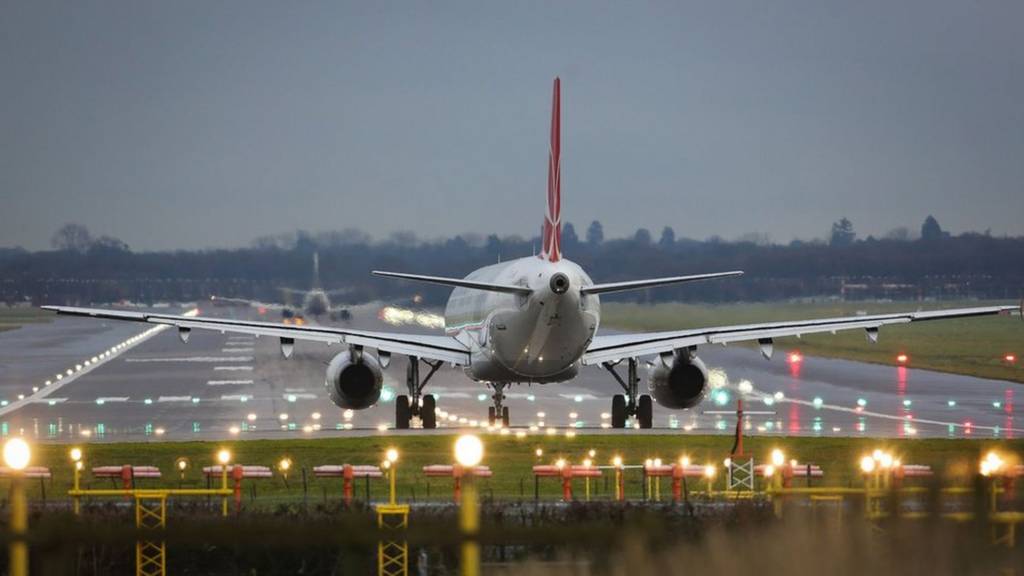 Summary
Updates on Tuesday 25 October
Chris Johnston
Business reporter
The government takes the "truly momentous" decision to approve a third runway at Heathrow.
Read more
Tory Zac Goldsmith resigns and forces a by-election in protest at government backing for Heathrow expansion.
Read more
Journalist Sally Brampton killed herself after "missed opportunities" to help her, an inquest hears.
Read more
Ian Palmer
BBC South East Today reporter
Here's my look at how Gatwick emerged as a major airport from humble beginnings.
Severe accident: A27 West Sussex eastbound

BBC Travel
A27 West Sussex eastbound severe accident, between A270 Upper Shoreham Road and A293.
A27 West Sussex - A27 Shoreham By-Pass in Brighton closed eastbound between Southwick junction and Shoreham Harbour turn off, because of an accident.
Check local traffic and travel reports for:
Brighton defender Rob Hunt signs a new deal, which will keep him at the Amex Stadium until the summer of 2018.
Read more
Gatwick second runway rejected

Helen Catt
Political editor, BBC South East
I've taken a look at how the decision to reject Gatwick's second runway has developed over the years.
County Council: "We need investment in West Sussex"

Kathryn Langley
BBC Live reporter
There's been more reaction to today's announcement, this time from West Sussex County Council. 
In a statement the council says it knows the decision will be welcomed by many people who were concerned about the noise and environmental consequences of a second runway at Gatwick. 
But a spokesperson also says the council needs to work with the government, local businesses and the airport itself to mitigate any negative impact on jobs and the economy. 
It's not looking bad weather-wise

Rachel Mackley
Weather Presenter
After a gloomy start, the prospects for Wednesday are good.
Here's my forecast.
Transport Secretary Chris Grayling tells the BBC building a new runway at London Heathrow airport is "the right call for the country".
'It's not the end of the campaign'

Kathryn Langley
BBC Live reporter
Crawley borough councillor Martin Stone says he's pleased by today's announcement, but doesn't think it'll be the end of the fight against a second runway at Gatwick Airport.
Campaigners against the expansion of Gatwick Airport express relief that a second runway will not be built.
Read more
'The noise drowns out our panto'

Kathryn Langley
BBC Live reporter
Janine Robins runs the Ifield Barn Theatre. She's relieved at today's decision and says even the current level of noise from Gatwick often disrupts their performances.
Local newspaper headlines
Here's how our local newspapers are covering the airports decision.
The Argus: Gatwick ready to proceed with new runway despite Heathrow given green light.
Chichester Observer: Campaigners welcome 'end of debate'.
Sussex Express: Campaign group to 'continue to guard' against Gatwick expansion.
Eastbourne Herald: Eastbourne MP 'very disappointed' at airport expansion decision.
Is this the end of Gatwick's expansion plans?

Helen Catt
Political editor, BBC South East
I'm in Westminster, where the announcement was made this morning.
'We should have one extra runway at both airports'

Kathryn Langley
BBC Live reporter
There's a mix of views from local people about today's news.
Who backs Heathrow and will it happen?
Labour's Gavin Shuker and Green Party co-leader Jonathan Bartley on the government's approval of a third runway at Heathrow Airport, its likely timing and impact on the environment.

Daily Politics presenter Jo Coburn asked them about the numbers of MPs who would back the decision, and she also heard from Kulver Ranger, who worked for Boris Johnson when he was London mayor.
Gatwick chief exec: 'We stand ready'
Gatwick's chief executive, Stewart Wingate, has responded to the decision to build a third runway at Heathrow:
We are disappointed as we do not believe this is the right answer for Britain. Gatwick has put forward a credible financeable and deliverable plan for expansion.
It is a plan that can guarantee growth and guarantee certainty for Britain. We look forward to studying the full reasons behind the Government decision in detail.
The challenges facing Heathrow have not changed. Our message today is that Gatwick stands ready to proceed when the time comes."
'Worry they may give Gatwick hope'
BBC Sussex political reporter Ben Weisz has been with Ifield residents listening to Transport Secretary Chris Grayling.
London mayor condemns Heathrow decision
The Mayor of London says the government's decision to approve a  third runway at Heathrow is "wrong for London and for Britain".

Sadiq Khan, who was elected Mayor on a platform of opposing a new runway at Heathrow, says "the air in London is a killer " and  he will continue to "challenge the government's decision".  

He would have chosen Gatwick. 

(Photo: Sadiq Khan in front of a banner opposing the 3rd runway at Heathrow   Credit:Getty Images)
'Relief for the residents around Gatwick'

Stuart Maisner
BBC Live reporter
Campaigners in communities around Gatwick have fought for years against airport expansion there. 
Does the vote to leave the European Union make it more important that London gets more airport capacity?
Read more
A cloudy afternoon with scattered showers

Georgina Burnett
BBC Weather
It'll be cloudy today, but sunnier tomorrow afternoon. Here's my latest forecast.
Gatwick expansion: For and against

Stuart Maisner
BBC Live reporter
Businesses in the Gatwick area are split on whether a second runway there would be a good thing. 
'Gatwick remains a really important part of our transport system'

Stuart Maisner
BBC Live reporter
The Transport Secretary has explained his decision to support a third runway at Heathrow, whilst praising Gatwick.
Richard Westcott takes a look at some of the big numbers behind the Heathrow third runway decision.
Bill Wilson
Business reporter, BBC News
Now that the government has approved expansion at Heathrow Airport, what will be the next steps to bring the plans to fruition?
Read more
'Building a second runway at Gatwick is a better alternative'

Stuart Maisner
BBC Live reporter
Politicians are split on Gatwick v Heathrow expansion debate.  
Heathrow: 'It's the only realistic place you can develop a hub'

Stuart Maisner
BBC Live reporter
Many commentators seem to be coming out in favour of Heathrow expansion, rather than Gatwick.
Breaking
Heathrow to get the go-ahead, source says
The official announcement hasn't yet been made, but the BBC's political editor seems to have someone on the inside.
Davies Heathrow report 'full of holes'

Today Programme
BBC Radio 4
A consultant for Gatwick has said people "keep batting for another runway at Heathrow" and keep coming up against a brick wall. 
Daniel Moylan, former aviation advisor to Boris Johnson, told the Today programme that Howard Davies' report was "deeply full of holes" and that big businesses wouldn't get what they wanted from an expansion.  
'We're just delaying the day when a second runway comes to Gatwick'

Stuart Maisner
BBC Live reporter
Campaigners hoping Gatwick Airport will be chosen for expansion today, instead of Heathrow, express disappointment.
'A-ha': Alan Partridge comes to Brighton
Fans will have the chance to say "A-ha" as Steve Coogan's comedy creation Alan Partridge is due to sign copies of his new book in Brighton today. Here are five fun facts you didn't know about Norfolk's finest…  

Danny Pike
Presenter, BBC Sussex
Here's what's coming up on my show this morning.
What happened #onthisday?

Kathryn Langley
BBC Live reporter
A skills shortage, a weather warning, and more women losing their jobs because of budget cuts. 
Here's what happened #onthisday one, three and five years ago.  
Brighton attraction's royal opening

Kathryn Langley
BBC Live reporter
It may have been operating for several months, but this Friday the Duke of Edinburgh will officially open Brighton's i360 tower.
Southern dispute: 'It's been our policy for over 15 years to seek to eradicate DOO'

Bob Dale
BBC Live reporter
A leading member of the train drivers' union, Aslef, told MPs yesterday afternoon why they support the RMT, in its dispute over the introduction of driver-only-operation trains on Southern rail.

Claire Cottingham
BBC Live reporter
Decision on airport expansion, the clearance of the "Jungle" camp in Calais continues, and a Kent war veteran honoured. Here are your top stories in the South East.