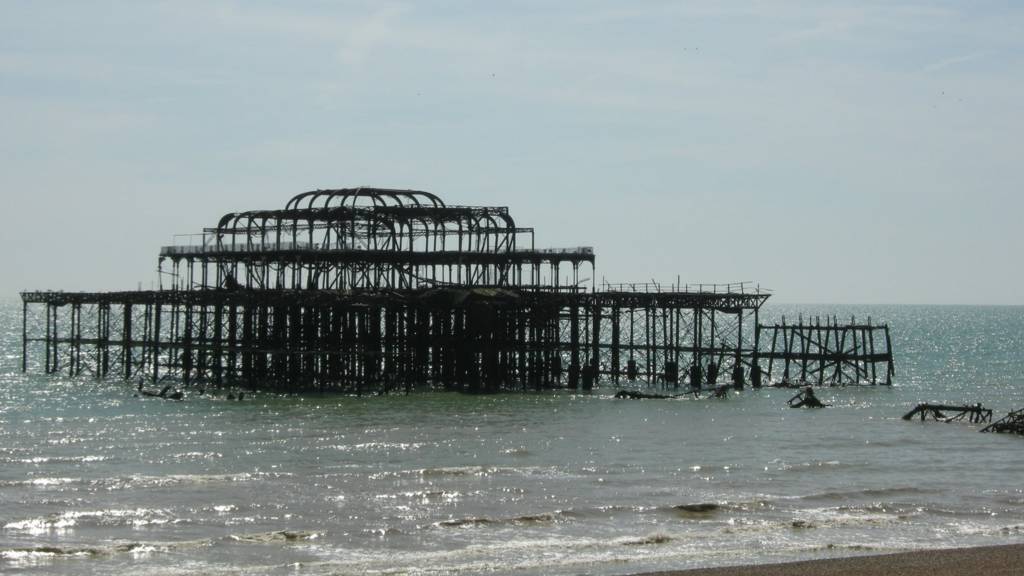 Summary
Our live coverage has now ended
Updates on Thursday 6 October
Stuart Maisner

BBC Live reporter

Stuart Maisner

BBC Live reporter

Here's the West Pier in Brighton lit up to mark its 150th anniversary

Dave Fletcher from Horam has decided to give up biking on his 95th birthday.

Sussex newspaper round-up

The Argus: Calls to try every possible option to save West Pier as it reaches 150th birthday.

West Sussex County Times: Drivers warned as deer breeding season starts.

Hastings Observer: St Leonards man charged over £48,000 gym watch thefts.

Worthing Herald: Green light for major Angmering leisure development.

Wrap up and take a brolly

Rachel Mackley

Weather Presenter

It's going to be cool and damp. Here's my forecast. 

Thousands of amputees came to Brighton

Stuart Maisner

BBC Live reporter

An exhibition is under way dedicated to the treatment of amputees at Brighton Pavilion during WW1.

Workshop fire investigation begins

An investigation's started into a big fire at a workshop in Lower Dicker, East Sussex. 

Around 30 firefighters were called to Coldharbour Road at 01:00 BST. 

Crews were brought in from Eastbourne, Hailsham, Herstmonceux, Heathfield and Uckfield, along with specialist units from Lewes and Uckfield. 

Nobody's reported to have been hurt.  

Southern talks: 'We will continue to fight'

Stuart Maisner

BBC Live reporter

The RMT union has reacted defiantly to the breakdown of talks with Southern over future strike action.

Fancy naming a gritter? How very rock (salt) and roll...

Primary school children in East Sussex are being asked to name a fleet of new road gritters. 

Southern talks: 'It's very disappointing we've come away without a conclusion'

Stuart Maisner

BBC Live reporter

Southern has expressed it's disappointment that talks to avert further RMT union strikes have ended without success. 

Have you seen missing Nathan?

Sussex Police are looking for Nathan Hunter who's gone missing from Heathfield. 

The 13-year-old was last seen on Monday morning when he went out for a walk. 

It's thought he's in the Bexhill or Battle area. 

Warning over scam telephone calls

People in East Sussex, particularly in Rye, are being targeted by scammers claiming to be from the council. Anyone who receives one of these calls is being urged to put the phone down.

Happy birthday to Brighton's West Pier

Stuart Maisner

BBC Live reporter

Copyright: Antonio Manuel

One of Brighton's most famous landmarks will be lit up at sunset to mark its 150th anniversary.

We've been sent this lovely picture by Antonio Manuel of his wife and daughter in front of the pier at sunset and low tide.

Send us your pictures. You can get in touch on Twitter, on Facebook or send us an email.  

It's being reported today that the common toad is in decline across the South East.

Data from toad patrols - volunteers who move toads across busy roads - shows the toad population has fallen by more than two-thirds in the UK since the 1980s.

We've compiled five things you (probably) didn't know about toads. 

What's the weather got in store this weekend?

Elizabeth Rizzini

BBC weather

Will it stay dry? Here's my forecast.

Breaking

Southern: Strike talks collapse

Talks aimed at averting fresh strikes on Southern Railway have collapsed without agreement. 

The first of 14 days of strike action is planned for 11 October as part of the ongoing dispute over the future role of conductors on trains. 

The RMT has confirmed the action will now definitely go ahead.

ICYMI: Leggings become pieces of art

Jessica Banham

BBC Live reporter

Most art fans would give anything to have a world famous masterpiece hanging on their wall at home - but now a company in Seaford is bringing great works of art to the wardrobe.

UKIP MEP Steven Woolfe taken to hospital after 'altercation'

UKIP leadership hopeful Steven Woolfe is in a serious condition in hospital following 'an altercation' during a party meeting, a spokesman has said.

The MEP was taken to hospital in Strasbourg for tests.

The party's leader and South East MEP, Nigel Farage said: "I deeply regret that following an altercation that took place at a meeting of UKIP MEPs this morning that Steven Woolfe subsequently collapsed and was taken to hospital. His condition is serious." 

Read the BBC report here.

Former #GBBO contestant's amazing West Pier cake

Check out this spectacular West Pier birthday cake by former Great British Bake Off contestant Kate Henry!