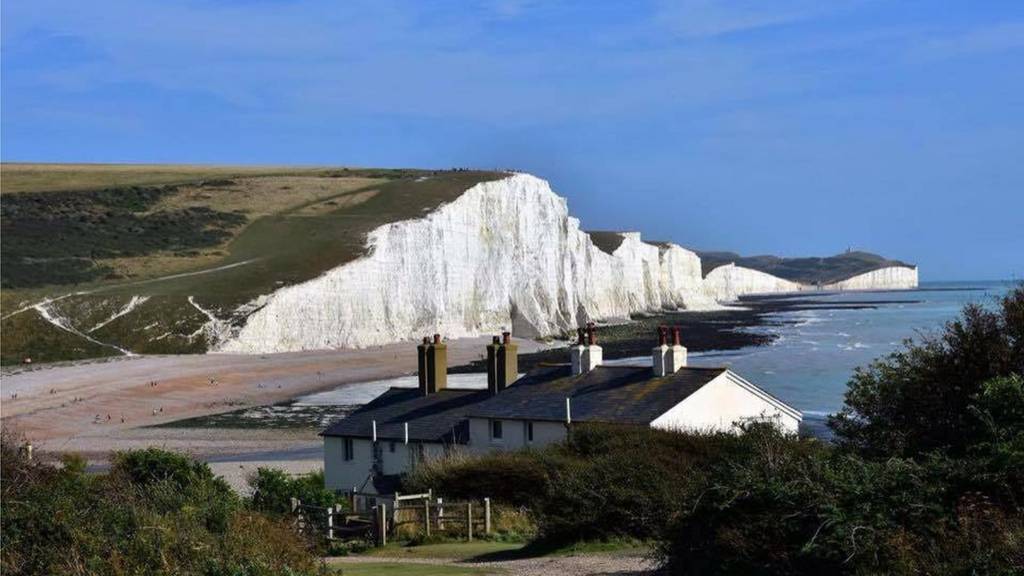 BBC Live: Sussex
Send us your comments, pictures and videos by tweeting us, emailing us or sending a message on Facebook.
Summary
Updates on Monday 19 September
Kathryn Langley

BBC Live reporter

Sussex newspaper round-up

The Argus: Woman, 76, seriously injured in Co-op car park crash.

West Sussex County Times: Police seek witnesses to fatal head on collision.

Hastings Observer: St Leoanrds man charged after Hastings machete attack.

Sussex Express: Firefighters battle Hailsham kitchen fire.

Is this the shortest cycle lane in Sussex?

Chris Eubank Jr pulls out of Tommy Langford fight with injury

Chris Eubank Jr has vacated the British middleweight title, pulling out of his fight against Tommy Langford with a "severe" elbow injury.

Eubank was set to make a second defence of his title on 22 October in Cardiff.

However, the 27-year-old's team said he was hurt sparring a "14-stone opponent" on Thursday. Read the full story here.

Brexit supporter fined for Eddie Izzard beret theft

A Brexit supporter has admitted stealing Eddie Izzard's pink beret at a pro-EU rally in London.

David Czerwonko, of Clitherow Road, Brentford did not recognise the Bexhill-born comedian when he stole his hat at the march down Whitehall, Westminster Magistrates' Court heard.

Here's what happened - and you can read the full story here.

Woman seriously hurt in car park crash

A 76-year-old woman has suffered life-changing injuries after being hit by a car in a supermarket car park in Shoreham. 

It happened at the Co-op in Ham Road at 13:17 BST on Saturday. 

Anyone who saw what happened is being asked to contact the police on their non-emergency number, 101. 

Will the sun shine tomorrow?

Rachel Mackley

Weather Presenter

The heatwave may be gone, but will it brighten up tomorrow? Here's my forecast.

Some unexpected faces at Lib Dem conference

Our Political Editor Helen Catt is at the Liberal Democrat conference in Brighton.

Marriage proposal on Brighton's i360

Here's how Ben Edwards proposed to his partner Abi Muggeridge on the i360 in Brighton.

It happened yesterday and Abi described it as a "complete surprise".

She said: "He said 'What's that down there?' I looked and thought 'That's amazing', but I didn't realise it was for me until I turned round and Ben was down on one knee.

"Then people started cheering and someone passed me a glass of Champagne. It was amazing."

When they got to the bottom, their friends and family had gathered to help them celebrate.

Abi, who is expecting a baby in three weeks' time, says they haven't set a date yet.

Govia Thameslink plans major changes to timetables

Kathryn Langley

BBC Live reporter

The firm that runs the troubled Southern Rail franchise has launched a consultation on proposals for a massive shake-up of its timetables.  

This afternoon's headlines

Kathryn Langley

BBC Live reporter

A timetable shake-up, the hunt for a man in Eastbourne, and a former cabinet minister backs expansion at Gatwick - I've got your #3in30 headlines for Sussex.

Brighton v Reading team news

Brighton and Hove Albion boss Chris Hughton has confirmed Belgian defender Sebastien Pocognoli will make his debut in tomorrow night's EFL Cup clash with Reading at the Amex.

The left-back joined the club last month from West Bromwich Albion on a season-long loan. 

Meanwhile defender Rob Hunt, who made his league debut on Saturday against Burton, will also start the game with fellow defenders Uwe Hunemeier and Connor Goldson all in line to make starts.

You can hear all the build-up from 19:00 BST tomorrow on BBC Sussex. 

Quote Message: Seb's trained really well since he's been here. He had some game-time in the pre-season with West Brom but he would be behind most of the lads as regards to the amount of games that he's played, so it's certainly a good game for him to come in and a very competitive game at that." from Chris Hughton Brighton and Hove Albion Manager

Man dies after Billingshurst crash

Kathryn Langley

BBC Live reporter

A man has died in hospital two days after two cars collided head-on in Billingshurst. 

The accident happened on the A272 Petworth Road on Friday lunchtime. 

The 74-year-old from Worthing, a passenger in one of the vehicles, was taken to hospital in Brighton but died yesterday. 

A 74-year-old woman's seriously ill in hospital.  

Police are looking for this man in connection with an assault in Eastbourne. 

They were called to a group of men fighting in Terminus Road shortly before 03:00 BST on 28 August. 

A 22-year-old man needed hospital treatment after being kicked in the head.

Will the sunshine return?

The weekend was a bit of a comedown after last week's heatwave.

So will the clouds give way to sunshine again? Here's my forecast.

Cyclist seriously injured in Battle

Lauren Moss

BBC Live reporter

A cyclist has been left with serious neck and facial injuries following a crash in Battle.

At 05:45 BST on Tuesday 6 September the 48-year-old was in a collision with a blue Mitsubishi Outlander on the A2100 Battle Hill. 

He was treated at the Royal Sussex County Hospital in Brighton and has now been discharged. 

Police are asking anyone who saw the collision to contact them via 101 quoting serial 193 of 06/09.